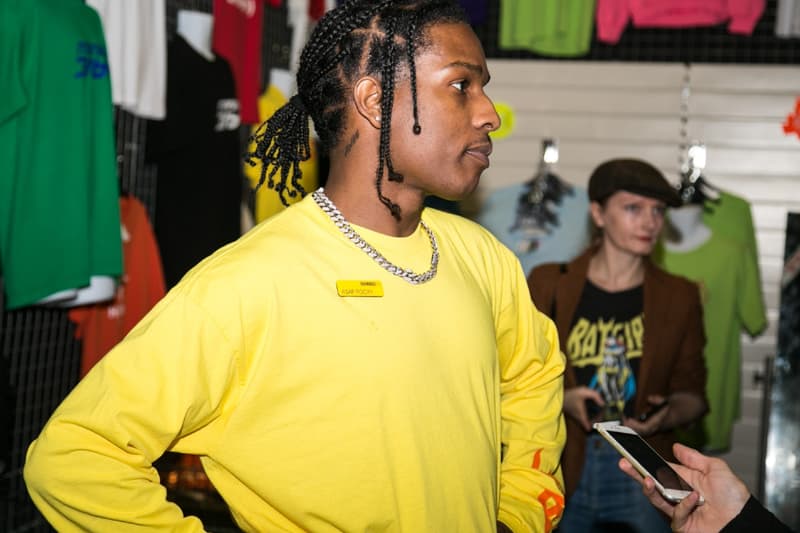 Culture
A$AP Rocky Has Been Found Guilty of Assault
Following the highly publicized fight in Sweden last month.
A$AP Rocky Has Been Found Guilty of Assault
Following the highly publicized fight in Sweden last month.
UPDATE (Aug 14, 2019): Following his return to the US last week, American rapper A$AP Rocky has been found guilty of assault. He was previously held in Sweden for over two weeks, and participated in a two-day long trial earlier this month, and has now been given a suspended sentence and has also been ordered to pay a fine to the victim
The Stockholm District Court rejected the artist's claim that the brawl was a result of self-defence, "Based on statements from two witnesses, the court finds that the defendants were not subject to a current or imminent criminal attack. Therefore, they were not in a situation where they were entitled to use violence in self-defence. Nor could they have perceived themselves to be in such a situation," states the ruling.
The two other members of Rocky's entourage, Bladimir Corniel and David Rispers were also found guilty of the same charge. "The assault has not been of such a serious nature that a prison sentence must be chosen. The defendants are therefore sentenced to conditional sentences," read the court statement.
A$AP Rocky has returned to the U.S. and will be paying the fine to the victim. Let us know your thoughts in the comments below.
---
UPDATE (July 25, 2019): Despite his efforts of making a phone call to the Prime Minister of Sweden, U.S. President Donald Trump was unable to sway Swedsh prosecutors in charging A$AP Rocky with assault. The POTUS tweeted today that, "We do so much for Sweden but it doesn't seem to work the other way around." He added, "Sweden should focus on its real crime problem!"
Take a look below to see the full tweet.
Give A$AP Rocky his FREEDOM. We do so much for Sweden but it doesn't seem to work the other way around. Sweden should focus on its real crime problem! #FreeRocky

— Donald J. Trump (@realDonaldTrump) July 25, 2019
---
UPDATE: Following the dropped charges against the men involved in A$AP Rocky's assault case in Stockholm, Sweden, the rapper has officially been charged with assault in connection to the incident which took place on June 30.
Public prosecutor Daniel Suneson confirmed that they will be pressing charges against A$AP Rocky and the other two men involved, stating the following: "I have today commenced criminal proceedings against the three individuals suspected of assault causing actual bodily harm, having come to the conclusion that the events in question constitute a crime and despite claims of self-defense and provocation," adding that "In reaching this conclusion, I have studied the videos made available to the inquiry. It is worth noting that I have had access to a greater amount of material than that which has previously been available on the internet. In addition to video material, the injured party's statements have been supported by witness statements."
Since his arrest on July 2, Rocky has been detained in Stockholm. Stay tuned as more information surrounding the case is revealed.
---
Following the altercation between A$AP Rocky and two Swedish men a few weeks ago in Stockholm, the rapper has been arrested and held in a Stockholm prison awaiting trial. Now, according to lawyer Magnus Stromberg, all charges have been dropped for the men involved in the case.
The man in question had been accused of molestation and assault, but the Swedish prosecution service has now confirmed that the investigation has been discontinued. Stromberg's statement read that "[his client] has been the subject of an assault, but he has not committed a crime."
The arrest of A$AP Rocky has caused conversation across the internet, with the hashtag #FREEROCKY trending on social media as well as gaining recognition from celebrities, as well as U.S. president Donald Trump. Trump tweeted "Just spoke to @KanyeWest about his friend A$AP Rocky's incarceration. I will be calling the very talented Prime Minister of Sweden to see what we can do about helping A$AP Rocky. So many people would like to see this quickly resolved!" and later added that the Swedish Prime Minister explained that "In Sweden, everyone is equal before the law, and this includes visitors from other countries."
Since Trump's tweet, Justin Bieber also spoke out on social media replying to the president's posts saying, "I want my friend out.. I appreciate you trying to help him. But while you're at it @realDonaldTrump can you also let those kids out of cages?" with yet no response from Trump.
It remains to see what will happen moving forward, but A$AP Rocky is currently awaiting trial in the Swedish capital. Stay tuned as the story develops.