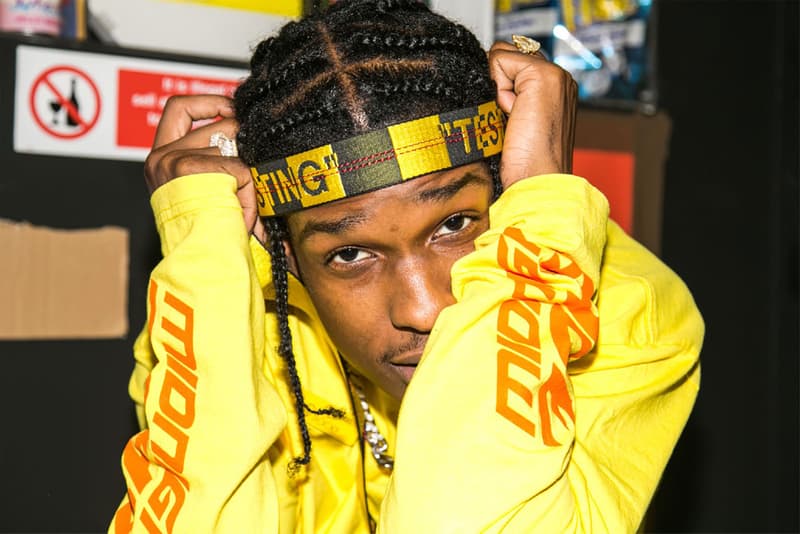 Culture
A$AP Rocky Has Returned to LA Following Release From Swedish Prison
The rapper is still awaiting the full verdict.
A$AP Rocky Has Returned to LA Following Release From Swedish Prison
The rapper is still awaiting the full verdict.
Update (August 3, 2019): A$AP Rocky has been temporarily released from prison in Sweden following his ongoing trial for assault. The rapper entered a not guilty plea earlier this week, with his prosecutor seeking a six month sentence for the charges. A$AP Rocky and the other suspects have all been freed from detention and permitted to return to the US until the full verdict is announced on August 14, for which they must return to Sweden.
Rocky took to Instagram following his release to update and thank his fans friends, captioning an image with the following message:
"THANK YOU FROM THE BOTTOM OF MY HEART TO ALL OF MY FANS, FRIENDS AND ANYONE ACROSS THE GLOBE WHO SUPPORTED ME DURING THESE LAST FEW WEEKS I CANT BEGIN TO DESCRIBE HOW GRATEFUL I AM FOR ALL OF YOU."
Stay tuned for further updates from the trial as they become available.
---
Update (August 1, 2019): A$AP Rocky's assault trial in Sweden began earlier this week, and on Thursday, the rapper testified and told his side of the story. According to the rapper, he was doing everything in his power to avoid conflict.
In case you missed it, the court case involves 19-year-old man, Mustafa Jafari, who has accused A$AP Rocky and his entourage of assaulting and beating him in Stockholm on June 30. According to The Hollywood Reporter, when A$AP Rocky was questioned about the event on the stand, he said he was just trying to de-escalate the situation. He said the following statement in court:
"After a while, my security guard started pushing him (victim) away, begging him to leave. Me and my crew told them that, listen, don't go where we are going, go the other way, we don't want any trouble."
A$AP Rocky said that despite trying not to provoke him, Mustafa Jafari was persistant and continued to follow them, later adding, "I assumed that these guys were under the influence of some kind of drug."
Mustafa Jafari accused Rocky of hitting him with a bottle, and in another quote from Variety, A$AP Rocky testified that he didn't break any bottles but only picked up the bottles momentarily to move them aside. However, the rapper admitted to shoving Jafari to the ground before his friends and security came to help. He concluded his testimony with:
"What I want is justice. I want my name to be cleared. Justice for all of us."
Stay tuned for more updates from the trial.
---
After being formally charged with assault following an investigation by the Swedish police, A$AP Rocky's trial has officially begun. According to The Hollywood Reporter, "the rapper entered a not guilty plea." His lawyer stated that he acted in self-defense during the incident.
A$AP Rocky's alleged victim is seeking roughly $15,000 USD — 139,700 Swedish Krona in damages. Reportedly, outside the courtroom is in chaos as there has been a press pass shortage. Additionally, "lawyers for both sides were in court Tuesday to present their narrative of what happened on the night of June 30," and "testimonies are expected to take place on Tuesday."
One defense attorney is arguing that testimony "from both witnesses" could be enough evidence to change the course of the proceedings, per HYPEBEAST. Regional journalist Markus Karlsson has also shared a recording from inside the court room in which the prosecutor can be heard presenting his case. Rocky's team "has argued that the rapper threw the plaintiff to the ground out of self-defense." Currently, there's a large dispute whether the plaintiff was attacked with an alleged broken bottle.
According to ABC News' Sabina Ghebremedhin, a photograph of the broken bottle was shown, but the prosecutor confirmed that the DNA on it did not match Rocky or his co-defendants.
Following Rocky's arrest earlier this month, the Swedish police have released more than 500 documents of its preliminary investigation, according to The Hollywood Reporter. Reuters reports that the document features SMS messages among A$AP Rocky's team, details of his interrogation and images of injuries that the Swedish board of forensic medicine believe to be casued by "objects such as broken glass or the like." Donald Trump recently spoke to the Swedish Prime Minister about the case, one A$AP Rocky fan was also arrested for threatening to bomb the Swedish embassy recently.
The ASAP Rocky court drawing for you (he's in green, his mum in the middle) pic.twitter.com/qA6WnoSuKn

— Alex Marshall (@alexmarshall81) July 30, 2019
Share this article