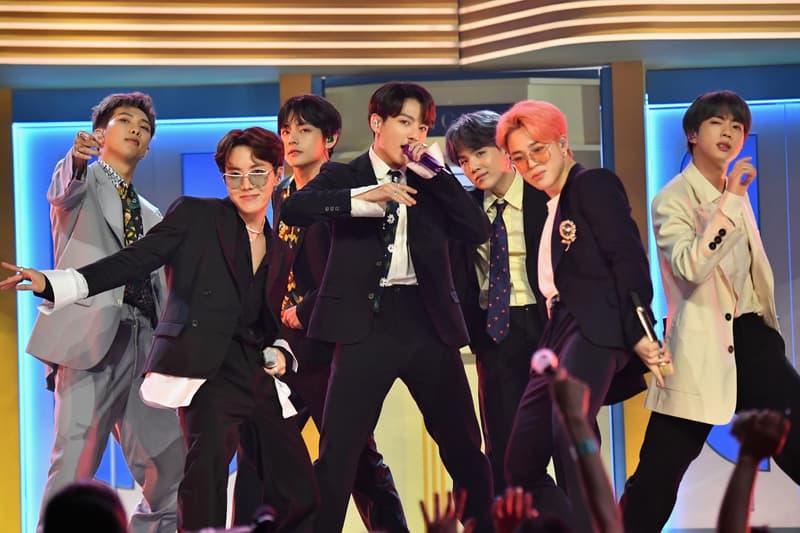 Music
BTS Fans Are Not Happy With the 2019 MTV VMAs' New K-Pop Award Category
#VMAsRacist is trending on Twitter.
BTS Fans Are Not Happy With the 2019 MTV VMAs' New K-Pop Award Category
#VMAsRacist is trending on Twitter.
After the MTV VMAs announced that a new award category of "Best K-pop" will be introduced into its 2019 roster, fans have not responded well. The all-new category is the first of its kind amongst major award shows, nominating popular K-pop bands such as BTS, BLACKPINK and EXO.
K-pop fans have taken to Twitter, voicing out that they think it's racist to keep bands such as BTS from competing against other top pop acts. The hashtags #VMAsRacist and #VMAsAreOverParty are currently trending on Twitter as the BTS Army has flooded the social media platform to show their outrage and disappointment for MTV's move.
While BTS is nominated for "Best Collaboration," "Best Art Direction" and "Best Choreography" alongside the new K-pop category, the BTS Army has pointed out that the band is not up for major categories such as "Video of the Year," "Artist of the Year" and "Best New Artist." It's also been brought to attention that the MTV VMAs have used photo centered on Halsey's face to represent the "Boy With Luv" collaboration rather than a photo of the group. Some fans have gone as far as to "cancel" the VMAs this year, however, less displeased fans may still be watching the show and voting for their favorite K-pop groups to make sure that they win.
Take a look below to see some of the fan reactions to the 2019 MTV VMA's new "Best K-pop" category. In case you missed it, here is the full list of nominees for this year's award show.
VMAs: Best K-pop

The World:#VMAsRacist pic.twitter.com/LWFw38SmBI

— ??????? 光 ? (@hikarin_twt) July 23, 2019
.@vmas trying to hide the fact that they are doing better than western english speaking artists is not gonna work. keeping them in the small box is not gonna work.#VMAsXenophobic#VMAsRacist

— ??????? (@wildshimmers) July 23, 2019
bts : *is 5th best selling artist in the US, gets best selling album of the year, most viewed music video in 24hrs, most pure album sales in the US*

vmas: #VMASracistpic.twitter.com/ZuDcXMKh6G

— elmo (@treasurehoseok) July 23, 2019
Looking at this pic, you'd think it's Halsey ft. BTS #VMAsRacist pic.twitter.com/sp6p2tdxY4

— snarkexpress (@snarkexpress) July 23, 2019