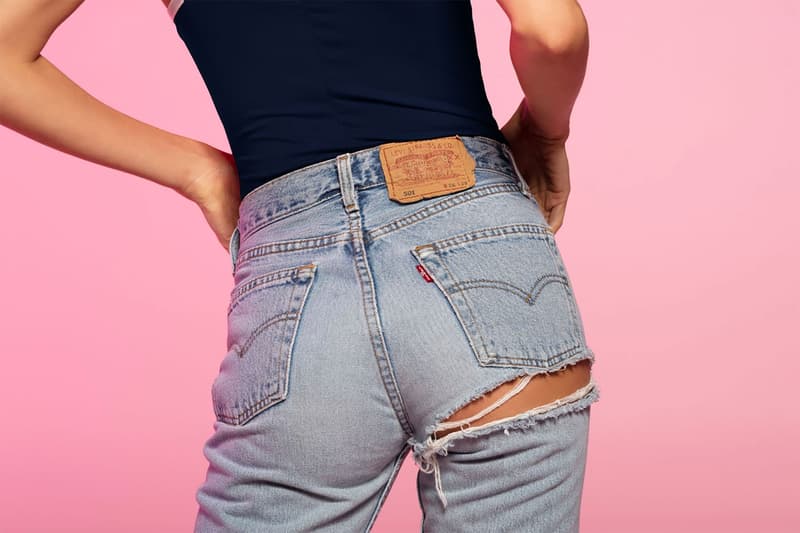 These Are the Only Denim Trends That Matter in 2019
Guess what the most searched item is.
Fashion search platform Lyst has just released a global report revealing the latest denim trends of 2019. The report reveals statistics on how all denim related searches have increased over the past couple of years and how shoppers across different countries search for style combinations, colors, shapes, and fits.
With an average of 13 searches per second, jeans are the number one most searched fashion items worldwide and are the third most searched in terms of the entire clothing category, falling just below sneakers and dresses. Other key findings highlight that on average, denim shoppers tend to spend 22 percent more on denim jackets than on a pair of jeans. In terms of cuts, relaxed-fit styles with straight leg jeans have dominated the coveted skinnies that have been trending for more a decade.
Sustainable denim has made its way to the top three most used terms when searching for ethical fashion and showed a 193 percent increase in page views for brands that offer this alternative. In addition, after Celine Dion was spotted in a pair of asymmetrical jeans at the Paris Fall 2019 Couture Week last Tuesday, the denim piece went viral with a 73 percent increase in searches after the singer's appearance.
The report has also included the world's most wanted jeans which we've listed below and for full details of the report, visit Lyst's website:
High-Rise Wide Leg
Hero product: Jacquemus High-Rise Wide-Leg Jeans
Trending in: Paris

Pastel
Hero product: Acne Studios Pink Straight Leg Jeans
Trending in: Milan

Co-ords
Hero product: Monki Tie Dye Denim In Pink
Trending in: London

Boiler Suits
Hero product: Topshop White Short Sleeve Denim Boiler Suit
Trending in: Athens

Barrel Leg
Hero product: Attico High-Rise Cavalier Jeans
Trending in: Copenhagen

Bermuda Shorts
Hero product: FRAME Le Vintage Bermuda Frayed Denim Shorts
Trending in: Sydney

Cargo
Hero product: Ganni High-Rise Wide-Leg Jeans
Trending in: London

Ripped Distressed
Hero product: Agolde '90s Distressed High-Rise Boyfriend
Trending in: New York