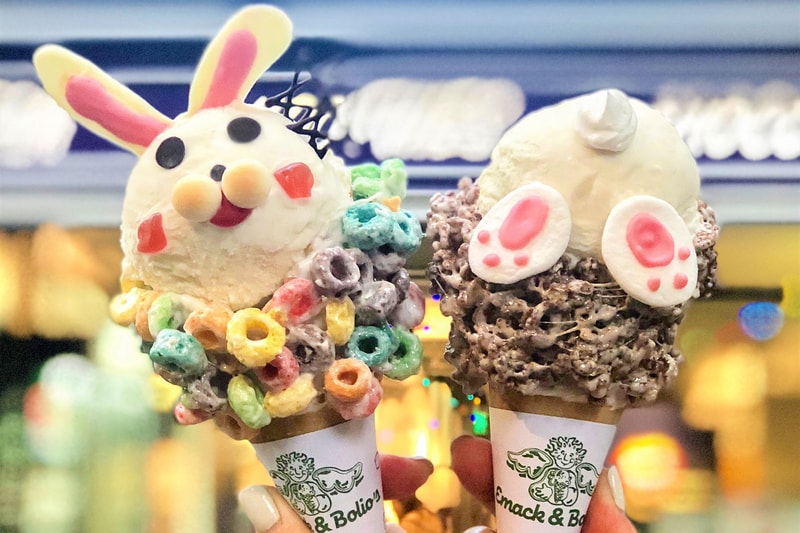 Culture
15 of the Best Ice Cream Shops Around the World
Get your daily dose of sweetness from NYC, London, Seoul, Bangkok and beyond.
15 of the Best Ice Cream Shops Around the World
Get your daily dose of sweetness from NYC, London, Seoul, Bangkok and beyond.
For those who don't already know, July is National Ice Cream Month, and what better way is there to celebrate than to indulge in cute ice cream photos? Starting from New York and California all the way to Thailand and Melbourne, we've rounded up some of the best soft serves around the world. Scroll down to take a world ice cream tour, and let us know which one you want to visit the most.
New York City
Located in the Soho area of the city, Soft Swerve is an Instagram-lover's dream – this spot offers Asian-inspired flavors like ube purple yam and Hong Kong milk tea, and you can also choose to have your ice cream served on top of a cup cake.
Tipsy Scoop is for a Friday night. Combining your favorite dessert with booze, this spot offers menus like Spiked Mint Chocolate Chip and Vanilla Bean Bourbon.
Philadelphia
If you're a big fan of cats, this kitty cafe is for you. Not only can you pet cute furry friends that you can also choose to adopt, but you can also enjoy the store's famous treats including cotton candy, cookies and cream and cake batter. Make sure to make a reservation at the store's website before you visit.
Los Angeles, California
Located in downtown LA, Little Damage is known for its ice cream flavors served in a chic charcoal cone. For those who are in Singapore, the store has recently opened a spot on Orchard Road.
Vancouver, Canada
You know a cup of ice cream is Insta-worthy when there's dry ice smoke coming out from it. In addition to its Vancouver location, 720 Sweets & Etc. is also available at Burnaby, Edmonton, and Beijing, China.
London, U.K.
Located at Covent Garden in London, Milk Train is well known for its cloudy treats – a combination of cotton candy and ice cream cone. Signature flavors range from Popcorn & Caramel to Cookies & Cream.
These Instagrammable soft serves come in flavors with fun names like "What's Popping?" and "Oh Snap!" You can also have your ice cream served on top of a smoothie for an ice cold drink this summer.
Barcelona, Spain
A global franchise located in cities like Barcelona, Dubai and Singapore, Eyescream and Friends calls itself the "coolest ice cream in town." These cute monster friends are available in flavors ranging from mango to cheesecake.
Tokyo, Japan
These character ice cream menus are the dessert of your dreams. With two locations in Harajuku, Tokyo and Hawai'i, you can add some of your favorite toppings to your ice cream cone, from a flamingo to unicorn.
Seoul, South Korea
Located in the Sinsa district and Hongdae area of Seoul, Bistopping is different from any other ice cream store. Instead of focusing on creating a unique ice cream flavor, the store creates over-the-top waffle cones which you can choose from. Add various toppings to create your own special dessert menu.
Hong Kong
A chain founded in Boston in 1975, Emack & Bolio's is now located in various places worldwide, including Hong Kong. For National Ice Cream Month, the store, with three locations in the city, is featuring a daily Happy Hour from 3 p.m. to 6 p.m. the entire month of July. Signature flavors include Chocolate Mousse and Peanut Butter Oreo.
Philippines
Get your daily dose of sugar at The Lost Bread, where you can snack on the shop's signature blue vanilla soft serve. You can create your own cup or cone, or choose from the menu with selections like Summer Camp S'Mores and Strawberry Tropical Crunch.
Thailand
A well-known spot for its unicorn theme, this place is a rainbow lover's paradise. While the menu spans from crepe cakes to chicken and cheeseburgers, try their waffle, toast or cheese pie which all come with pink and blue soft ice cream.
Melbourne, Australia
With the idea of serving sea salt soft serve coming from Okinawa, Japan, Aqua S is all about creating ice cream that is fun, innovative and exquisite. Their flavor selections span from red bean to watermelon pear.
Talk about guilty pleasure – Ice Cafe Venezia serves ice cream in a bowl filled with syrup, biscuits and other toppings. If you're looking to have ice cream as a full meal, try out their Spaghettieis, a German spaghetti-shaped ice cream.
---
Share this article