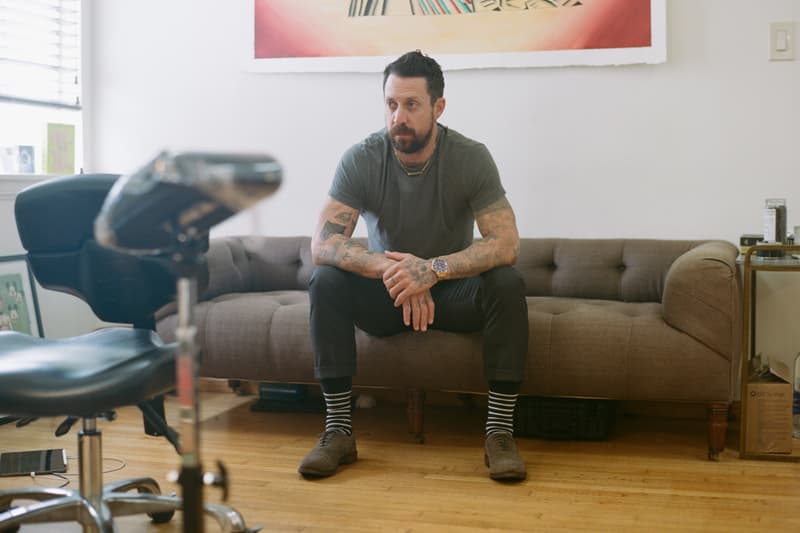 1 of 4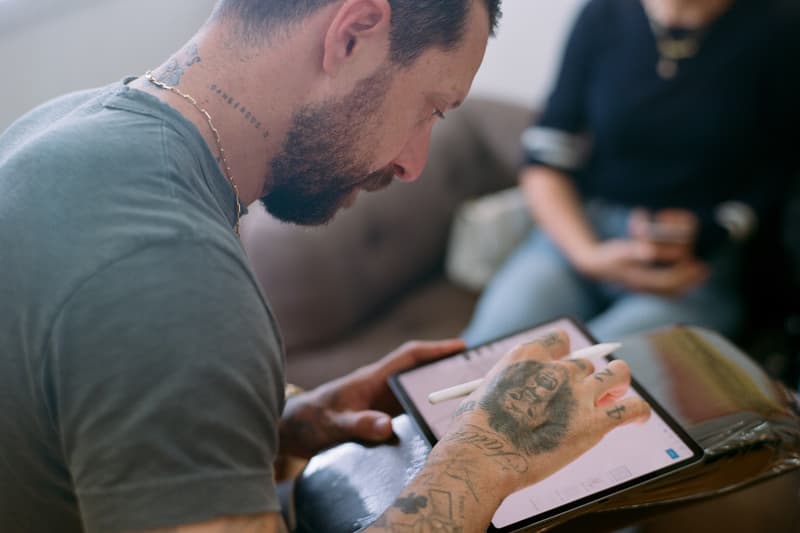 2 of 4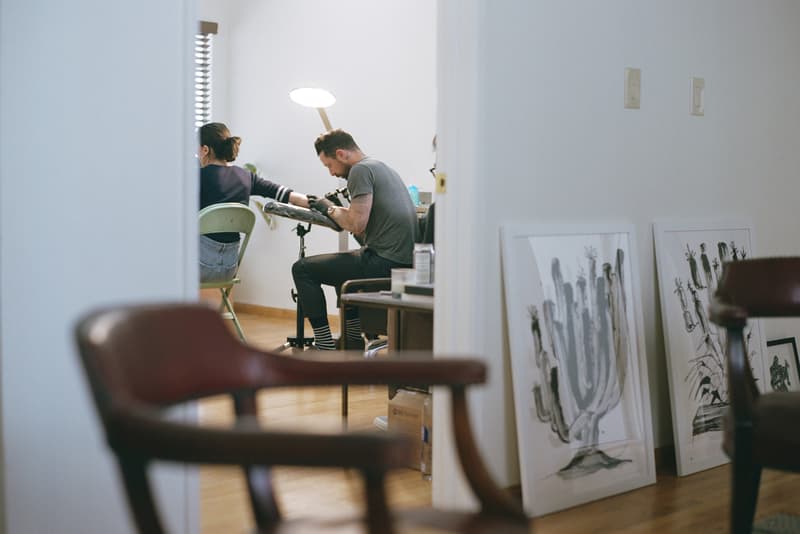 3 of 4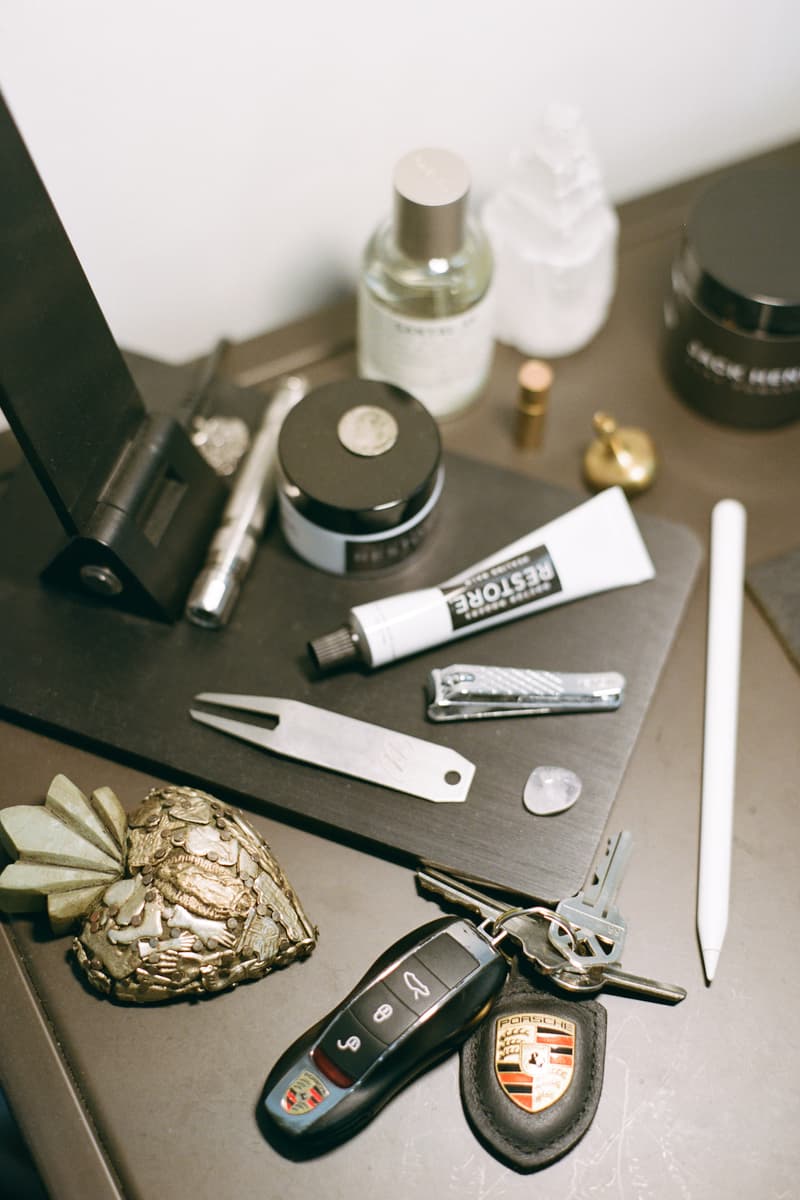 4 of 4
Culture
Hollywood's Favorite Tattoo Artist Winter Stone on Culture, Tattoos and Memorable Experiences
How Daniel Winter came to be one of the most in-demand artists in the industry.
Hollywood's Favorite Tattoo Artist Winter Stone on Culture, Tattoos and Memorable Experiences
How Daniel Winter came to be one of the most in-demand artists in the industry.
What do Lady Gaga, Miley Cyrus, Joe Jonas, Demi Lovato and Sophie Turner all have in common? They're all sporting tattoo's from one of the most in-demand tattoo artists in Los Angeles, Daniel Winter aka Winter Stone. His client list is almost as impressive as his intricate work, which has gained him a waitlist that is over a year long.
Focusing on lines and shapes, Winter has created minimal tattoos ranging from flowers to lettering, animals and everything between, and as the artist himself explains, "one day I picked up that tattoo machine and my life changed in the most positive way I could never have imagined."
We had the chance to chat to the artist about everything from his most memorable tattoo experience to how the ever-growing industry has changed since he started tattooing in 2012. Keep reading below to learn more about the in-demand Winter Stone.
What made you want to become a tattoo artist? How did you get started?
I have been getting tattooed since I was 18, and for years I struggled as an artist. One day I picked up that tattoo machine and my life changed in the most positive way I could never have imagined.
How did you develop your own personal aesthetic? How long did it take you to find your "style"?
As an artist I always did my art with the thinnest pens and pencils possible – it has been engrained in me since day one. As a tattooer I knew I would be able to transfer this lightness of hand.
Your waitlist is practically over a year long, how does it feel to be one of the most in-demand artists out there and why do you think people are so drawn to your work?
I feel very humbled and grateful to have such a long waiting list. I think people are drawn to my work, for the #delicatelysharp style and attention to detail, while still being minimalistic in nature.
You've tattooed some of the biggest celebrities, do you have any crazy stories or a particular standout client? What's been your most memorable tattoo experience?
I have been fortunate to work with some of the biggest celebrities, and there's a level of trust and collaboration between the client and myself. I'm not able to go into specific details, but I will say working with Lady Gaga for her "La Vie en Rose" back tattoo was for sure a highlight in my career.
Is there a particular piece that you're the most proud of or found the most challenging?
I really put all my heart and soul into every tattoo I do. I have favorites, but I love them all! Because each tattoo carries so much meaning to each individual person I remember almost all the tattoos I lay down into the skin.
What do you think about the change of perception regarding tattoos? Having gone from "taboo" to "trendy," how do you think the art will progress and evolve within the next couple of years?
I wouldn't call tattoos trendy anymore, it's a way of life now. I believe our society is changing and people want to be different and express themselves artistically through body art.
How has the industry changed since you first came on the scene? How has your style changed?
My style has evolved into the sharpest lines I can get. I used to use more shading techniques but now I just love the simplicity of the line.
If you could tattoo anyone in the world, who would it be and why?
I would tattoo my late father. He passed away eleven years ago, and I never got to share a tattoo session with him. He wasn't a huge fan of tattoos but he for sure would have gotten our signature W, which stands for WINTER, and every member of our family has received. RIP Dangerous Dave, AKA David Winter (1942-2008).