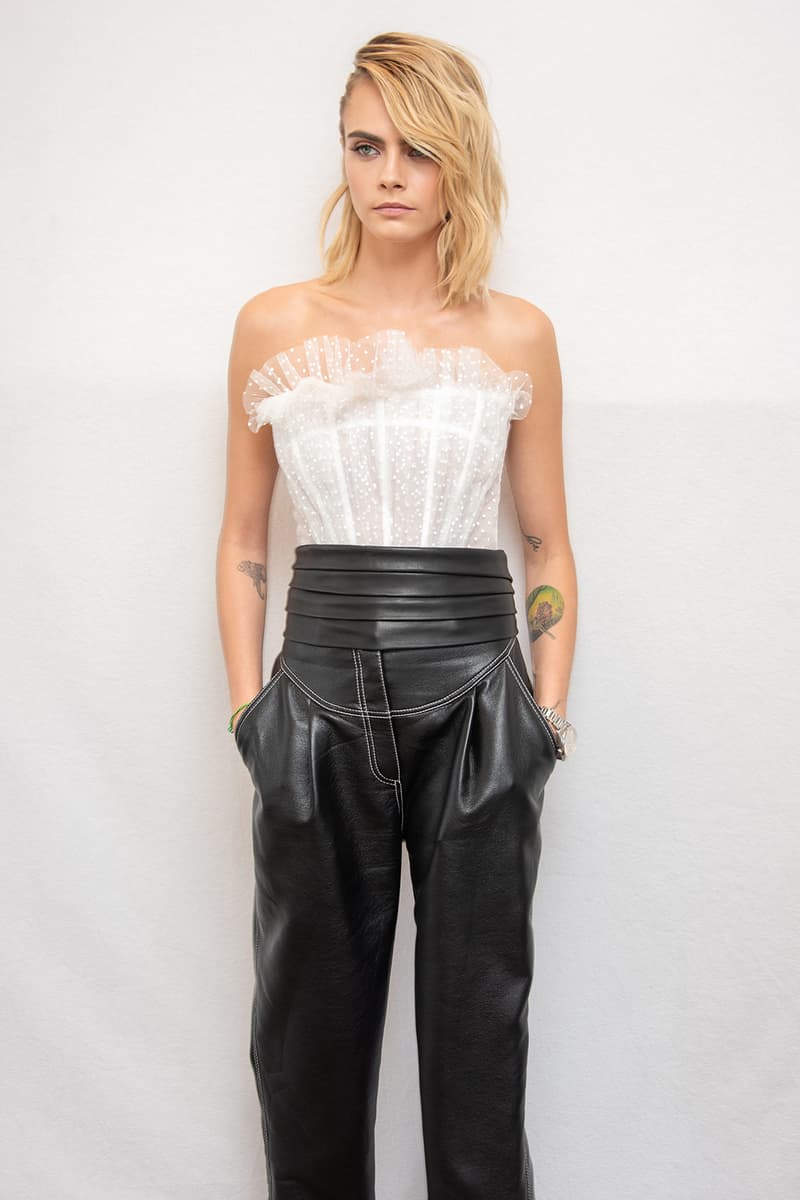 5 Things You Need to Know About Cara Delevingne
The model-turned-actress' new TV series 'Carnival Row' premieres today.
Music
5 Things You Need to Know About Cara Delevingne
The model-turned-actress' new TV series 'Carnival Row' premieres today.
Whether you've been following Cara Delevingne's career since she was the face of Topshop, seen her on the runway at Chanel and Burberry fashion shows, peeped her Dior Beauty campaigns or watched her on-screen in movies such as Paper Towns, Valerian and the City of a Thousand Planets and Suicide Squad, the model-turned-actress has been spotted everywhere. From eyebrow inspiration to fashion icon, Cara Delevingne has been a rising star with a long list of accomplishments on her resume, and to add to it, she is now starring in the highly anticipated Amazon Prime TV series, Carnival Row.
Acting alongside Orlando Bloom, Cara plays a pansexual faerie in a fictional, Victorian fantasy world filled with mythological creatures. The magical beings are taken as refugees into a human city where they are not allowed to love, fly or be free. Orlando Bloom plays a human detective who rekindles a relationship with Cara Delevingne's character in a storyline centered on forbidden love. Carnival Row is set to launch with eight episodes on August 30 exclusively on Amazon Prime.
Read on below for five things about Cara Delevingne before watching the show. For more celebrity facts, check out five things you didn't know about Alexa Demie, Maddy from Euphoria.
1. Cara Delevingne has two successful sisters.
Cara is the youngest of three sisters. One of her siblings, Poppy, started her modeling career before Cara, catching the eye of Marc Jacobs and modeling for Burberry and Louis Vuitton. She was also in Maroon 5's "Sunday Morning" music video in 2004. Chloe, on the other hand, took a different route. Choosing to stay a bit more low profile, she graduated with a biomedical degree and founded the Lady Garden Foundation to raise awareness for the Gynecological Cancer Fund.
2. She is also musically talented.
Not only can Cara Delevingne model and act, but she is musically inclined and can also sing, song-write and play the drums and guitar. Rumor has it she was actually offered a record deal but turned it down, because she would have to change her name if she accepted. On top of that, she hopes to one day start a record label. According to an interview in The Mirror, she said:
"If I was rich enough, I would love to launch my own record label. I would love to try and give all my musically talented friends a start in the industry."
3. Cara Delevingne identifies as sexually fluid.
In an interview with Glamour, the model-actress had a conversation with Adwoa Aboah about her sexual fluidity and how she doesn't want to get put in a box. In the past, Cara has been rumored to be involved with Harry Styles and Miley Cyrus, and more recently, she dated singer Annie Clark (St. Vincent). She is currently in a relationship with Pretty Little Liars actress Ashley Benson.
4. Cara Delevingne is open about her mental health.
It's no secret that Cara Delevingne struggles with anxiety and depression. In order to destigmatize mental health issues and open up the conversation, she makes it a point to encourage her fans to be as honest as she is. In an interview with Esquire, she opened up about being suicidal, saying:
"It was horrible. I would look in the mirror and hate the person I saw. My God, I've just never wanted so badly to be out of my body. I'd just be looking at myself like, 'So disgusting.' I still kind of feel that but now it's part of me and I accept it."
In an interview with W Magazine, she talked about how she had to take a break from school as a teenager and getting on medication. Now, she has come to a healthier place, saying:
"I know it sounds really stupid, but I relied too much on love, too much on other people to make me happy, and I needed to learn to be happy by myself. So now I can be by myself, I can be happy. It took me a long time."
5. She has written a book.
Just when you thought Cara Delevingne has done it all, she adds one more thing to her roster — a book. Her novel titled Mirror, Mirror is a young adult fiction about a group of four teenage friends. The coming-of-age books hit shelves in October, 2017.