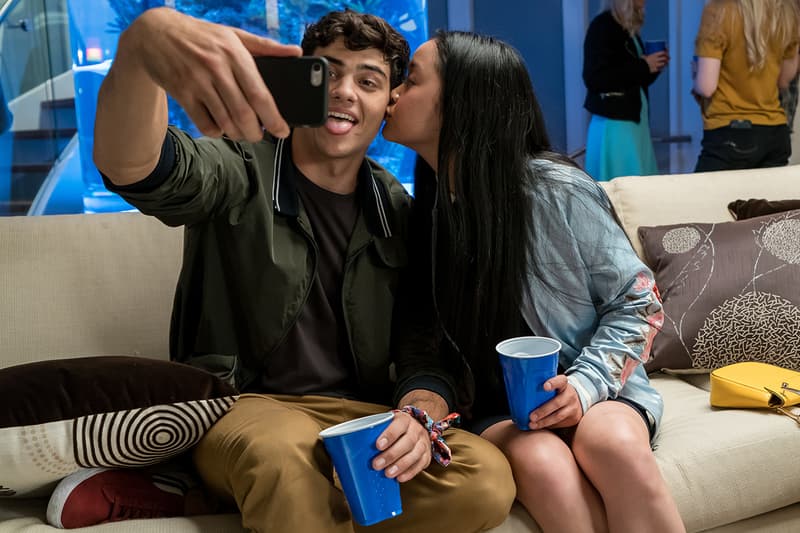 Film & TV
Noah Centineo Says Goodbye to His Character in 'To All the Boys I've Loved Before'
Lana Condor responded with this really sweet message.
Noah Centineo Says Goodbye to His Character in 'To All the Boys I've Loved Before'
Lana Condor responded with this really sweet message.
After the recent announcement of P.S. I Still Love You's official release date, Noah Centineo and Lana Condor told fans that they were currently filming To All The Boys: Always And Forever Lara Jean – the third and final part of the Netflix franchise. On August 17, Centineo took to Twitter to share that he had wrapped filming, bidding his character Peter Kavinsky farewell:
"Tonight was my last night as Peter Kavinsky. I hope you all love these last installments as much as we do. Forever grateful for the opportunity to be yours. Thank you Lana, thank you Michael, Thank you Matt, Thank you Netflix, grateful to every person who told this story with us."
Condor, who plays Lara Jean in the franchise, responded with the sweetest message that got fans emotional:
"You'll always be my Peter K. & I'll always be your Lara Jean, that I can promise you."
One fan replied to Centineo's tweet saying: "Thank you for being our Peter Kavinsky," while another wrote to Lana: "YOU DIDN'T HAVE TO MAKE ME CRY LIKE THIS." Other fans are praising author Jenny Han for writing this romantic trilogy: "Without your books, we wouldn't have met this incredible cast and its incredible people," one Twitter user said.
With two more parts still on its way, this definitely doesn't feel like the end of it just yet. While we patiently wait for the sequel to premiere on February 12, did you hear that HBO's Skate Kitchen-inspired comedy series will be female-led?
Tonight was my last night as Peter Kavinsky.

I hope you all love these last installments as much as we do. Forever grateful for the opportunity to be yours

Thank you Lana, thank you Michael, Thank you Matt, Thank you Netflix, grateful to every person who told this story with us

— Noah (@noahcent) 17 August 2019
You'll always be my Peter K. & I'll always be your Lara Jean, that I can promise you. https://t.co/1phx9hFU2Z

— Lana Condor (@lanacondor) 17 August 2019
Thank you for being our Peter Kavinsky. I can't wait to see the the final 2 movies!

And how awesome is it that wrapped as Peter on the same day #TATBILB came out on @netflix last year. pic.twitter.com/dsvaNkPB1x

— ‎⍟ steph ‎⍟ (@andyouloveher88) 17 August 2019
YOU DIDNT HAVE TO MAKE ME CRY LIKE THIS

— aroa (@anneskavinsky) 17 August 2019
Thank you Noah and Lana for giving life to your movie characters with your amazing acting skills.Thank you Jenny because without your books we wouldnt have met this incredible cast and its incredible people.Thank you for giving us the hope to love and be loved by other peopleLy❤️

— OlgaVal (@VlhOlga) 17 August 2019
@noahcent thank you for being the best Peter Kavinsky we could ever wish for@lanacondor thank you for being the best Lara Jean Covey we could ever wish for@jennyhan thank you for three of the best books we enjoyed reading which lead to this. We are grateful for you all?

— Mandy (@MandyBehrx) 17 August 2019
#ToAllTheBoys: P.S. I Still Love You premieres February 12!

And a third film —To All The Boys: Always And Forever Lara Jean — is already in production!!! pic.twitter.com/EPfUYbOaKl

— See What's Next (@seewhatsnext) 15 August 2019
Share this article