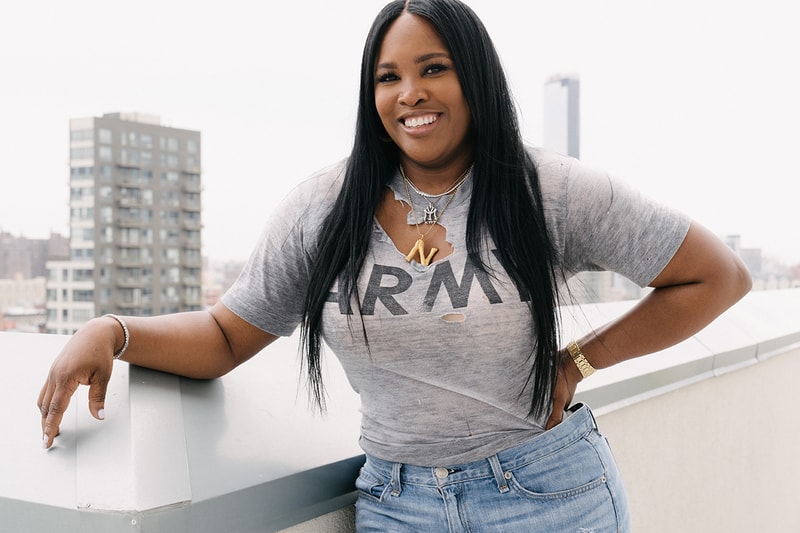 Beauty
Celebrity Hairstylist Nikki Nelms on Working With Janelle Monáe and Her Definition of Beauty
She also shows us all her hairstyling and makeup essentials.
Celebrity Hairstylist Nikki Nelms on Working With Janelle Monáe and Her Definition of Beauty
She also shows us all her hairstyling and makeup essentials.
An in-demand celebrity hairstylist, Nikki Nelms is the woman behind numerous memorable hair looks as seen on your favorite A-list stars in music and Hollywood. From the gorgeous hairstyles Solange wore at her wedding and in her A Seat at the Table project, to Janelle Monáe and Zoë Kravitz's stunning Met Gala hairdos, and to Yara Shahidi's many red carpet looks, Nelms has worked her magic on some of the biggest names in the entertainment industry.
At New York City's Sister City hotel, we recently sat down with Nelms to talk about the beginnings of her career, and how she has come to be one of the top hairstylists in the game. Read on for our interview and see her must-have hairstyling tools and makeup products below.
Nikki Nelms' Beauty Essentials
Maui Moisture Smooth & Repair + Vanilla Bean Oil Mist: A nice light oil that helps to soften my hair, and it smells amazing.
Sebastian Shaper Plus Hair Spray: I love this product because it's a hold I can control. I can have a heavy hold or brush the hair out for it to be as soft as I want. I always get the smaller size because it travels well and it is great to have on set.
ghd Platinum+ Professional Performance 1" Styler: It flat irons so smoothly and gives a sleek look. It's also very comfortable to hold.
Mini Denman Brush: I keep this brush on my keychain. It's great to have one while in the club or at a party when you need a mid-party brush out.
Straightening Comb: It's a must-have. Nothing is going to get roots straight like this hot comb.
Elora Lane False Lashes: I wear these when I want to elevate my makeup looks. They are perfect for day and night, and they aren't too heavy.
YSL Beauty Touche Eclat High Cover Radiant Concealer: It gives me a "natural" refreshed and awake look under my eyes.
Fenty Beauty Gloss Bomb Universal Lip Luminizer: It's a pretty and sexy lip gloss.
Dior Lip Glow: It's very moisturizing and has a subtle shine.
Tweezers: I love black people — all aspects of us. So anything with us, I'm drawn to it. Even tweezers!
OOO Polish 8-Free Nail Lacquer: This polish goes on so smooth and I don't ever need two coats when I use it, which is an added bonus because I never have a lot of time to dry my nails
Tom Ford Lost Cherry Eau de Parfum: This is one of my favorite scents. Sweet and sexy.
Chanel Coco Eau de Parfum: It's a classic and it blends well with all of my other scents.
There's no shortcut to becoming a successful celebrity hairstylist. How did you prepare yourself for this career before even landing your first job?
Looking back, I guess you could say that early on I was preparing myself through different experiences without even realizing it at the time. I've always loved styling hair so I was always spending time doing that. Now I realize that I was preparing myself by learning about different textures and personalities early. Back then, if you had hair, I'd style it. From family and friends to my teachers in high school, even an enemy once, haha.
Speaking of that, what were some of the bigger projects that you worked on when you first started out as a professional hairstylist?
My first job was working as the key hairstylist for Timbaland's "Indian Flute" music video directed by Darren Grant. That was major. I remember creating a whole résumé from that one job. It's hilarious when I think about it now. I was also the key hairstylist on Kanye West's "Gold Digger" video which was my first time working with director Hype Williams. So that was beyond major for me as well.
You've worked closely with many celebrities such as Janelle Monáe and Zoë Kravitz for many years. What do you think your clients love the most about you, and what do you love about working with these women?
What I've heard directly from my clients is that they appreciate my ability to understand and execute without much explaining. I love all my clients for many different reasons. Like what I love most about Janelle and Zoë is the fact that they both are so honest, fair and transparent. I have never had to read between the lines with them or learn to speak "Hollywood" to understand them or to be understood.
With every magazine cover and red carpet opportunity, you almost always challenge yourself to try something new and different than what you've done in the past. How do you stay motivated and inspired?
I just try not to overthink things and since no two moments are ever the same, I tend to get my inspiration from the moment. Plus I'm always nervous — when I'm nervous, I feel like my prayers to God are next level because I'm literally begging Him for wisdom and understanding.

It's easy for onlookers to assume that it's all glamorous and fun to work with celebrities, when in reality the job requires hard work and dedication. What other qualities do you think it takes to be a great hairstylist?
It's important to recognize and protect what makes you different. It's so easy to be so consumed with what everyone else has going on nowadays that you forget about what you bring to the table. My grandma always reminds me to "remember what your name is."
What has been the proudest moment in your career so far?
I'm most proud when I help put some of my fellow creatives of color in positions that aren't always offered to us as easily as they are offered to others. One of those moments for me was the Met Gala 2019. I was so excited when I realized that I was able to help four more people (not including assistants) that looked like me, add a "Met Gala" look to their résumés. I am and will always be the proudest when when I'm able to be, for someone else, what I once needed from someone else.
For someone like yourself who work in beauty literally every day, how do you define the word beauty?
My definition of beauty is being yourself, doing what works for you and not following someone else's formula and blueprint. That can be applied to everything from style to career decisions. It's beautiful to be yourself. Don't be the "second" someone else. Be the "first" you.
Every now and then, we hear about models' frustrations with certain brands' inability to hire hairstylists that know how to work with black hair. As an established hairstylist yourself, what changes do you wish to see in the fashion and beauty industry?
I just wish for all-around equal opportunities. It might sound weird, but I'd love to be able to make mistakes in peace — like other people. I would love to not feel so much pressure or the requirement to work so much harder than others just to get the same opportunities.
What advice do you have for young, aspiring hairstylists who're looking to break into the industry?
You have the key to your success already. What makes you different is your key. So always embrace, love, protect and respect your differences.
Share this article