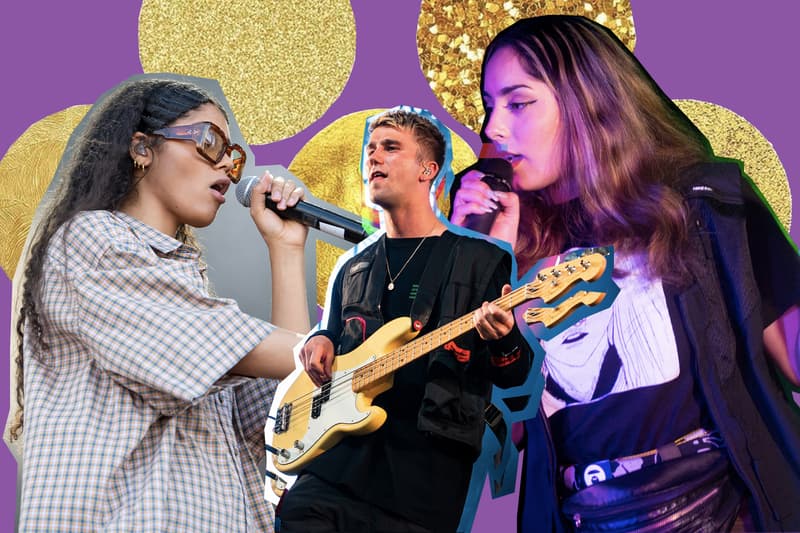 Here Are 7 UK Artists You Need on Your Radar
Ama Lou, Miraa May, LOLA, SG Lewis and more.
If you've been looking for new music to discover, we've put together seven of the best up-and-coming acts from the UK you need to keep on your radar. Ranging from soul and R&B singers like Miraa May and Ama Lou, to DJ and producer SG Lewis, we've put together a handful of names you need to know.
Keep reading to discover all the best acts, and let us know in the comments who you're listening to.
LOLA
Releasing her debut single "Mountain Dew," 21-year-old LOLA is already catching the eyes of the music industry's biggest names. The singer has previously said that she was drawn to music after growing up in a family surrounded by it, and started her professional music journey recently after leaving London for six months. The singer's sound is unique to a point where it can't be defined, and the singer describes herself as "alternative."
She's one of the biggest names to watch, so make sure to keep up with her on Instagram.
Miraa May
Born in Algeria, but based in Tottenham, Miraa May has received praise for her singing and songwriting, which features inspiration from her experiences growing up in North London as well as roadblocks, friendships and experiences throughout her life. IN 2018, the singer released her debut with Island Records, Care Package. According to the singer herself, 'Care Package' "documents a young woman living life to the full, discussing big themes like love, life, sadness, relationships, cooking, gaming or Anime."
Listen to one of Miraa May's tracks above, and follow her journey on Instagram here.
Tiana Major9
In January Tiana Major9 dropped her highly anticipated debut EP 'Rehearsal @ NINE,' which incorporates music genres like jazz, R&B, gospel and soul. Her powerful voice complements her tracks, which are filled to the brim with live instrumentation and vocal harmonies, and with impactful lyrics. Despite being a fresh face in the London music scene, the singer has been supporting acts such as Kelela, Ella Eyre and more, and we can guarantee that this is only the beginning for Tiana Major9.
Keep up with the singer on Instagram here.
Sasha Keable
In 2013, Sasha Keable became a known name after she featured on the Disclosure single "Voices," and later toured with the DJ duo throughout the UK. She has since released three EP's, "Black Book" in 2013, "Lemongrass and Limeleaves" in 2014 as well as "Man" in 2019. She's a neo-soul singer that is one of the biggest names to keep an eye out for this year.
Follow Sasha Keable on Instagram here.
SG Lewis
Sam Lewis, better known as his stage name SG Lewis is a singer-songwriter, record producer and DJ who has created hits featuring vocals from Gallant, Clairo and more. Earning praise from none other than Pharrell Williams, it is clear that SG Lewis will soon be one of the biggest names in music. Recently, he released a string of EP's titled Dusk, Dawn and Dark, which explored uptempo tracks and a new way of creating his sound, proving that he's well-rounded and a force to be reckoned with.
Make sure to keep up with SG Lewis on his Instagram.
Ama Lou
Receiving endorsement from Drake, who has previously been key in developing upcoming UK artists like Sampha and Jorja Smith, Ama Lou is about to be the next big thing. Her toned-down R&B sound is woven in with husky soul, trap and harmony, showing that the young artist has already found her unique sound.
In March 2018, she released her EP DDD, which was accompanied by a 12-minute film. This year the singer performed at Lollapalooza, Primavera Sound and more, and is guaranteed to be taking over the scene within the upcoming years.
Keep up with Ama Lou on Instagram.
Puma Blue
Jacob Allen aka Puma Blue was described by The Guardian as an update of "the Sinatra stereotype for a new, jaded generation. Less Michael Bublé and more rough-edged, his sound is one of jazz instrumentation brought to life in the husky whisper of his voice." His unique has gained him attention following his 2017 debut album Swum Baby, and last year's Blood Loss. His monicer is one inspired by "an imagined character who is a half washed-up drunk, half big cat, just slumped in a barstool and reeking of whisky," proving that Allen is a creative with an imagination that is guaranteed to bring him to the top.
Catch him over on Instagram here.
---
Share this article