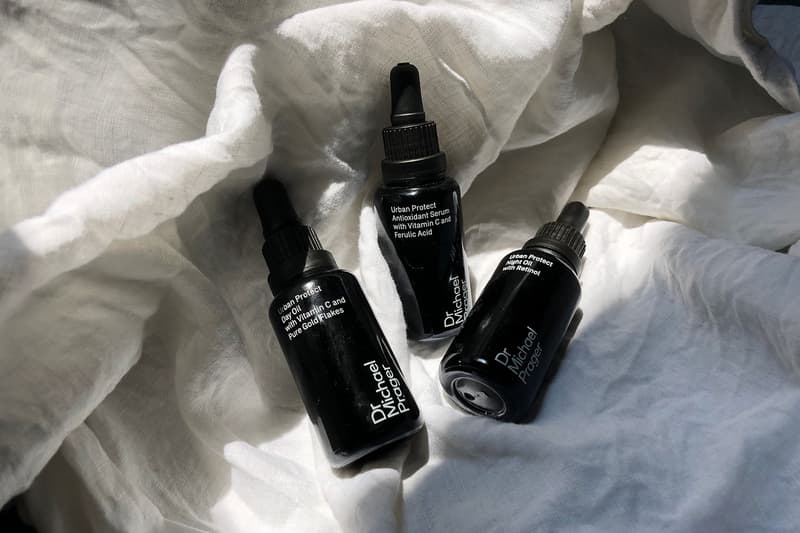 Beauty
I Wore a Day Oil With Pure Gold Flakes for a Month – Here's What Happened
Read on to find out more about this editor's new favorite pollution-fighting skincare range.
I Wore a Day Oil With Pure Gold Flakes for a Month – Here's What Happened
Read on to find out more about this editor's new favorite pollution-fighting skincare range.
For those who know me well, one of my favorite topics is discussing the merits of face oils. With this particular skincare product being a still-growing trend amongst beauty lovers, the thought of applying oil to your face twice a day to improve one's complexion seems daunting and altogether counterintuitive. However, it only just takes one solid experience to successfully convert someone to this burgeoning regime and for all the non-believers out there, might I suggest taking a gander at Prager Skincare.
Developed by Dr. Michael Prager, this uniquely formulated beauty range has specifically been created to protect and combat against urban environmental factors. Dubbed as an anti-pollution skincare line, advanced scientific methods have been used to create products with premium natural ingredients to create oils, moisturizers, cleansers and masks that you can feel entirely safe applying to your skin.
A potent blend of anti-oxidants, pure vitamin C, gold particles and luxurious oils are used to protect the skin and to create a barrier that prevents harmful pollutants from penetrating through. As a 360-degree approach to responsible skincare, Prager also minimizes its urban footprint by making its Urban Protect range completely free from anything chemically harmful, harsh or artificial – no parabens, chemicals or hormones are ever used.
I have been using Prager products for about a month now, and I can genuinely say that the Urban Protect range has become an irreplaceable part of my skincare routine. Not to mention that the entire line's ultra chic packaging composed of all-black glass containers and minimal white writing make for the perfect additions to one's top shelf. Read on to find out what my top three favorite products are from the lineup. To see the full range from Prager Skincare's Urban Protect range, you can head over to Net-a-Porter, where the entire line is exclusively available.
Although I'm certain that it will take more than an article to really change the mind of a non-believer, I do emphasize the fact that face oils noticeably improve the radiance of my skin better than any moisturizer has been able to. Not only does my makeup seem to apply better on my skin, but there is a very natural dewiness and glow to my complexion that seems to make highlighter almost redundant. With the Prager Urban Protect Day Oil, all of the benefits of face oil seem to heighten. Formulated with a blend of ingredients that help to soften, sooth and replenish dry skin, its composition also benefits cell integrity by restoring suppleness and elasticity. There are also gold flakes within the oil that stimulates cell turnover – the effect is one I've truly never seen before.
After using the Day Oil for about a month, my complexion is visibly more radiant and skin tone noticeably more evened out. For those living in extremely humid conditions (I, myself, live in Hong Kong), this face oil is a great alternative to moisturizer because of its light consistency – I find that moisturizer sometimes feels quite heavy in the summers and seems to limit my skin's breathability. I recommend pairing this with a light coverage foundation or tinted moisturizer for a dewy effect that comes off incredibly luminous. Dare I say that highlighter might even be moot with this natural glow. The Urban Protect Day Oil retails for $315 USD.
Retinol – like hyaluronic acid – is quite a buzzy skincare word but prior to testing out this Prager item, I wasn't quite sure what its exact benefits were. Turns out, it's nothing short of a miracle ingredient. Retinol is basically a form of Vitamin A. It is mostly known for its skin renewal properties, namely in the form of increased collagen production and anti-aging effects such as reducing the appearance of fine lines and wrinkles. The ingredient is also known to minimize the signs of sun damage.
For Prager Skincare's retinol offering, the Night Oil is designed to shield your skin from damaging city pollutants, as well as UVA and UVB rays. Also enriched with anti-oxidizing Vitamin E, this oil is designed to work collaboratively with the Day Oil and Day Priming Moisturizer in the morning, so that you can tackle your day with beautiful healthy skin. The Urban Protect Night Oil retails for $273 USD.
I'm a big fan of serums. If you're able to find the right one, they are a concentrated powerhouse of nutrients with well-rounded benefits. I may have just found my new skincare superhero with Prager's Antioxidant Serum. Infused with a hydrating ingredient called Sodium Hyaluronate, an effect of "eternal youth" is meant to be achieved thanks to this component that delivers long-lasting plumpness. Ascorbic and Ferulic Acids also help to soothe any irritation or redness, as well as to correct tone, increase radiance, restore brightness and improve the appearance of sun damage.
Serums are meant to be the first ingredient to touch your skin after cleansing, so make sure that this is the first thing that you apply to your skin as part of your nighttime skincare routine. The Antioxidant Serum retails for $252 USD.
---
Share this article