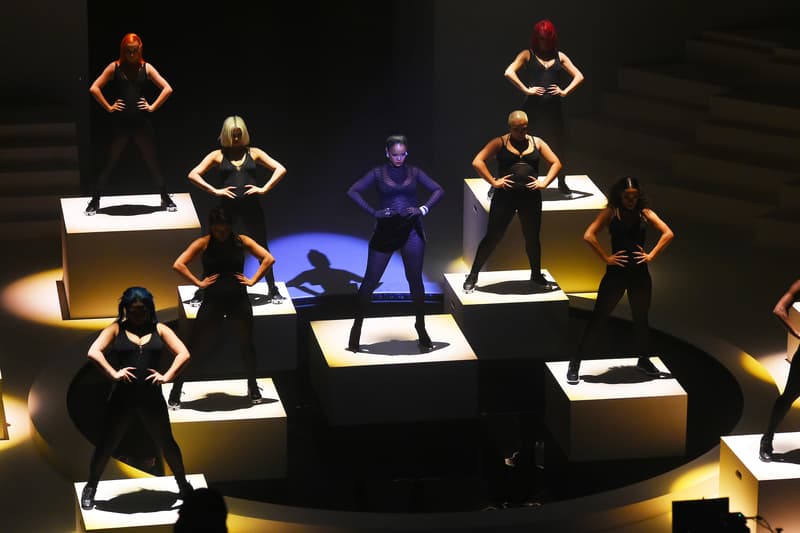 Fashion
Celebrities React to Rihanna's Anticipated Savage X Fenty Show
"Rihanna's mind… is unparalleled. I am humbled to have been present."
Celebrities React to Rihanna's Anticipated Savage X Fenty Show
"Rihanna's mind… is unparalleled. I am humbled to have been present."
Rihanna's highly anticipated Savage X Fenty show took place last night at New York Fashion Week, and the buzz around the show was unlike anything before. Prior to the show date, the singer, beauty mogul and fashion icon shared that there would be performances from celebrities like Halsey, Big Sean, Migos, Tierra Whack, Normani and more, giving us the ultimate FOMO.
The show was held at the Barclays Center, and all guests were required to leave their phones outside as no photography or video was allowed inside the space. The show will be streamed exclusively on Amazon on September 20, and will remain a secret until then. According to those that were there, the show featured models of all different body types and skin colors, furthering Rihanna's commitment to diversity and inclusivity. There were also a handful of performances, and of course a star-studded guest list which included Gigi and Bella Hadid, Kasey Musgraves, Slick Woods, Paris Hilton and more.
We'll have to wait another week until we're able to see everything that went down at the show, but to calm our FOMO, we've compiled all the best celebrity reactions to Rihanna's Savage X Fenty show at New York Fashion Week below. Have a read-through and stay tuned as the full show will be available to stream online on Amazon starting September 20.
The SAVAGE x FENTY show tonight – a splendid celebration of human form, sexuality, and all women. It made me feel more confident about my own body and the journey of the female spirit. Well fucking done @rihanna

— K A C E Y M U S G R A V E S (@KaceyMusgraves) September 11, 2019
The #SavageXFenty show was fucking WOW

— Alissa Ashley (@alissa_ashleyy) September 11, 2019
that was the most sexy, powerful, inclusive, boss ass fashion show i've ever been to in my LIFE. RIHANNA WHY ARE U LIKEEEE THISSSSSSS ??????????

— Kehlani (@Kehlani) September 11, 2019
Rihanna snatched phones then wigs … crazy

— Wale (@Wale) September 11, 2019
rihanna's mind… is unparalleled. i am humbled to have been present. fuck.

— CHIKA (@oranicuhh) September 11, 2019
What an incredible night at the @SavageXFenty show. ? Constantly changing the game and forever making history @rihanna. I ? you.

— Hailee Steinfeld (@HaileeSteinfeld) September 11, 2019
Congrats @rihanna! Your fashion show will go down as one of the most ICONIC presentations of history. Proud of you ???

— icy (@Saweetie) September 11, 2019
that was the most sexy, powerful, inclusive, boss ass fashion show i've ever been to in my LIFE. RIHANNA WHY ARE U LIKEEEE THISSSSSSS ??????????

— Kehlani (@Kehlani) September 11, 2019
Omg little goth me just went 2 the @SavageXFenty by @rihanna fashion show & it makes me SO happy 2 see all different shapes and sizes and skin tones on the runway ☺️?✨ it's hoW it sHoUld BE aLL thE TIME!!!!!! pic.twitter.com/XiTKHYIzrZ

— Bishop Briggs (@thatgirlbishop) September 11, 2019
wow this was legit one of the most memorable nights of my entire existence. thank you to the queen herself @rihanna for allowing me to be a part of HISTORY!!!!! YOU SET THE BAR YOU HEAR ME ✨ I love you beyond. shit can't nobody tell me nothing. Thank you GOD pic.twitter.com/VEka2eu6le

— Normani (@Normani) September 11, 2019
"Oh my god I'm too involved. I want a break but I'm a control freak so I do everything.I see everything. There's not one step of the way, there's not one lace trim, there's not one bra strap. there is not one bow on a panty that I do not see and approve." Rihanna on #SavagexFenty

— Rihanna Navy (@rihannanavy) September 11, 2019
There! Are! No! Words! @rihanna just changed the game forever; as she always does. Thank you for letting me witness and be a part of this incredible event. @SavageXFenty ? pic.twitter.com/bLB3TJLCaV

— h (@halsey) September 11, 2019
---
Share this article