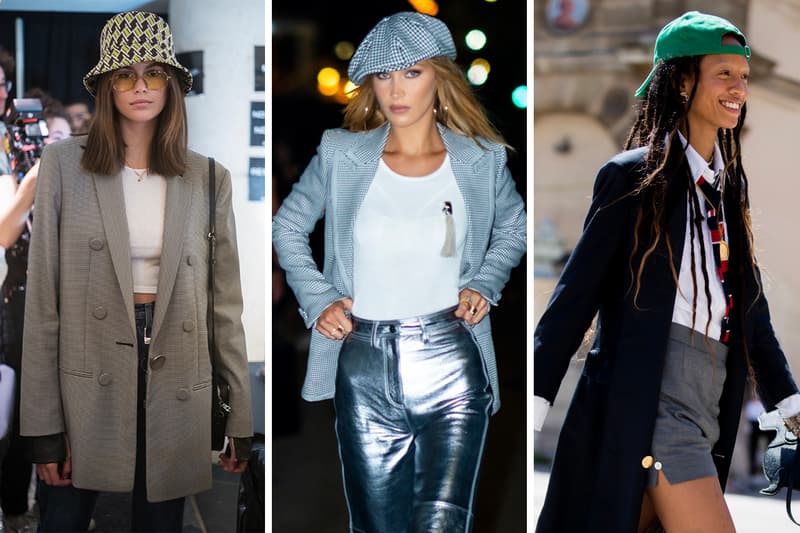 Fashion
From Bucket Hats to Flat Caps, These Are the It-Model Accessories You Need This Season
Stock up on these fall essentials.
From Bucket Hats to Flat Caps, These Are the It-Model Accessories You Need This Season
Stock up on these fall essentials.
No matter if you're looking to dress up or dress down an outfit, accessorizing with a hat almost always makes you look more chic and sophisticated. With fall and winter fast approaching, we're turning to some our favorite models' off-duty style for inspiration, and have identified a few key headwear trends you should know for the upcoming season. From flat caps and wide-brimmed hats (two favorite styles of the Hadids), to baseball caps and bucket hats, keep scrolling to see items worth investing in for your fall wardrobe.
While you're here, check out the best street style looks from New York Fashion Week Spring/Summer 2020.
Flat Caps
To add a vintage feel to any outfit, look no further than flat caps. At the recent New York Fashion Week SS20, Bella Hadid was spotted wearing one when she attended the Zendaya x Tommy Hilfiger show. The same houndstooth-patterned hat was also seen on Winnie Harlow, who sported a matching, black and white coat and turtleneck as she strutted down the lively runway.
Take your pick between wool, velvet and Burberry's signature Nova Check design depending on the mood you're after.
Wide-Brimmed Hats
Whether at weddings or on the front row of fashion shows, you can always expect to see Gigi Hadid in a wide-brimmed hat. To recreate her sleek, polished look, consider picking up classic felt hats like Saint Laurent's black variant and Gucci's cream white style.
If you're looking to experiment with the Western trend, a cowboy-inspired design à la Precious Lee's choice of headwear might just be the perfect option for you.
Baseball Caps
Always versatile and never out of style, baseball caps are a wardrobe must-have for many top models, including Kaia Gerber and Sora Choi. Opt for ones that are emblazoned with a recognizable logo to add a bit of interest to any casual weekend look.
Bucket Hats
Bucket hats are the go-to accessory for cool girls like Adesuwa Aighewi and Yoon Young Bae. From graphic-printed styles like Kirin's bold and colorful design, to ones constructed with fall-ready textures, like Natasha Zinko's fuzzy furry chapeau, there are plenty of options on the market to suit your taste and sartorial preference.
Share this article