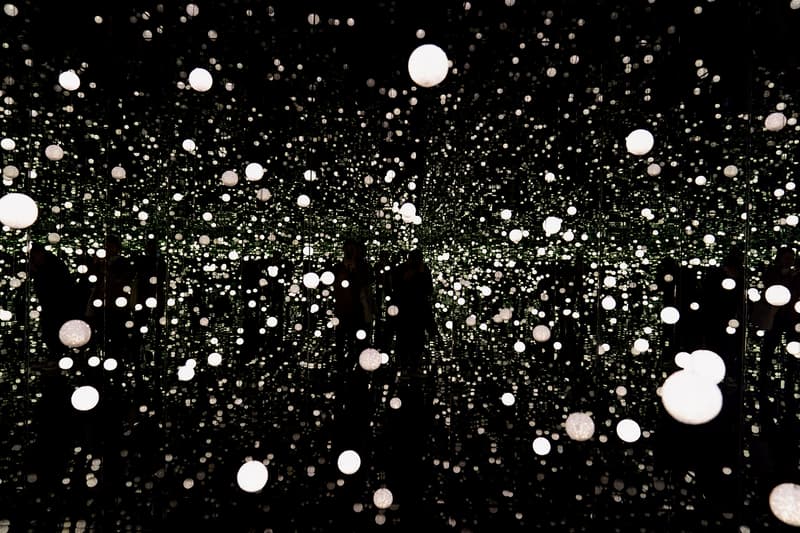 Art
7 Art Exhibitions in North America to Visit in 2020
From Yayoi Kusama's 'Infinity Mirror Rooms' to Duro Olowu's cultural 'Seeing Chicago.'
7 Art Exhibitions in North America to Visit in 2020
From Yayoi Kusama's 'Infinity Mirror Rooms' to Duro Olowu's cultural 'Seeing Chicago.'
North America's art scene is at its prime and if you're on the hunt for upcoming exhibitions to check out, we handpicked the best ones to visit this year. Whether you're an art expert or you're merely an enthusiast looking for something to do on the weekend with your friends, our list has got you covered.
From Yayoi Kusama's famous Infinity Mirror Rooms making its way to Boston, to London-based fashion designer Duro Olowu's upcoming Seeing Chicago exhibition at MCA Chicago, continue reading below to find out what other installations have made the cut.
While you're here, don't forget to check out our roundup of the best fashion and art bookstores in New York City.
Yayoi Kusama: Love is Calling – Institute of Contemporary Art, Boston 
Iconic contemporary artist Yayoi Kusama has brought her famous immersive and kaleidoscopic Infinity Mirror Rooms to ICA Boston. Dubbed the Love is Calling exhibition, guests can expect to enter a dark, mirrored room illuminated by inflatable, tentacle-like forms – incorporated in the artist's signature polka dots – that extend from the floor and ceiling, gradually changing colors.
Date: Now until February 7, 2021
Website: icaboston.org
Location: 25 Harbor Shore Dr, Boston, MA 02210, United States
Track Work: One Hundred Years of New York City's Subway –
Since 1904, the subway has been New York City's main mode of transportation for both locals and tourists. In honor of the city's symbol of modern progress, ACA Galleries will be showcasing works from a wide range of artists featuring their interpretations of the subway over the past century and how it illustrates the diversity and community of New York.
Date: January 15 to March 7
Website: acagalleries.com
Location: 529 W 20th St #5E, New York, NY 10011, United States
Duro Olowu: Seeing Chicago – Museum Of Contemporary Art Chicago
Duro Olowu is a Nigerian-born London-based talent who specializes in fashion rather than art. However, for the first time ever, MCA Chicago has invited Olowu to curate his own exhibition situated at the museum's main space. According to a press release, Olowu's Seeing Chicago installation has a strong emphasis on art by women, artists of African descent and self-taught or visionary artists. In his final gallery, visitors can expect a cast of mannequins dressed in Olowu's signature designs.
Date: February 29 to May 10
Website: mcachicago.org
Location: 220 E Chicago Ave, Chicago, IL 60611, United States
Donald Judd Retrospective – The Museum of Modern Art, New York
Known for his minimalist aesthetic, MoMA will be featuring the evolution of American artist Donald Judd. According to the museum, "the exhibition will explore the remarkable vision of an artist who revolutionized the history of sculpture, highlighting the full scope of Judd's career through some 60 works in sculpture, painting and drawing."
Date: March 1 to July 11
Website: moma.org
Location: 11 W 53rd St, New York, NY 10019, United States
Vera Lutter: Museum in the Camera – Los Angeles County Museum of Art
New York-based artist Vera Lutter has been invited by LACMA to work in residence at the museum. Lutter will be capturing pieces that represent the campus architecture, galleries and current collection holdings. In order to execute her works of art, Lutter uses the oldest optical technologies, the camera obscura.
Date: March 29 to July 19
Website: lacma.org
Location: 5905 Wilshire Blvd, Los Angeles, CA 90036, United States
Niki de Saint Phalle – MoMA PS1, New York
In honor of the late visionary feminist and activist artist Niki de Saint Phalle, MoMA PS1 will hold the first-ever New York exhibit dedicated to the artists' work this year. The museum has stated that the Niki de Saint Phalle exhibition will feature over 100 works created by Saint Phalle from the '70s until her death in 2002, including sculptures, prints, drawings, jewelry and archival pieces.
Date: April 5 to September 7
Website: moma.org/ps1
Location: 22-25 Jackson Ave, Long Island City, NY 11101, United States
Norman Rockwell: Imagining Freedom – Denver Art Museum 
Norman Rockwell has made his mark in the art industry as one of the most prolific talents of his time. Known for conveying contemporary American history. The Denver Art Museum's new exhibit Norman Rockwell: Imagining Freedom will highlight Rockwell's works from the '40s inspired by Franklin D. Roosevelt's notion of the "four freedoms."
Date: May 3 to August 23
Website: denverartmuseum.org
Location: 100 W 14th Ave Pkwy, Denver, CO 80204, United States
Share this article