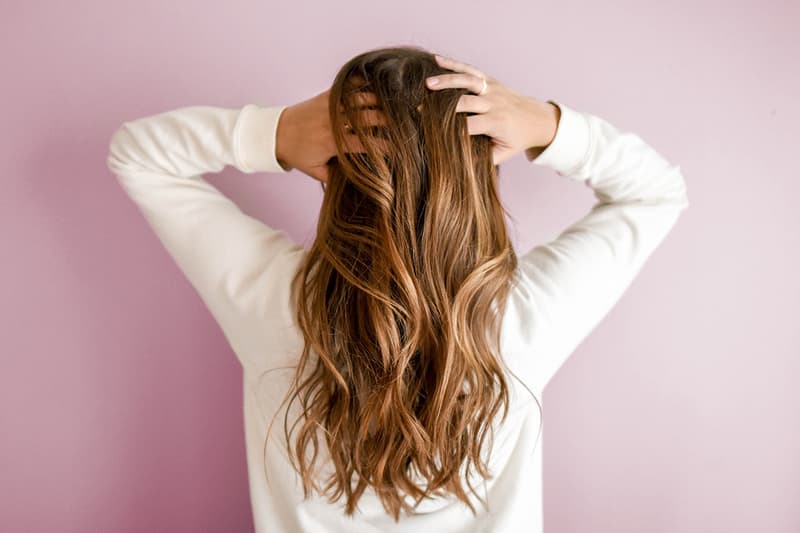 The 12 Best Scalp Care Products for Achieving a Healthy Scalp
We've got all the expert tips.
Scalp care might sound like a boring subject within the luxurious and glamorous beauty world, but it's essential to having the long (or short), healthy hair of your dreams, bouncy, soft and shiny. Experts agree that cleaning your scalp properly is incredibly important, as we have pores there too, just like our faces and bodies. Essentially your scalp "breathes" through the hair follicles, so it makes sense to clean it properly, right? Shampoos for scalp health are traditionally known as "clarifying," which offer a deeper cleanse of the scalp, but the last year or two have brought many targeted scalp care lines on the market. These include all sorts of names, from "micellar shampoo" (similar to micellar water for our faces), "hair wash," "scalp toner," "cleanser" and more. Let's hear from the experts on why scalp care needs to be a priority in our routines.
Why is scalp care important?
Hairstylist and entrepreneur Frédéric Fekkai explains that scalp health is directly linked to the health of your hair. "If you have a clogged scalp with lots of build-up, your hair follicles won't be able to breathe or have proper circulation, which will affect the look and feel of your hair. The scalp is one of the most porous parts of the hair, so it absorbs nutrients from the products that you apply there, but will also hang onto build-up from product easily."
Madeleine Preston, consultant trichologist M.I.T., seconds the point and gives a simple example, just as we clean our faces and bodies from normal build-up (natural oils), such should be the case with our scalps too, to promote a healthy cell turnover.
If you enjoy comparisons, Anabel Kinsgley, consultant trichologist and director of Philip Kingsley says: "Try to think of your scalp as soil, and your strands as individual shards of grass that it supports and nourishes." She also notes that we all need to look after our scalp, whether we experience issues or not.
Gareth Williams, Creative Ambassador for Headmasters in the UK says the scalp is a complex environment. "As soon as the skin's first layer of protection is compromised, it becomes imbalanced and that's when scalp issues can occur. That first layer of skin can be imbalanced by water, change of environment and pollution levels, humidity and product application including any color products."
How to maintain a healthy scalp?
In general, when washing your hair, focus on your scalp. Preston recommends for everyone to use an exfoliating scalp mask once or twice a week to remove dust, dirt and product build-up. Williams recommends to wash twice, like they do at the salon, to properly remove dirt and debris, "Underneath the crown, nape of neck and around ears are key areas often missed in the shower, as most people concentrate on the top section," he says. He adds that the temperature of the water is important — it shouldn't be too hot. He also recommends using a gentle exfoliating brush (like the Manta brush) in the shower.
Though Kinglsey doesn't prefer brushes as they can be too harsh, she highly recommends a scalp massage that can be done with the tips of your fingers, to relieve tension and stress and in turn help with the targeted products if you have specific concerns. Melanie Pellegrini, senior hairstylist at John Frieda Salons and Color Wow senior educator for UK and Europe, recommends a gentle all-rounder shampoo in your routine, to avoid any serious scalp issues from developing. If your issue is serious, please consult a doctor or dermatologist directly.
For itchy scalp
For more severe cases of an itchy scalp like Seborrheic Dermatitis, Preston recommends to up your scalp mask usage to two to three times weekly. For dandruff, look out for ingredients like witch hazel, piroctone olamine that soothe and remove excess oil, Kingsley tells us. The targeted ingredients will help control oil, and rebalance the scalp.
For dry scalp
Kingsley mentions there can be some misinformation it terms of oil for dry scalps. "Applying pure oil to your scalp is not going to do much good, oil-in-water emulsions like creams are much better. Dry skin is not just due to lack of oil, it is also actually due to lack of moisture (i.e. water, or excessive water loss) from the skin." She also notes that flakes might mean you have an oily scalp and not dry. To combat a dry scalp, you can use a moisturizing scalp product weekly, and a re-hydrating scalp toner daily. Some ingredients to look out for are aloe vera, betaine salicylate (mild exfoliant) and sodium salicylate.
For oily scalp
So if oily scalp is your issue, Kingsley recommends a targeted scalp toner for the irritation, and ingredients that will balance the sebum production like witch hazel and celery seed extract.
What to avoid?
Overshampooing
Fekkai notes conditioner should never be applied on the roots as it will clog the scalp and result in greasy hair, and be careful of not applying too much shampoo either: "just enough shampoo directly to your scalp and as you lather, let it wash over your strands. This will help keep your scalp clean without stripping the rest of your hair." Depending on your lifestyle, though, you might need to wash your hair every day. Preston says a mild shampoo is good for everyday use and a healthy scalp.
Under shampooing
Anything done in an extreme way can create issues, and so is the case with not shampooing hair enough. Preston highlights the importance of clearing product build-up and Kinglsey agrees, as not shampooing your hair enough can lead to irritation, and even blocked pores and pimples.
Dry shampoo
Not wanting to be the bearer of bad news, but your dry shampoo habit may be negatively impacting your hair's health, depending on how often you use it — more than two consecutive days might be problematic. All the experts I spoke to agree that dry shampoo shouldn't be used too often as it blocks hair follicles. It can even lead to red bumps or spots that are itchy, Pellegrini says.
According to Kinsgley, "dry shampoos simply do not cleanse the scalp properly, they don't remove dead skin cells, sweat, dirt or oils — you need a normal shampoo, plus water, to do this." And if you have a specific issue like dandruff, you must avoid dry shampoo altogether.
Temperature
Williams mentions that excessive heat can be an issue for the scalp as well, not just the hair: "Be careful with your heat, excessive hair dryer heat on the scalp can be very drying". But the cold isn't too great either. "Take your mother's advice and don't sleep on wet hair. Damp hair and damp pillows overnight can create a breeding ground for bacteria," Williams notes.
Sulfates
Sulfates are essentially the foaming agents in a shampoo, and they can be very drying to both hair and scalp. "Shampooing with a product that is too high in alkaline can also dry out the hair, many drugstore brands tend to have a higher alkaline percentage, they tend to work towards a pH neutral which is 7, but your hair is actually pH 4.5 to 5.5. Look for a shampoo that doesn't contain Sodium Laurel Sulfate which is the foaming agents that can be particularly stripping," Williams says.
Essentially sulfates are detergents that attract oil and water, but also strip your hair's natural oils. Apart from sulfates, you should also be careful of products that deposit on the hair, for example "volumizing," "strengthening" and more should be avoided, Pellegrini says, as it will affect hair growth, weigh down and irritate hair. If you've never used a sulfate-free shampoo before, you might be surprised the first time you use it, as it doesn't foam. This doesn't mean it doesn't clean your hair, so don't be put off by that.
If you're ready to take care of your scalp, here are 12 products to try out:
Color Wow Dream Filter Pre-Shampoo Mineral Remover
Share this article