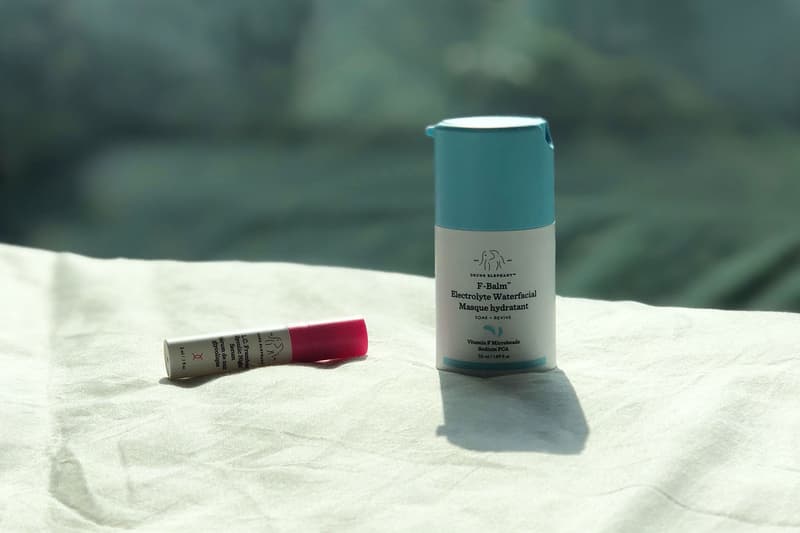 Beauty
Drunk Elephant Drops an F-Balm – Here's What We Think of the New Overnight Mask
Spoiler alert: this editor has never woken up so plump and dewy.
Drunk Elephant Drops an F-Balm – Here's What We Think of the New Overnight Mask
Spoiler alert: this editor has never woken up so plump and dewy.
For those of us who are forever chasing the dew, the search for that perfect moisturizing skincare product may seem to be a never-ending endeavor. There's always something lacking in the mix – whether it's price point, ease of application or overall efficacy, I've never quite found a product to check all the boxes. Enter Drunk Elephant's latest release: the F-Balm Electrolyte Waterfacial.
The product's name is obvious enough – if the term "Waterfacial" doesn't get you the first time around, perhaps "moisturizing overnight mask" will. The latest addition to Tiffany Masterson's skincare brand describes itself as a "cooling, quenching overnight mask [that] plumps and restores with an electrolyte cocktail strengthening the skin's acid mantle." In layman's terms, it rejuvenates parched or dry skin, and restores your complexion to a soft and supple state by the time you wake up in the morning. It also claims to improve signs of damage, uneven tone and texture. For those who are more savvy with skincare ingredients, the new F-Balm comprises of "barrier-replenishing ingredients" such as niacinamide, sodium PCA, plant squalane, five forms of ceramides, omega fatty acids and powerful antioxidants.
The directions on the package recommends four to five pumps of F-Balm as the last step in your nighttime routine. With the first pump, I noticed that the texture is not quite smooth. A little bit concerned at first, I later find out that the product is actually loaded with tiny beads of vitamin F that are designed to burst during application and thus delivering extra emollience and soothing hydration. The balm also comes with a smaller sample vial of Drunk Elephant's existing product: the T.L.C. Framboos Glycolic Night Serum. The F-Balm can be used with the serum for a gentle, chemical exfoliation while you sleep. For those who may be first-time users of the brand, Drunk Elephant is known for its "skincare cocktails," meaning that the products are designed to be blended together prior to application, versus the standard practice of applying products layer by layer. The same applies for this duo.
Since my skin is slightly drier in the winter time, I've been opting for chemical exfoliants lately, which are slightly more gentle than exfoliating cleansers that polish and buff skin by creating micodermabrasions. With that being said, of course I had to try out the suggested combination. As far as textures go, the F-Balm is pretty standard when compared to other overnight masks I've tried – it's a fairly thick cream that feels slightly more enriched with oils than a standard night cream. I found that especially if I apply this with my other nighttime products right after an evening shower, my skin already feels extra quenched.
Upon waking up in the morning, my skin feels intensely plump and dewy. Even on nights when I'm not getting enough sleep, my complexion does not feel as dull as usual (I would still recommend getting enough sleep for the best-looking skin though, of course). Because this product is so hydrating, I find that I experience best results when I'm not using it every night actually. I've been using the F-Balm every other night, and my skin feels a little bit more balanced throughout the day.
At a price point of $52 USD, it sits around the mid-range for mask products. However, I will definitely say that this is one of the most effective overnight masks I've tried, especially if you're looking for a product that focuses on hydrating and plumping. As with all Drunk Elephant products, the F-Balm is also 100 percent free of essential oils, silicones and fragrances, so this is a particularly strong option for those with sensitive skin, or are just more conscious about the products that you put on your skin. For me personally, I'm not a fan of skincare products with fragrances that are too overpowering, so DE's lineup is perfect.
You can shop Drunk Elephant's new F-Balm Electrolyte Waterfacial now at Sephora. In other news, have you heard that Drunk Elephant is slated to release its own line of haircare products?
---
Share this article