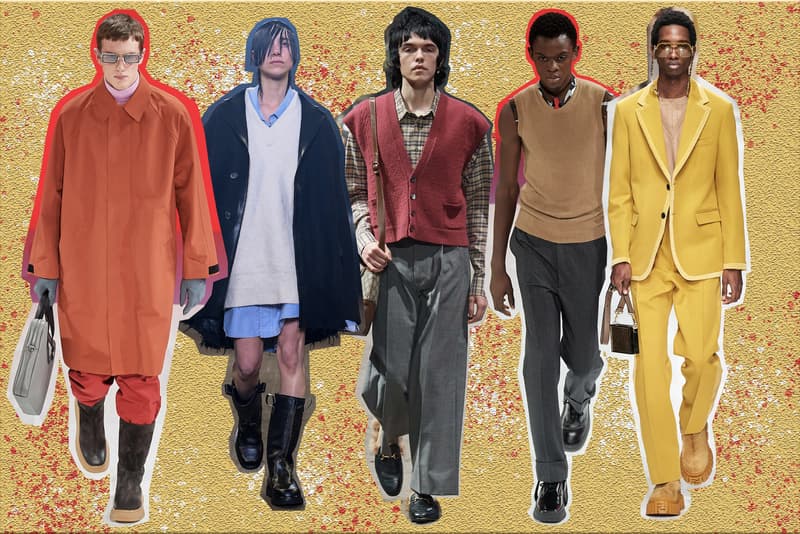 Fashion
Here Are the Shows You Missed at Milan Fashion Week Men's FW20
Prada, Gucci, Fendi and more.
Here Are the Shows You Missed at Milan Fashion Week Men's FW20
Prada, Gucci, Fendi and more.
We've just wrapped up Milan Fashion Week Men's, seeing a handful of brands showcase their Fall/Winter 2020 collections. Having already tackled both London as well as Pitti Uomo, Milan kicked off the week with shows from labels like Prada, Gucci and more, and presented us with statement outerwear, layering as well as a huge focus on chunky boots. Muted color palettes reigned supreme, and accessories also proved to be a huge focus for the labels.
If you missed what went down during Milan Fashion Week Men's, we've rounded up our favorite shows below. Take a look at our top picks, and stay tuned as Paris Fashion Week Men's is kicking off next.
Boots, broad shoulders and bare arms were in focus for Miuccia Prada's latest menswear collection. Taking design cues from the label's early collections, big and bulky leather boots returned to the runway, as well as the house's signature nylon material, which has been turned into everything from boxy jackets to tracksuit-inspired trousers. Bare arms also proved to be a favorite, as models paraded down the runway sporting sleeveless vests, tank-tops and jackets.
The color palette started off as a minimal selection boasting hues of grey and black, and transitioned into an earth-toned selection with pops of pastels as well as neon accents. The signature Prada logo was also carried throughout the collection, decorating both jackets as well as trousers. Lastly, textures was also an important theme in the FW20 range, with bulky knits and layered undershirts with ties poking out from beneath.
Alessandro Michele has become known for his innovative take on fashion trends as well as unconventional aesthetic, and this season was no different. Taking inspiration from his first collection for the Italian label back in 2015, the show opened with a feminine pussy-bow blouse, and drifted into Gucci's unique silhouettes, tailoring and layering. Michele's unisex ethos shines through, featuring several androgynous models throughout the show, as well as traditionally female shapes such as skirts and dresses, in a menswear context. The gender-fluid aesthetic has become Gucci's most recognizable design cue, and this collection saw everything from chic loafers to sandals, to knits, blazers and everything in-between.
"This is not a narrative that excludes or rules out mainstream masculinity; on the contrary, I want to talk about how complex it is to be a man. And this means growing up maybe in a different way because the world of men is very diverse and full of different elements like the feminine world," Michele told Vogue. One thing is for sure, Alessandro Michele rules fashion.
Marni's FW20 show was a lesson in layering, proving that the Italian label is one to be reckoned with. The collection consisted of everything from bold patterned suits to structured jackets and coats, and was created primarily from old scraps of material, creating unique pieces that bridged timeless silhouettes with chaotic graphics and colors. The collection was a crazy display of bold garments, one that we haven't always seen from Marni in the past, and showed that the label is ready to step outside the box and go a little crazy.
Boots were front and center in Fendi's latest collection, which also consisted of a selection of chunky knitwear, tailored suits and lots of leather. The big and chunky leather boots featured Fendi's signature monogram logo travelling across the midsole, and the knitted tote bags were emblazoned with the label's logo. Oversized bags were also debuted, alongside both headwear and other accessories. The minimal color palette of hues of brown, grey, black and beige created a fall-ready atmosphere, and the mixing and matching of textures gave a luxury touch to the timeless designs.
Share this article