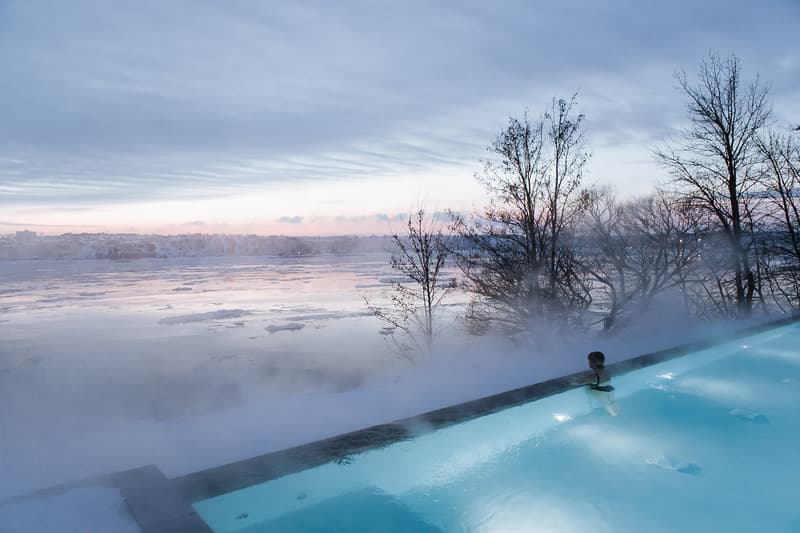 Culture
5 Reasons a Trip to a Nordic Spa Should Be on Your Winter To-Do List
Find out why this Scandanavian treatment is popular in Canada and Northern Europe.
5 Reasons a Trip to a Nordic Spa Should Be on Your Winter To-Do List
Find out why this Scandanavian treatment is popular in Canada and Northern Europe.
Though Canada might not be the first place you'd think of when planning your next spa getaway, you might change your mind once you learn about Nordic spas. The sharp contrast between hot and cold – otherwise known as Nordic hydrotherapy – is a centuries-old relaxation method that has migrated from its origins in Northern Europe and is taking the wellness world by storm. 
One might think, why is it so popular in Canada? Well, the treatment originated in cold-weather Scandanavian countries and Canada not only has a similar winter climate, but also no shortage of rural natural beauty. We went to Strøm Nordic Spa in Quebec City to get the low-down on the Nordic spa phenomenon and why it's so good for you.  
Every spa has different facilities, but a typical journey at Strøm might start with working up a sweat in a dry sauna before taking a five-second dip into a 60 °F pool, followed by a float down a 102 °F lazy river. For optimal effect, you repeat the process a few times over the course of a few hours before finishing with an essential-oil steam bath followed by a nap in a hanging chair overlooking the partially frozen – and stunningly beautiful – St. Lawrence River. 
Besides being incredibly relaxing, the thermal experience has numerous health benefits – some of which can be seen immediately, while others will reveal themselves over time with multiple visits. 
Relief for Sore Muscles and Achy Joints
Athletes are big fans of hydrotherapy to help their bodies recover from demanding training or competition schedules, and it's easy to see why. Nordic baths help overworked muscles heal and recover quickly. 
Activated Immune System 
When your body experiences the shocking sensation of a hot-then-cold treatment, your blood pressure rises and blood vessels contract. This stimulation activates your immune system, increasing the production of white blood cells which in turn helps you to stay healthy. 
Detoxing and Toning Skin 
The hot temperature opens your pores to naturally eliminate toxins in your body, while the cold closes them and firms up your skin. Expect to leave the Nordic spa with clean, tight and glowing skin.
Improved Mental Health
Outside of the relaxation and recharging that comes with any spa treatment, hydrotherapy is super effective in reducing stress and tension. The cold dip increases circulation and releases endorphins, helping you to feel more awake, alert and invigorated immediately. 
It's an Excuse to Do Nothing
Simply put, there are serious pressures involved with modern life. From social media to an uncertain social and political landscape, we as a society have more reasons to be stressed out than ever. Even if all the benefits we just listed were pseudoscience, a trip to a Nordic spa is the perfect excuse to unplug, unwind and forget about the troubles of the world, and just do nothing while surrounded by nature – if only for a few hours.
Share this article