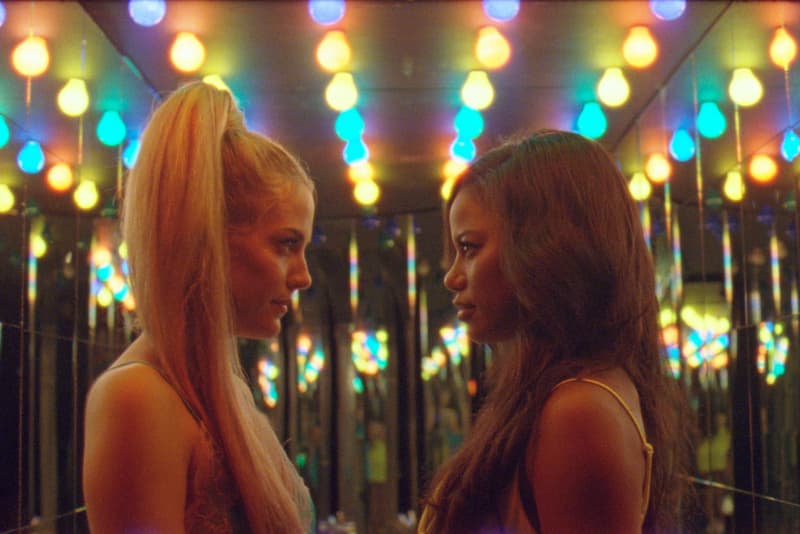 Film & TV
The 20 Most Anticipated Movies Releasing in 2020
Including A24's 'Saint Maud,' the third 'Legally Blonde' and Steven Spielberg's 'West Side Story.'
The 20 Most Anticipated Movies Releasing in 2020
Including A24's 'Saint Maud,' the third 'Legally Blonde' and Steven Spielberg's 'West Side Story.'
With awards season in full swing and the Oscars fast approaching, we've got movies on the brain. 2020 will see the release of a number of noteworthy films, both mainstream and indie. Much-anticipated Suicide Squad spin-off Birds of Prey will see the return of Margot Robbie as Harley Quinn, John Krasinski's A Quiet Place is set to receive a second chapter and A24, the production company behind 2019's smash hit, Uncut Gems, will release several new features.
From religious thriller Saint Maud to action-packed James Bond saga No Time To Die to the third Legally Blonde, read on for all the movies to look forward to in 2020.
The Glorias
Release Date: January 26
Directed by Julie Taymor, The Glorias depicts both young and present-day Gloria Steinem, played by Alicia Vikander and Julianne Moore respectively. Based on Steinem's best-selling memoir My Life on the Road, the unorthodox biopic traces the feminist icon's early life in India to her career in New York, as a leading activist.
Gretel & Hansel
Release Date: January 31
Adapting the Grimm Brothers' German fairy tale, Gretel & Hansel focuses on the tale's female counterpart, portrayed by breakout star Sophia Lillis. Despite the film's modern take, its plot stays true to that of the original folklore — Gretel and Hansel happen upon the dwelling of an evil witch while out in the woods. However, we expect the movie to put a twist on the fairy tale's happy ending.
Release Date: February 7
Already garnering buzz for its all-star cast and equally impressive soundtrack featuring Normani and Megan Thee Stallion, Birds of Prey will see Harley Quinn join fellow heroines in an effort to save Gotham from supervillain Black Mask. Margot Robbie stars as the half-charming-half-insane Quinn alongside Ella Jay Basco (Cassandra Cain), Rosie Perez (Renee Montoya) and Jurnee Smollett-Bell (Black Canary).
First Cow
Release Date: March 6
The force behind unconventional yet critically acclaimed films such as Hereditary and The Lighthouse, A24 turns to the rural Pacific Northwest with upcoming feature First Cow. Director Kelly Reichardt tells the story of a loner who travels west to join a group of fur trappers, including a Chinese immigrant whom he forges a close friendship with.
A Quiet Place Part II
Release Date: March 20
Following the success of 2018 horror hit A Quiet Place, a second chapter of the film will revisit protagonist Evelyn Abbott and her family as they return to short-lived normalcy following an alien attack. Directed by John Krasinski and starring his wife, Emily Blunt, A Quiet Place Part II, sees the reappearance of terrifying extraterrestrial creatures and introduces a band of mysterious outsiders.
Saint Maud
Release Date: March 27
Another horror flick, Saint Maud follows hospice nurse Maud, recently converted to Roman Catholicism, and Amanda, a former dancer in her care. A chilling trailer teases Maud's religious devotion, hints at the reason behind her conversion and suggests that the tension building between buttoned-up Maud and her bohemian patient may become deadly.
Release Date: April 10
The latest installment in the 007 franchise, No Time To Die sees the return of James Bond — played by none other than Daniel Craig — following a short-lived break in Jamaica. The movie's recently released trailer reveals a surprise appearance by Christoph Waltz as Bloefeld, a criminal mastermind who, until now, was presumed defunct after landing behind bars in 2015's Spectre.
Promising Young Woman
Release Date: April 17
A culturally relevant exploration of the "Nice Guy" trope, Promising Young Woman stars Carey Mulligan as Cassie, a barista who dropped out of medical school after being assaulted by a fellow classmate. Despite her ho-hum day job, Cassie frequents nightclubs after hours and exacts revenge on men who cross her path. Combining tragedy and comedy with an undercurrent of profound anger, Promising Young Woman is sure to be one of 2020's most affecting films.
Antebellum
Release Date: April 24
In an eye-catching trailer, Antebellum flashes back to the Southern Gothic landscape of the pre-Civil War era referenced in the film's title. Lead actor Janelle Monáe portrays Veronica, a successful author who finds herself trapped in a frightening alternate universe. Despite its baffling preview, Antebellum certainly introduces an intriguing premise.
Legally Blonde 3
Release Date: May 8
A cultural benchmark of the early 2000s, Legally Blonde will receive a third chapter revisiting film's most lovable lawyer, Elle Woods. Officially confirmed by Reese Witherspoon back in 2018, Legally Blonde 3 is reportedly full of "feminist ideas." The movie will also see the return of beloved OG characters including Jennifer Coolidge as Paulette.
Release Date: June 5
Director Patty Jenkins insists that her upcoming film is not a sequel to 2017's Wonder Woman. According to producer Charles Roven, Wonder Woman 1984 takes place during a "completely different time frame." Though Gal Gadot will reprise her role as DC Comic's Amazon warrior, the movie is a "completely different story…Even though it'll have a lot of the same emotional things, a lot of humor, a lot of brave action," Roven told Vulture.
Release Date: June 26
Directed by Jon M. Chu of Crazy Rich Asians, the upcoming film adaptation of Lin-Manuel Miranda's 2005 Broadway musical stars Miranda himself alongside Anthony Ramos (who also appeared in Hamilton), Corey Hawkins of Spike Lee's BlacKkKlansman and singer-songwriter Leslie Grace. A vibrant trailer reveals Manuel's signature lyrical raps, set to seriously impressive dance routines taking place on the streets of New York City's Washington Heights neighborhood.
Release Date: July 10
An upcoming sequel-style remake, Ghostbusters: Afterlife stars Finn Wolfhard as Trevor, whose family recently relocated to their late grandfather's eerie Oklahoma farmhouse. Trevor meets summer school teacher Mr. Grooberson, portrayed by Paul Rudd, who explains that the town experiences strange earthquakes on a daily basis. As Trevor is sucked into the mystery surrounding his newfound home, it becomes clear that his grandfather had a part in the original Ghostbusters legacy.
Tenet
Release Date: July 17
Though filmmaker Christopher Nolan has remained tight-lipped regarding specific plot points of his upcoming film, the general premise of Tenet is alarmingly prescient: a secret agent, played by John David Washington, must prevent World War III through time travel. As revealed by a vague trailer, Robert Pattinson, Michael Caine and Clémence Poésy are among the film's cast.
Bill & Ted Face the Music
Release Date: August 21
After a 29-year-long break, Bill Preston and Ted Logan will return to the big screen in Bill & Ted Face the Music. Keanu Reeves and Alex Winter will reprise their roles as the series' main characters, now fathers to two daughters who forge a similar friendship. SNL's Beck Bennett will play Ted's younger brother while rapper Kid Cudi is slated to appear as himself in what's sure to be one of the year's most nostalgic hits.
Dune
Release Date: December 18
1965 novel Dune was originally adapted for the screen by David Lynch, whose endeavor was met with mixed reviews. Denis Villeneuve's renewed take on the sci-fi novel replaces original leading man Kyle MacLachlan with Timothée Chalamet and casts fellow heartthrob Zendaya as his character's love interest. Old school stars Charlotte Rampling and Stellan Skarsgård round out the film's talented cast.
West Side Story
Release Date: December 18
Just under a year out from release, Steven Spielberg's West Side Story will adapt the iconic Broadway play for a contemporary audience. The play's first screen adaptation starred Natalie Wood and featured choreography by the formidable Jerome Robbins, setting sky-high standards for future remakes. 2020's version will see Ansel Elgort take on the role of Tony opposite Hollywood newcomer Rachel Zegler as Maria.
Zola
Release Date: TBD
Another A24 endeavor, Zola is likely the first-ever film based off a real-life story told in a series of 148 tweets. In 2015, Aziah "Zola" Wells, a stripper at the time, took to Twitter with an epic recount of a Florida trip that quickly turned into a nightmare. Zola had recently met fellow stripper Jessica, who invited her to dance at an upscale club in Tampa. Jessica's roommate, Rudy, also came along — in a turn of events, Rudy turned out to be Jessica's pimp, who proceeded to coerce both Zola and Jessica into prostitution. Written by playwright Jeremy O. Harris, the tale's screen adaptation will star Taylour Paige and Riley Keough.
Minari
Release Date: TBD
A24's third upcoming feature, Minari will debut at this year's Sundance Film Festival. Set in the '80s, the film follows a Korean father, played by Steven Yuen, as he relocates his family to Arkansas to start a farm. Though details remain sparse, the movie has been described as an unexpected take on the American Dream.
On the Rocks
Release Date: TBD
As reported by Variety, Apple TV+ forged a multiyear agreement with A24 to produce a series of upcoming films to be distributed through the streaming service. A result of the deal, On the Rocks will star Rashida Jones and Bill Murray as a daughter-father duo who reconnect on an adventure through New York. Sofia Coppola is slated as director — stay tuned as a trailer is released.
Photographer

Warner Bros. Pictures
Share this article