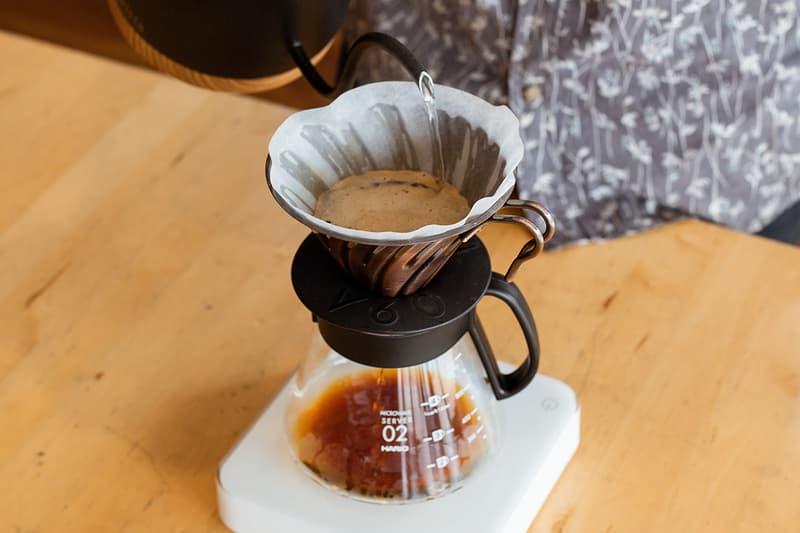 Food
How to Make the Perfect Cup of Coffee at Home
Coffee Project NY breaks down the basics of coffee brewing.
How to Make the Perfect Cup of Coffee at Home
Coffee Project NY breaks down the basics of coffee brewing.
For the past few months, many of us might not have been able to get our daily caffeine fix from our go-to cafés due to coronavirus restrictions. This change has prompted some to start making their own coffee at home. For beginners looking to master the perfect cup of joe, below, Coffee Project New York co-owner Kaleena Teoh shows us some of the most common ways to brew coffee.
From different types of beans and roasts, to tips for keeping ground coffee fresh, read on to learn more.
For more adventurous coffee drinkers, check out these fun recipes that went viral on the Internet.
View this post on Instagram
What are the major kinds of coffee beans?
According to Teoh, there are two main species of coffee on the market: Arabica and Robusta.
Arabica tends to be sweeter with higher acidity, and is commonly used in brewing methods such as drip, pour over and espresso. Additionally, Arabica is the most common type of bean found in the U.S., and can be divided into specialty grade or commercial grade. Specialty grade beans are of higher quality, while commercial grade beans are usually roasted and packed in large plants. Robusta is mainly found in espresso blends, because it is able to produce espresso with thick crema and a heavier body.
Coffee can also be categorized by the major regions where it is produced: Africa, Central and South America and Asia. Each region produces coffee that has a distinct profile. Generally, coffee from Africa tends to taste floral and fruity. Central and South America beans have more of a chocolatey and spicy flavor, and Asia leans towards a more earthy palette.
What about different types of roasts?
The types of roasts are also something important to factor in when choosing the type of coffee you want to drink at home. If you prefer floral or fruity notes, opt for lighter roasts as they preserve the bean's natural profile, or medium roasts for a more balanced profile. For those who enjoy more chocolate-y or caramel notes, darker roasts are the one for you as they tend to highlight the roast profile themselves.
View this post on Instagram
What are the most common variations of coffee?
There are two main categories: espresso-based and non-espresso-based drinks.
Examples of espresso-based drinks are latte, cappuccino, flat white, cortado, macchiato and mocha. Teoh points out that most people who like espresso-based drinks prefer lattes and cappuccinos due to the creaminess they provide from the frothed milk.
Non-espresso-based drinks include drip coffee/pour over, percolator and Aeropress. These are for people who like to savor and appreciate the bean's profile in its truest form.
How can you keep your ground coffee fresh?
To maintain the quality of your freshly ground coffee, keep it in a dark, air-tight container free of odor, moisture and heat. The bags coffee comes in are usually resealable and have a single direction valve. The valve allows for coffee to degas while preventing oxygen from entering the bag, preserving its freshness. If you have an air-tight container, that will work too.
"My best advice is to grind your coffee right before brewing, because you will lose a lot of aromatic compounds if you grind coffee ahead of time," Teoh says.
View this post on Instagram
What are the most common ways to brew coffee at home?
Pour Over (V60)
What You'll Need
Kettle (preferably a Gooseneck)
Scale
Brewing device (V60/Chemex/Kalita/French Press)
Grinder
Instructions
1. Heat up the water using the kettle (if you can afford a temperature-controlled electric gooseneck kettle, all the better).
2. Measure out the amount of coffee needed and grind it according to the device used (a 1:16 ratio of coffee to water is preferred).
3. The V60 brewing method requires a paper filter. Wet the paper filter and preheat the device.
4. To start brewing, bloom the coffee first — i.e., add double the amount of water of coffee you're using. For example, if you are using 20g of coffee, bloom using 40g of water and wait for about 30 seconds for the coffee to degas.
5. Continue brewing. The recipe and pour style depends on personal preference. We usually break down the pour into three phases, using a circular motion throughout to ensure even extraction.
6. Wait for the dripping to complete. For V60, aim for a brewing time of 2.5-3 minutes.
View this post on Instagram
Espresso
What You'll Need
Espresso machine
Scale (optional)
Pitcher (optional)
Frother (optional)
Instructions
1. Grind and measure the coffee into the portafilter using a recommended grind size (a 1:2 coffee to water ratio is preferred. For example, if you are using 18g of coffee, it will yield 36g of espresso).
2. Tamp the coffee evenly to prevent uneven extraction.
3. Lock the portafilter in and start extraction immediately.
4. Measure the espresso yield. Once the desired weight is reached, hit the stop button.
5. We aim for a shot of 25-35 seconds, though it might vary depending on the machine.
6. If you want to make a cappuccino or latte at home, froth the milk. Remember to aerate and incorporate the milk properly to get microfoam.
7. Combine the espresso and milk to your desired taste.
Share this article