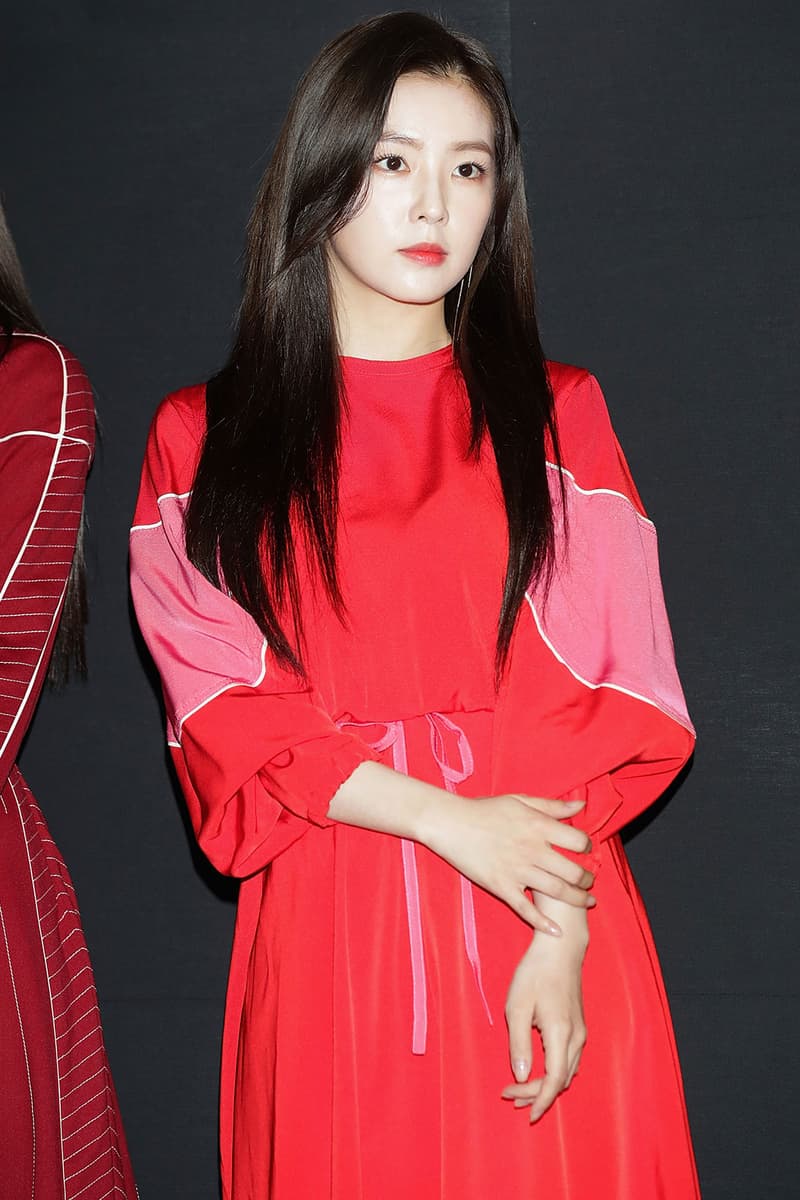 Unpacking Red Velvet Member Irene's "Gapjil" Controversy
The K-pop artist has been called out for allegedly mistreating a fashion editor during a photoshoot.
Culture
Unpacking Red Velvet Member Irene's "Gapjil" Controversy
The K-pop artist has been called out for allegedly mistreating a fashion editor during a photoshoot.
Last week, K-pop artist Irene — member of the SM Entertainment-led group Red Velvet — came under fire for allegedly mistreating and lashing out at staff during a photoshoot. According to a now-deleted Instagram post, the star had "trampled and verbally abused" a fashion editor on set. Shortly after, the celebrity took to the social media platform to issue an official statement, admitting her wrongdoings and apologizing for her behavior.
The heated controversy not only revealed what might have happened behind closed doors, but it also sparked larger conversations about the deep-rooted "gapjil" culture in Korean society, where some people in positions of power display an attitude of self-importance around others. Here, we break down the incident as well as what we can learn from it.
How the Controversy Began
On October 20, the fashion editor in question wrote a lengthy Instagram post to explain their recent experience. The editor stated:
"Today was the day I was trampled and verbally abused as someone in an inferior (eul, "을") position. [This person is] proven to be inhumane by those around them, a puppet living behind a smiling mask, an 'adult child' who lacks character, and has the stupidity to reveal all of this transparently to someone she meets for the first time. I had to be mentally prepared even before meeting her given everything I had already heard previously, but I became speechless after becoming a target of hers. I froze, unable to move my hands, feet or brain, as I watched her lash out. It seemed like she was having trouble understanding the repeated explanations being made to her. I thought I had let everything go after meeting all kinds of people throughout my 15 years in this industry, but I was wrong.

I experienced 20 minutes of hell in an unfamiliar room. She didn't care to greet us, and sat in her chair with her phone in her hand as she hysterically threw a fit at me. She was furious to the point where I wasn't sure if she was angry at just me, or everyone in the room. Anyway, I was her target of the day. I thought, 'So other people have gone through this too?' as she continued to fiercely stab me with her words. Tears rolled down my face even before I could realize it was embarrassing to cry in front of others. 'What am I doing this for? To prove what? To make money? Because I was chosen to? Why do I have to go through this?' I couldn't even begin to understand her behavior even after thinking for a long time. I calmed down and wanted to talk to her in person, to receive a sincere apology. But she disappeared. I voice-recorded the moment, just in case something would happen. I'm going to take action.

I am an editor and reporter, who delivers accurate facts through my writing. I'm going to use all the energy and brainpower I have to do something about this."
The caption ended with "#psycho" and "#monster," two hashtags that seemed to reference the titles of tracks Irene had participated in this year, leading social media users to speculate that the musician was the person described in the post. Over the next couple of days, the Internet was divided on which celebrity the editor was talking about. Some fans expressed that the accusations were not backed by any evidence, while others were confident that this certain star was Irene.
Netizens were quick to notice some of the individuals who reacted to the post that had gone viral. Other fashion editors, some of the biggest photographers in the industry, models and former stylists had liked the post, while someone claiming to be an industry insider showed support for the editor in the comments section.
Irene's Apology and SM Entertainment's Statement
On October 22, the Internet was surprised to see Irene's official statement addressing the issue:
"This is Irene.

I sincerely apologize for hurting the stylist with my foolish attitude and careless words. I know there have been a lot of people involved in helping me get to where I am today. I deeply regret hurting those with my immature actions. Thinking back, I feel ashamed at my careless words and I am realizing the importance of staff members once again. I will be careful with my words and actions to make sure nothing like this will ever happen again. Thank you to my fans who are supporting me, and once again, I sincerely apologize for causing worry."
SM Entertainment also released an official statement on the same day:
"Irene met in person with the stylist to sincerely apologize for her behavior. We deeply regret and are sorry for showing everyone immature and careless behavior. We also take full responsibility regarding this matter and will not forget the hard work and efforts of all of our staff who collaborate with our artists. We will try to make sure that such a situation does not recur."
Reactions
Irene's apology was met with mixed reactions from the Internet. Some commended Irene for admitting her wrongdoings and taking the time to apologize, while others expressed their disappointment towards the K-pop star.
Bringing light to the other side of the story, some other individuals who have previously worked with Irene voiced their opinion to defend the musician. "Irene gives handwritten cards and gifts to staff members during the holiday season. She knows how to appreciate her staff. Presents aren't everything, but she's liked by many members at our salon," a makeup artist shared in an Instagram post.
A choreographer who works with Red Velvet said:
"I've been in charge of Red Velvet's choreography for five years now. I am writing this as I think there are too many rumors piling up about Joohyun (Irene's birth name). The Joohyun that I know is a hardworking, energetic, detail-oriented and cute girl… She texts me first to share her thoughts and gratitude."
Word of the controversy has now spread overseas to China and Japan. After reading about the incident, a Chinese stylist took to Weibo to write: "I wasn't surprised to see this at all. Irene is beautiful, but she lacks class. Anyone who's worked with her will know. I believe I'm the only stylist in China who has worked with her, and I was shocked." In Japan, former SM trainee Mone Fukuhara shared: "I still remember when I was a trainee. Joohyun often scolded me and Seulgi protected me."
As the situation continued to escalate, Red Velvet backed out from a live fan meeting at the 2020 K-Culture Festival. Some users of online community websites are even urging Irene to leave Red Velvet.
What Is "Gapjil?"
The recent incident surrounding Irene has been labeled by some as a "gapjil" (갑질) controversy. The Korean expression refers to "the arrogant and authoritarian attitude of people holding positions of power over others." The phenomenon, associated with the hierarchical nature of South Korean society, has been an ongoing issue in the country — Korean Air's 2014 "nut rage" scandal is an example of just that.
While the term is typically used in corporate settings, it's unfortunately not uncommon to come across gapjil behaviour in general situations. A number of K-dramas and movies have also highlighted gapjil culture. Some examples are Misaeng: Incomplete Life (2014), Itaewon Class (2020) – in which Park Saeroyi struggles under President Jang's wealth and social status – as well as Veteran (2015), starring Yoo Ahin as a third-generation chaebol (heir to a powerful conglomerate).
Takeaways
The Internet, or social media to be specific, can be a liberating and scary place at the same time. While it serves as a platform for people to openly voice their opinions, social media can also quickly become a toxic space where people are anonymously attacked.
Following numerous speculations, the fashion editor spoke up about rumors circulating on the Internet:
"From the many made-up stories, I was never paid by SM to take down the initial Instagram post (I am only waiting to get paid for that one day I worked as the fashion editor on set). When [Irene and I] met yesterday, we never even discussed an agreement or settlement. The meet-up was solely for a sincere apology from her."
As many have been saying in regards to the recent incident, there are two sides to every story. As spectators, we'll never be able to fully understand what exactly happened during that photoshoot, although any act of abuse should never be condoned. Perhaps more importantly, the incident sheds light on the issue of gapjil culture and mistreatment that happens on a regular basis in various fields, particularly in Korean entertainment. While the industry may seem glamorous from the outside, it's hard to ignore the uncomfortable reality that lies beneath the surface.
Last year, South Korea introduced a new law that protects employees from workplace harassment. Under this law, employers can be penalized for behavior such as verbal abuse, gossiping and bullying. Official actions like these are being taken in an effort to minimize gapjil, but as mentioned, the phenomenon doesn't only apply to corporate scenarios. The hierarchical nature of Korean culture is what needs to transform in order to encourage mutual respect between people of different positions and social statuses, and ultimately, to build a healthy and fair environment for every member of society.
---
Share this article