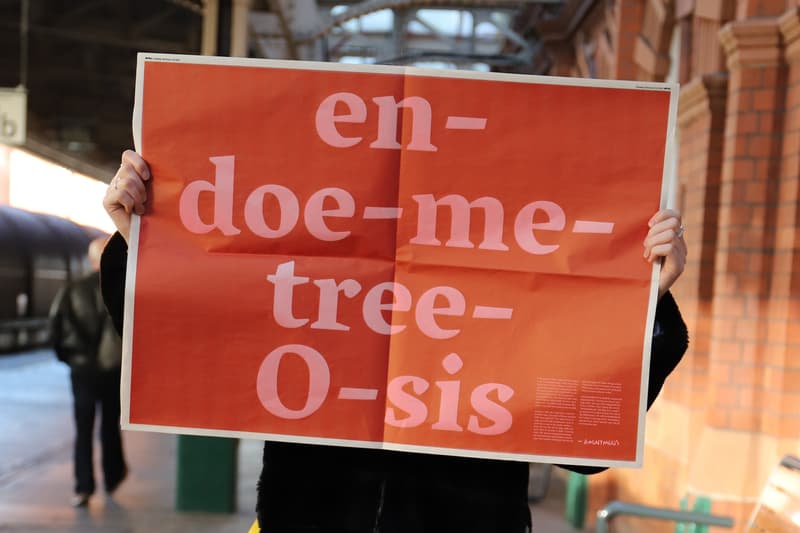 1 of 4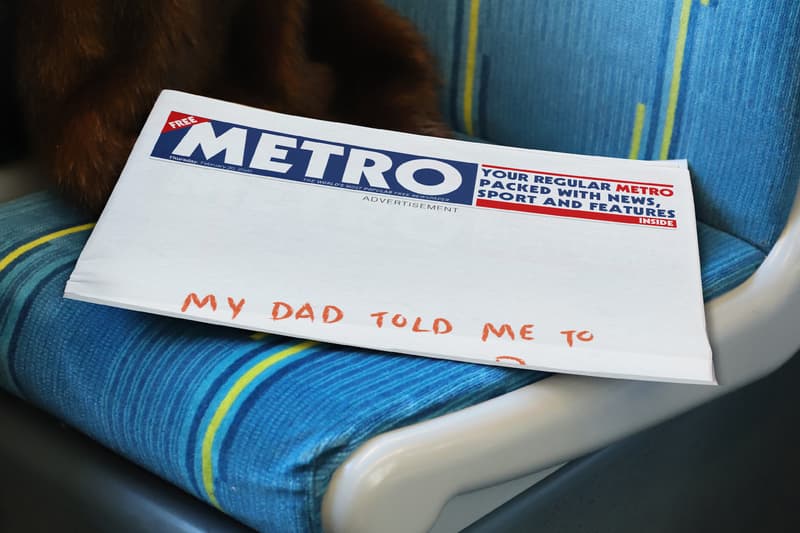 2 of 4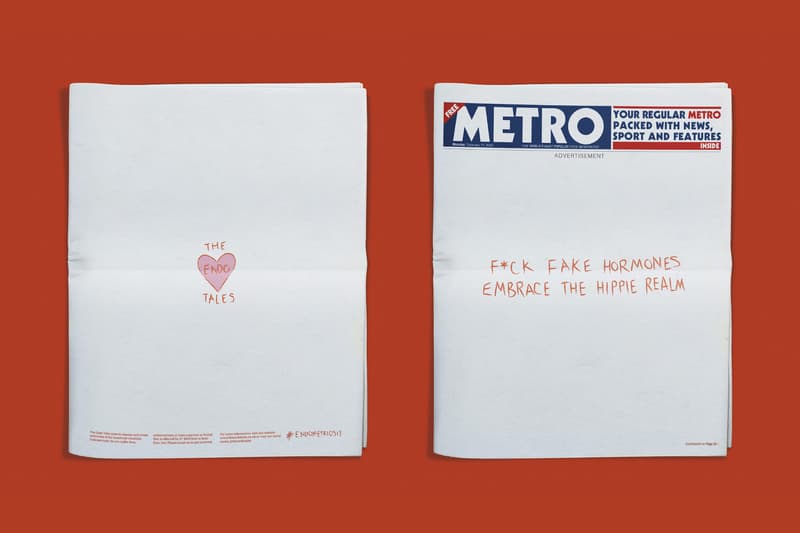 3 of 4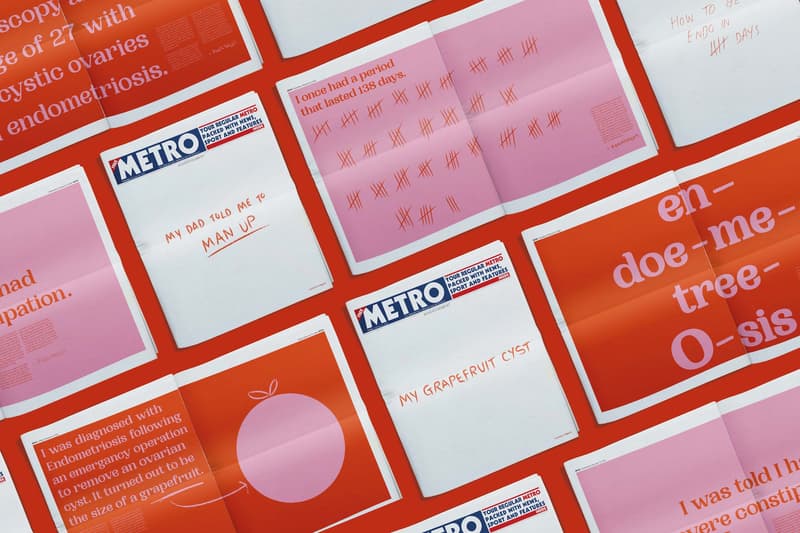 4 of 4
Culture
'The Endo Tales' Is the Graduate Project Bringing Attention To Endometriosis
1 in 10 women have the painful condition, but only 20% of people worldwide have heard of it.
'The Endo Tales' Is the Graduate Project Bringing Attention To Endometriosis
1 in 10 women have the painful condition, but only 20% of people worldwide have heard of it.
Eve Wallis was misdiagnosed with appendicitis, and it began her journey to advocating for Endometriosis awareness, the condition she was later diagnosed with following an emergency laparoscopy. The condition affects one in ten women worldwide, yet only 20% of the population know what it is, and leads to misdiagnoses more often than not.
"The Endo Tales" is the awareness campaign that Wallis created following her experience with the condition, building on real stories from real people also suffering from the painful condition. The campaign used free tabloid newspapers like Metro to publish give different advertorials, making up the front cover and the middle page, with a strategy to get people to read, learn and share. In addition to the newspaper, Wallis also created a short video that captures women trying to pronounce "Endometriosis" followed by a link where help can be found, and more research can be done on the menstrual condition.
Not only has the campaign received a lot of attention, Eve Wallis was also awarded the Pentagram Young Designer of the Year Award at New Designers this September. We had the chance to speak to her about the campaign, and her plans to continue using her degree in Graphic Design and her personal experience with Endometriosis to continue spreading awareness. Read our interview with Wallis below.
When did you first learn about Endometriosis? How did you decide to focus your latest project on it?
I first heard the word 'Endometriosis' after a week of immense pain. It was a constant stabbing in my lower abdomen and there was no way to ease it. I was diagnosed with appendicitis and had an emergency laparoscopy. The following morning, the doctor made his ward round and told me I had Endometriosis. I was told to look it up on the internet. At my follow-up gynaecologist appointment results showed no evidence of Endo. I am still confused and unaware if I actually have this long-term condition or not.
Since my diagnosis, I knew it was vital to generate awareness. Being diagnosed with something that is potentially life changing was a frightening experience and is something I would not wish upon anyone. I knew I needed to use my experience to help other women understand the condition.
How do you think your work will change people's perception and understanding of the condition?
When you read about Endometriosis on the internet, like I did in the hospital, infertility often comes up first, which is both frightening and sad. Whilst this may be true for some, in many cases women go on to have children with no complications. For example, in one of The Endo tales, a woman explains how she had an ovary and fallopian tube removed and was told she would never be able to conceive, but she goes on to have three beautiful daughters! I wanted to create something that was more positive and light-hearted. An awareness campaign that uses women's experiences to educate the public and show how they are living with Endo. I wanted to ensure women don't go untreated, misdiagnosed and know where to get support.
How did you first get into documentary making?
This is my first one! During the project, I had this crazy idea to get women who were oblivious to the condition to read out one of the more brutal stories. I envisioned a sad, shocking and heartfelt campaign video. However, it turned out none of them could pronounce the word Endometriosis. This was not staged or scripted! This natural reaction proves the statistics that a large percentage of the population do not know what Endo is. If you cannot pronounce or read it, then how would you know what it is? This sparked a light-hearted and humorous campaign video that aims to create awareness online. I loved planning, filming and editing the video and hope to create many more in the future.
Has the success of this project inspired your next venture? If so, what is next for you?
Since completing the project, I have contacted Endometriosis UK (the leading UK charity) to show them my work. They are super keen to use the campaign video for their social media – success! In the future, I wish to use the success of this project to make people aware of other little-known conditions.The project has inspired many more ideas and concepts of how to generate awareness effectively. The New Designers awards programme has created many exciting opportunities for me and has helped me gain industry contacts. Taking part allowed me to work on a brief set by Pentagram and gave me the chance to show my work to industry professionals. I think it's safe to say, New Designers has helped me further my career as a graphic designer and I would highly recommend students to take part next year. I am very much looking forward to my internship with Pentagram. Who would've thought that a misdiagnosis of Endo would lead to winning the Pentagram Young Designer Award at New Designers!
Do you think the stigma and lack of conversation about periods and women's health is slowly disappearing? What else can we do to bring more light to the many condition's women battle with?
Yes, I do believe periods and women's health are being talked about more, especially within my age group. I don't think it's embarrassing to talk about periods and menstrual health with friends. However, conditions such as Endo are still not dealt with and are not widely talked about because of how unknown it is. As a result, women are being told to normalise their symptoms and are made to think they just have bad periods. Awareness campaigns and informative adverts, that are relatable and accessible, remain vital to removing the stigma around women's menstrual health.
What advice would you give to someone looking to follow a similar career path to you? What are some struggles you faced prior to creating your graduate project?
Think outside the box and get stuck in! I would advise doing a project on something that interests you or something that has personally affected you. The journey and outcome are always more rewarding. I do believe you have to throw yourself in at the deep end and not be afraid of making mistakes – it's the best way to learn! Create contacts and don't be afraid to ask people in the industry for advice. They are always willing to help as they were once in your position and are keen to see new and exciting ideas. Just drop them a message on LinkedIn, Instagram, Twitter etc and ask for a Zoom, you'll never know if you don't try!
---
Share this article