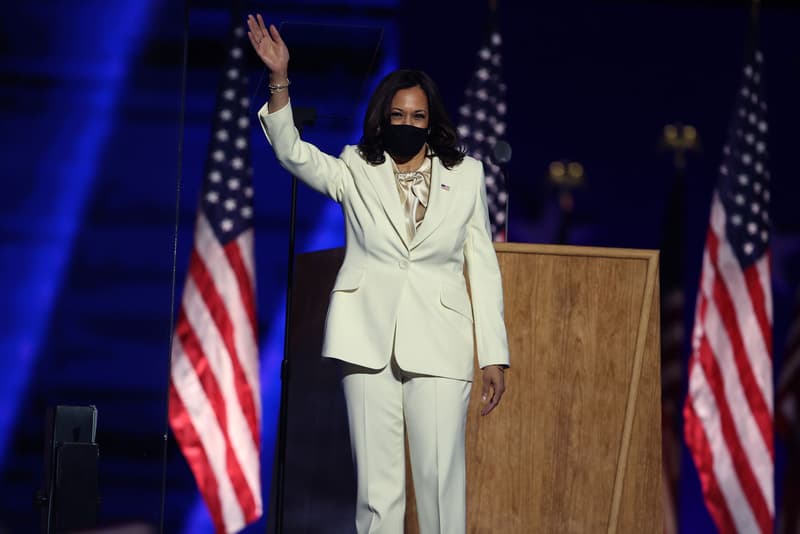 Culture
Kamala Harris Wore Suffragette White to Deliver Victory Speech
Harris's fashion choice holds a symbolic meaning.
Kamala Harris Wore Suffragette White to Deliver Victory Speech
Harris's fashion choice holds a symbolic meaning.
Kamala Harris, the first female vice president of the United States, made a sartorial statement while delivering her presidential victory speech on November 7.  Harris, who is also the first Black and South Asian vice president-elect, attended the historic occasion in a white pantsuit, a symbolic ensemble honoring the suffragettes.
In the early 1900s, the women's suffrage movement established purple, gold and white — a symbol of virtue and purity — as its colors. Since then, trailblazing women throughout history have chosen to wear the clean color, often associated with new beginnings, during public appearances. Take Hillary Clinton, for example, whose white pantsuit became synonymous with her presidential campaign. In 2019, Alexandria Ocasio-Cortez wore a white suit to be sworn into Congress.
Harris' take on the symbolic color was designed by Carolina Herrera, a formidable female force known for dressing First Ladies including Jackie O, Laura Bush and Michelle Obama. The history-making politician, whose mother is Indian and father is Jamaican, was quick to reference the suffragettes during her triumphant victory speech:
"All the women who worked to secure and protect the right to vote for over a century: 100 years ago with the 19th Amendment, 55 years ago with the Voting Rights Act, and now, in 2020, with a new generation of women in our country who cast their ballots and continued the fight for their fundamental right to vote and be heard. Tonight, I reflect on their struggle, their determination and the strength of their vision — to see what can be unburdened by what has been — I stand on their shoulders."
Harris concluded with a poignant vision for the future. "While I may be the first woman in this office, I won't be the last. Because every little girl watching tonight sees that this is a country of possibilities," she said.
---
Share this article