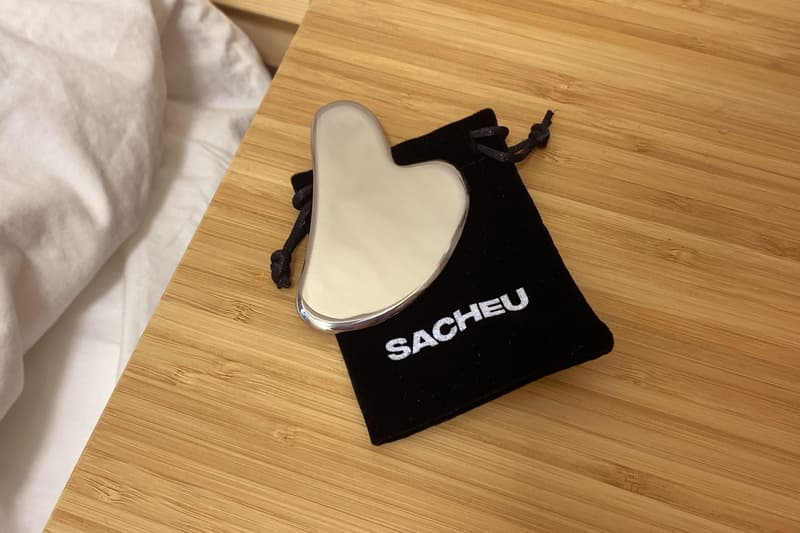 Beauty
SACHEU Beauty's Gua Sha Proves Why the Skincare Tool Should Be Made of Stainless Steel
Our editor reviews the hyped skincare tool from YouTuber Sarah Cheung.
SACHEU Beauty's Gua Sha Proves Why the Skincare Tool Should Be Made of Stainless Steel
Our editor reviews the hyped skincare tool from YouTuber Sarah Cheung.
Having spent most of my life in China, I've sworn by gua sha and face rollers ever since I started taking an interest in skincare. Massaging my face with these tools has been one of a few ways I would wind down in the evening after a long day.
When these two traditional Chinese tools started gaining international recognition a couple of years back, I was glad a lot of people were finally getting to experience the benefits of the gua sha and face roller. However, I wasn't aware that the typical materials used to make these products, such as jade or rose quartz, actually have the potential to transfer unwanted germs onto the skin. It was only until I watched a funny Instagram Story, from one of my favorite YouTubers Sarah Cheung, warning her followers to refrain from using jade rollers as sex toys, that I realized they are porous and can harbor bacteria.
Roughly a year later, the Toronto-based influencer launched her very own label SACHEU Beauty with a face roller and gua sha, both made with stainless steel – a material that is not porous and has a self-cooling effect. After trying out the massager for the first time, the only question that came to mind was: "Why haven't we thought of this earlier?"
Continue reading for my honest review of SACHEU Beauty's Stainless Steel Gua Sha.
WHAT IS IT: SACHEU Beauty Stainless Steel Gua Sha
WHY IT'S WORTH THE HYPE: As mentioned, the Stainless Steel Gua Sha is an upgraded form of the traditional version, which is typically made using materials that are porous. Compared to the gua sha tools I've used in the past, stainless steel seems to have a more intense cooling effect, as I haven't felt the need to leave it in the fridge overnight. Plus, the steel is recycled and 100 percent recyclable, making the product even more enjoyable to use.
Another feature I appreciate about SACHEU's Gua Sha is the shape of the tool. Every other night (and occasionally in the morning when my face feels extra puffy), I've been using the grooved divet to scrape my jawline in an upward motion after applying a generous amount of cream, serum or face oil. The other side can be used on the neck for lymphatic drainage, as well as the brow bone and cheeks to promote circulation.
WHERE YOU CAN FIND IT: The Stainless Steel Gua Sha is available via SACHEU Beauty's web store for $35 USD.
Share this article