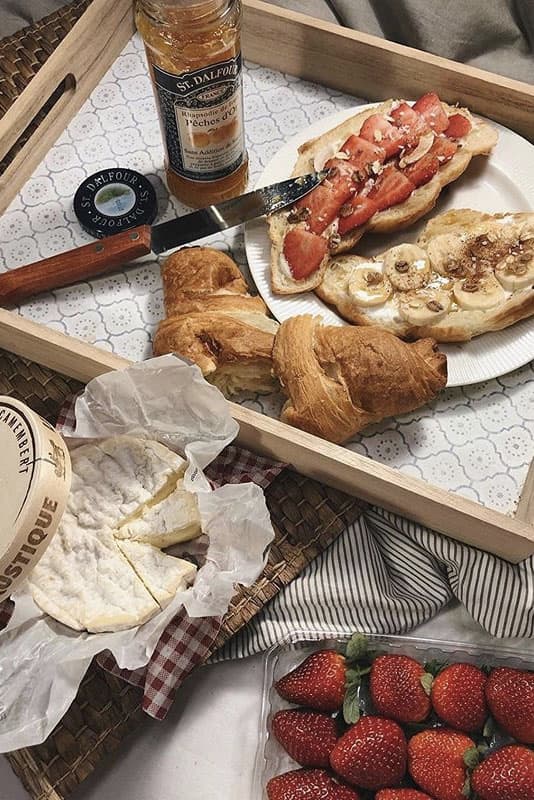 Here Are 7 Chefs You Need to Follow on TikTok
Teaching your everything from Starbucks recipes to easy snacks.
Food
Here Are 7 Chefs You Need to Follow on TikTok
Teaching your everything from Starbucks recipes to easy snacks.
If you haven't downloaded TikTok yet, now is the time. We've seen various viral challenges, iconic celebrity videos and so much more on the platform, and now we're taking a look at the best food videos and recipes on the site.
TikTok has given us a way to easily share video content without much editing or direction, creating fun and wholesome content that can be shared across multiple platforms, and now when most of us are spending more time online due to the coronavirus pandemic, there's no better place to consume content.
We've put together seven of our favorite chefs and food accounts on TikTok, ranging from Starbucks recipes to complicated desserts and authentic Mexican food. Take a look at our top picks below, and for more TikTok, don't miss the viral "Sock Hair" trend that is taking the platform by storm.
Eitan Bernath (@eitan)
Eitan Bernath is an 18-year-old chef who makes quick and engaging videos on everything from how to recreate Reese's Peanut Butter Cups to how to elevate your food photography. The creator has created a series on his Instagram dubbed "Quarantine Cooking," where he showcases easy recipes to inspire his audience through self-isolation due to coronavirus.
Vivian Aronson (@cookingbomb)
After appearing on season 10 of popular TV series Master Chef, Vivian Aronson has taken to TikTok to showcase her recipes. With a focus on Asian cuisines, Vivian teaches us how to make kimchi, how to use chopsticks, how to make Chinese pancakes and so much more, and a big plus is that her adorable kids usually make an appearance in her videos.
Maya (@starbucksrecipeswithm)
Ever wondered how to recreate famous Starbucks drinks at home? Maya is here to show you. Her step-by-step guides show how to put together iconic beverages like the Pink Drink or the colorful Tie-Dye Frappuccino, and she's even developed her own signature cup flip (which we won't attempt at home).
Sonny Hurrell (@thatdudecancook)
Sonny Hurrell has been a professional chef for 17 years, and has now taken his craft to TikTok. Whether you're looking for simple tutorials on how to correctly chop an onion, or complex pastry recipes, Sonny has it all. Get ready to scroll through his feed and drool, because there are tons of recipes we're dying to try on there.
Foodies (@Foodies)
Although this account isn't technically "a chef," it deserves to be on the list because of all the drool-worthy food videos. Most of us aren't able to currently go out to restaurants due to the ongoing coronavirus pandemic, but some of these videos will keep us occupied until we can go out and try the food for ourselves.
Newt (@newt)
If you're looking for a wide range of recipes along with excellent commentary, you need to follow Newt. Showing us everything from Swedish meatballs to pepperoni bites, there's no shortage of food inspiration and tutorials on his page.
Jenny Martinez (@jennymartinezzz)
Did someone say Taco Tuesday? Because Jenny Martinez serves up all the best recipes ranging from a rich guacamole to delicious tacos in multiple ways. Burritos, desserts and so much more, there's no doubt you'll be craving Mexican food after browsing her page.