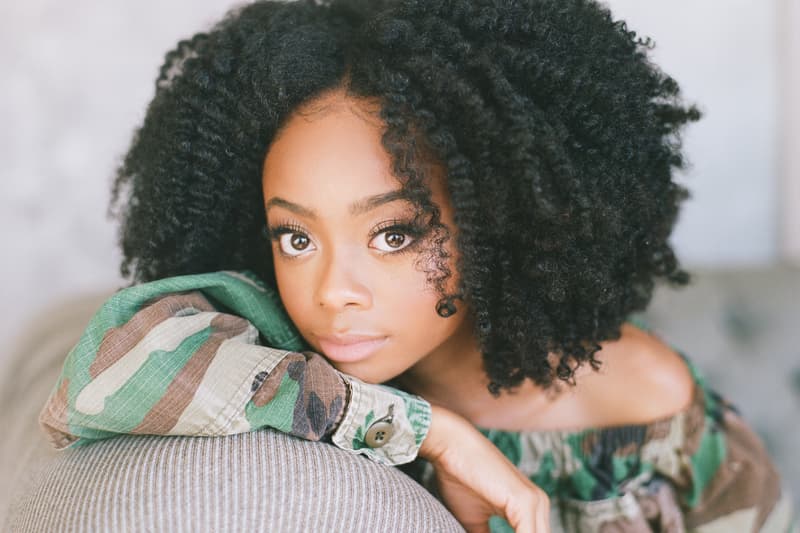 Culture
Skai Jackson on Being a First-Time Voter
With the U.S. election around the corner, the actress reflects on her first election experience.
Skai Jackson on Being a First-Time Voter
With the U.S. election around the corner, the actress reflects on her first election experience.
With the US election right around the corner, young people's votes matter more than ever. Over five million people between ages 18-29 had already cast their votes prior to the weekend, and with only one day left to vote, Civic Youth reports that another two million voted over the weekend. In eight states, young voters have already cast more ballots than the number of votes determining the 2016 presidential margin of victory, which is a record-breaking number.
With one day left until the race between Joe Biden and Donald Trump comes to an end, we caught up with actress Skai Jackson who is a first-time voter. Talking about everything from the importance of social media and the voice of the youth, to causes she feels the most passionate about, Jackson shares her experience as she casts her first ballot.
Read our interview with the actress, author and role model below.
As a first-time voter, what are some things you had to learn about the process?
As a first time voter I have learned that you really have to do your research about who you are voting for. I want someone who wants the best for America, and who is actually educated on the matters – unlike our current president. I really love to watch the debates to really understand what our future president would do for the world and our country.
Why is it important for young people to vote?
It's so important for young people to vote because our vote does matter! A lot of people think they don't, and feel like they don't need to vote but they most definitely need to. We can change the future!
How are you encouraging your audience to vote?
I have a big following and I'm always making sure I'm tweeting, doing livestreams and making Instagram post to really encourage people to vote. I always like to use my voice for good, and voting is of course a good thing. If I can convince even just one person that their vote does matter, and that they should go and vote, then I'm happy.
How do you see social media impacting politics?
There is a lot of misinformation on social media with people pushing false news and conspiracy theories. I use it as a space to have honest conversations, about real stuff. If anything, I feel like it does help and you take the time to do even more research, especially when it comes to voting, gathering information on the candidate and issues you think are best for you.
As someone in the entertainment industry, what are the biggest challenges you've faced this year due to the COVID-19 pandemic?
I feel like everyone has faced issues and so many people are hurting during this pandemic. It's definitely caused me to pause and I've discovered more about myself, and think that I want to do that more often because I probably would have never thought it of before. It has pushed me to work harder.
What are some of the changes you'd like to see be made following this year's election? What are the causes you feel most strongly about?
I want to see change to gun violence. As someone who lost a friend to gun violence, it is something that desperately needs to change. I want change in the authority system. Just because you are police it doesn't give you the right to kill an unarmed person, and half of the time they are never held accountable. I want to see a change in poverty and want to see more changes being done for people who are homeless, and more support to those who struggle with mental illness. I think they should be able to have great housing, and get the help they need. Everyone deserves a chance to turn their lives around.
You've been vocal about the Black Lives Matter movement through your social media channels. How do you see using your platform is making a difference?
I have a big platform, so a lot of things I post really can really have an effect on people. I think me posting about the BLM movement has opened a lot of my fans eyes and has also gave them the courage and confidence to speak up as well! It's crazy how one social media post can really educate someone.
Who will you be voting for?
I will be voting for Joe Biden and Kamala Harris. Donald Trump doesn't deserve another four years as president. Change needs to happen, and that starts with getting him out of office.
Share this article