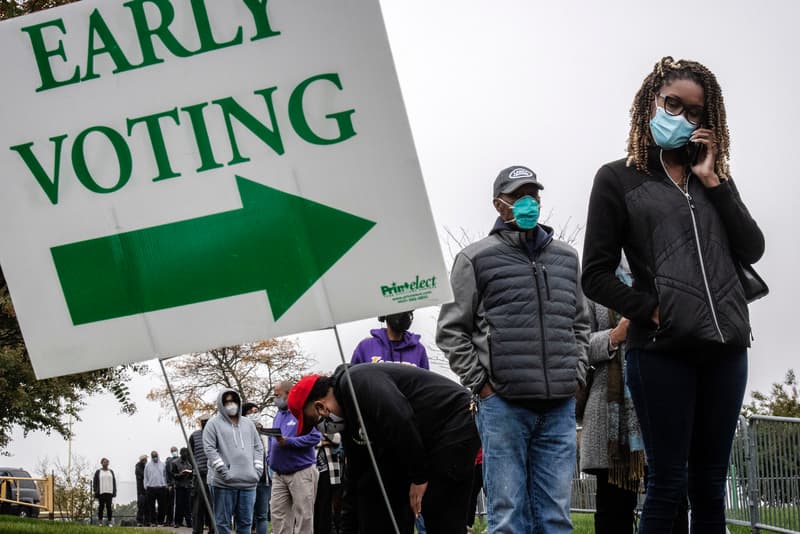 Over 5 Million Young People Have Already Voted in the US Election
Gen-Z is showing up.
With the US election a week away, more young people are voting than ever before. The Center for Information & Research on Civic Learning and Engagement (CIRCLE) reports that over five million people between ages 18-29 have already voted, with over two million of the votes landing in 14 key states.
In states like Florida, over 257,000 young people have voted, up from only 44,000 this time during the 2016 election. Other important states include North Carolina, Michigan, Pennsylvania, Ohio, Arizona and Iowa, where the numbers have also seen an increase. Votes are up at 750k in Texas, which is almost 2/3 of the total Texas youth vote in 2016, writes CIRCLE. According to a poll by Axios and Survey Monkey, voters aged between 18 and 34 are more likely to cast their vote for Joe Biden and the Democratic party, with this year seeing the first election where millenials and Gen Z see more eligible voters than Baby Boomers.
Keep your eyes peeled as the numbers are being reported daily by CIRCLE, and don't forget to vote.
UPDATED EARLY YOUTH VOTE: More than 5 million young people have already voted, including more than 750k in Texas—almost 2/3 of the total TX youth vote in 2016. In major battleground states, more youth votes already cast in 2020 than 2016 margin of victory! https://t.co/sHCuyiCIlW

— CIRCLE (@CivicYouth) October 27, 2020
Share this article