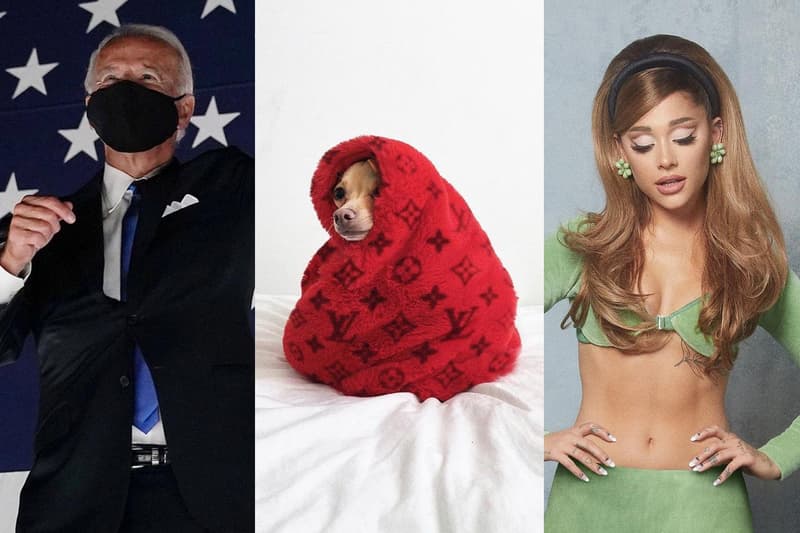 HYPEBAE's 15 Most-Liked Instagram Posts of 2020
Our readers' favorite moments of the year.
Closing out a year to remember, HYPEBAE is looking back at a selection of moments and images our readers engaged with the most on Instagram. Our top 15 most-liked posts include a few surprises, as well as some expected headliners — leading the ranking is our post from November 7 announcing Joe Biden and Kamala Harris's election victory, marking the end of a high stakes race to the White House. Also in politics, the news of Alexandria Ocasio-Cortez's re-election to Congress ranked as our seventh most-liked news announcement of the year.
Providing relief from anxiety-inducing pandemic news, photos of adorable dog influencer Boobie Billie made multiple appearances in our top 15. Celebrity news such as Ariana Grande's release of hit single "positions" and Gigi Hadid's pregnancy announcement also resonated, ranking at number two and four respectively. Of course, fashion and footwear content also made the cut. Prada's pastel mini-bags and Nike's sherbet-colored Air Force 1 Shadow both garnered over 30,000 likes.
Keep scrolling to see HYPEBAE's 15 most-liked Instagram posts of 2020, in descending order, below.
#1
View this post on Instagram
#2
View this post on Instagram
#3
View this post on Instagram
#4
View this post on Instagram
#5
View this post on Instagram
#6
View this post on Instagram
#7
View this post on Instagram
#8
View this post on Instagram
#9
View this post on Instagram
#10
View this post on Instagram
#11
View this post on Instagram
#12
View this post on Instagram
#13
View this post on Instagram
#14
View this post on Instagram
#15
View this post on Instagram
Share this article