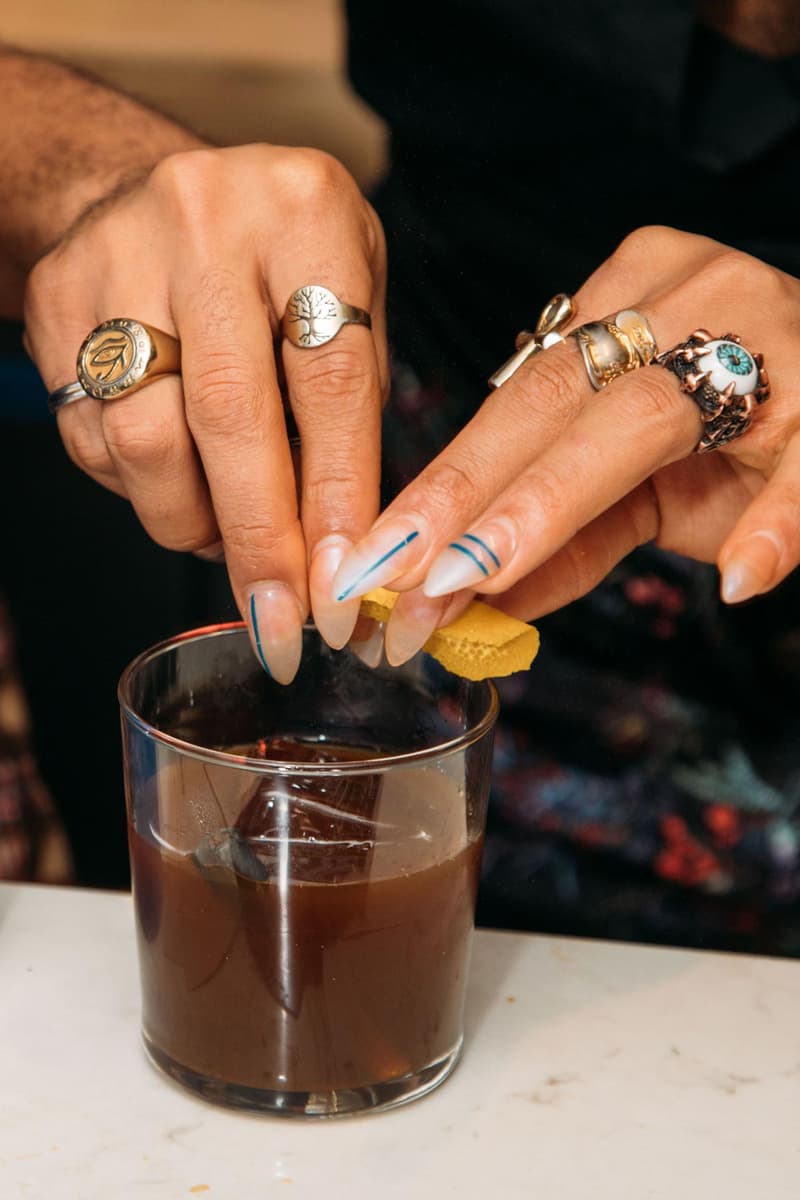 3 Sophisticated, Non-Alcoholic Cocktail Recipes to Enjoy This Holiday Season
Expert bartenders serve up refined, spirit-free creations incorporating festive flavors.
Food
3 Sophisticated, Non-Alcoholic Cocktail Recipes to Enjoy This Holiday Season
Expert bartenders serve up refined, spirit-free creations incorporating festive flavors.
Despite an overall increase in alcohol sales during the pandemic, millennials are actually leading a shift towards alcohol-free beverages. The trendsetting age group has helped pioneer the "sober curious" movement, in which partakers re-evaluate their relationship with alcohol and aim to imbibe more mindfully, sometimes completely abstaining for an extended period of time. The hospitality and beverage industries have taken notice of the booze-free movement, helping spur the rise of sober bars and attractively packaged zero-proof "spirits" (you may recognize brands such as Kin Euphorics and Seedlip from your Instagram feed).
Whether you are dabbling in sober curiosity or simply choose not to drink, it can prove difficult to participate in holiday festivities (or festivities in general) without a cocktail in hand. And let's face it — it's not always easy to come up with a sophisticated-looking, non-alcoholic concoction. Luckily, expert bartenders have your back with alternatives to a glass of ginger ale or juice. Award-winning mixologist Lynnette Marrero uses Aplós, a citrusy, hemp-based beverage she helped formulate, as the base for The Conversation Starter, a festive "cocktail" with notes of honey. Mixed with hibiscus tea (which can be swapped with pomegranate or cranberry juice), the drink will help you "celebrate the holidays with all of the fun and no humbugs," as Marrero puts it.
From the legendary NoMad Bar in New York City, director Michael Smoley recommends the Up The Alley, a layered creation that boasts complex flavor even without the booze. "This drink is a favorite of many NoMad regulars all year long, but especially during the holidays," he says, adding, "It's a huge upgrade to that sad bottle of sparking apple cider sitting in the fridge. The warm baking spice notes of maple and cider are balanced by the bright acidity of lemon and the smokey citrus."
Lastly, Brooklyn's alcohol-free Listen Bar serves up the Smoked With Snoop, a refreshment that mixologist Erin Birmingham developed at the behest of Snoop Dogg himself. "The holidays are about family, nostalgia and getting cozy. The drink's base was inspired by a Yemeni dessert my uncle Moh used to make for gatherings," Birmingham said of the concoction's syrupy foundation.
Below, learn how to make all three zero-proof cocktail recipes from Marrero, Smoley and Birmingham.
The Conversation Starter
1.75 oz Aplós
1 oz hibiscus tea, steeped (can substitute with pomegranate or cranberry juice for a special holiday riff)
.50 oz lime juice
.50 oz honey syrup (one part honey to one part water)
Add ingredients to a shaker with ice. Shake and strain into a coupe glass. Accompany with friends and lively chat.
Up The Alley
In a mixing tin (a mason jar will work in a pinch) combine the lemon juice, maple syrup and still apple cider. Fill the tin with ice, then cover and shake vigorously. Strain into a coupe glass and top with sparkling apple cider. Garnish with a flamed orange twist.
*If you really want to impress, use a lit match to warm an orange peel held 6 inches away from the glass. After a few seconds, squeeze the peel and the oils will ignite, creating a beautifully toasted aroma.
Smoked With Snoop
Smoked Syrup
1 cup pulp-free grapefruit juice
1 cup pulp-free orange juice
1 cup honey
1 cup molasses
0.50 tsp ground cloves
To make the Smoked Syrup, heat the grapefruit juice, orange juice, honey, molasses and cloves on the stove, bringing to a low simmer for about 8 minutes. Cool and bottle.
Stir the Smoked Syrup and American Malt in a mixing glass. Strain and pour into a double rocks glass over ice (preferably a single, large ice cube). Garnish with an orange swath, expressed over the cocktail then dropped in. Light one end of a cinnamon stick and drop into the glass, burnt side up.
Share this article