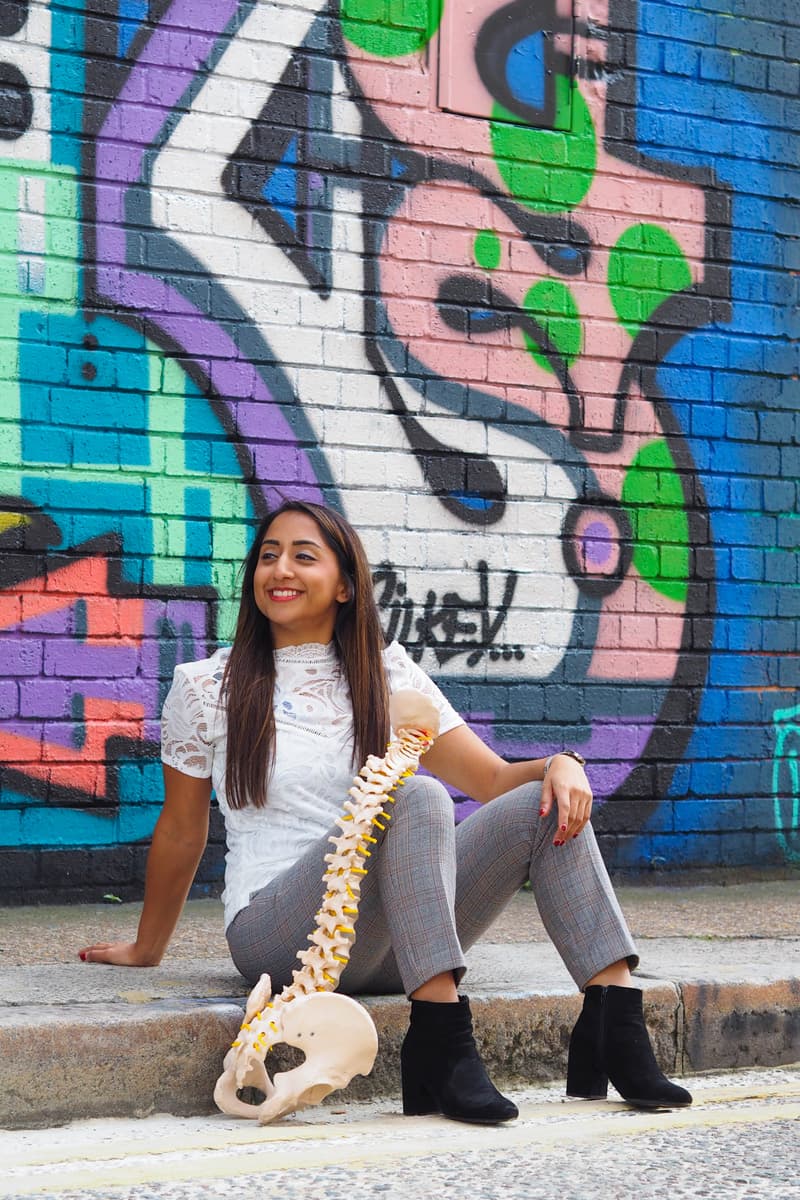 1 of 2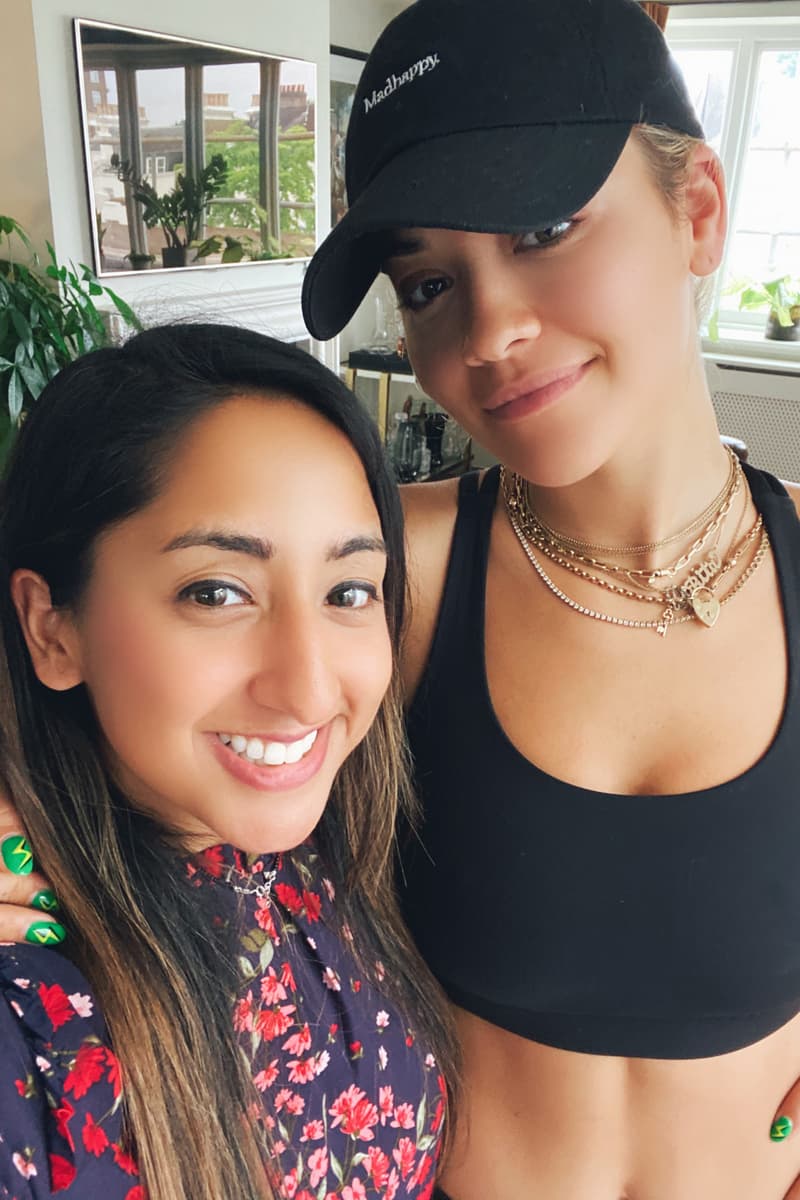 2 of 2
Health
Anisha Joshi on Her Career as an Osteopath and Being a Woman in a Male-Dominated Field
The London-based Osteopath is using social media to help your back.
Anisha Joshi on Her Career as an Osteopath and Being a Woman in a Male-Dominated Field
The London-based Osteopath is using social media to help your back.
Is your neck hurting? Are you slouching? Did you just adjust your posture after reading this? Most likely, you've suffered from some form of muscle and joint pain, whether it is from working from home or scrolling through Instagram on your phone. If you're having issues, Anisha Joshi is here to help.
Known on Instagram as @osteoanisha, Anisha Joshi runs her own clinic in Marylebone, London, where her list of clients includes everyone from Rita Ora to Kaz Crossley. In addition to treating muscle pain and realigning spines on the daily, Anisha also uses Instagram to help share tips and tricks to try at home in order to improve posture and lessen pain.
We had the chance to speak to Anisha about everything from her journey to becoming an Osteopath, to her experience being a woman in a male-dominated field. Read our full interview below.
View this post on Instagram
Tell us, how did your journey to becoming an Osteopath begin?



I have always loved the human body and had a natural interest in health since I was young. My dad needed a serious operation on his back when I was 10 years old, which lead him to seeing an Osteopath to help get him back on his feet. Watching that process meant that both my sister and I saw how incredibly rewarding it was to be able to help people with our hands. 
Osteopathy is a four year intensive degree where we are required to learn the anatomy of the entire body in order to diagnose patients musculoskeletal issues. With this knowledge we then have the tools to be able to treat the area and then strengthen the body, in order to reinforce the joints.
Did you always know it was the career you wanted?


Not really, my sister is seven years older than me and is an Osteopath, I always found it fascinating but then I also didn't want to be seen to 'copy' her. I looked at other health professions like dentistry, pharmacy and of course medicine. I kept getting drawn back to Osteopathy. There was something about being able to go through the recovery journey WITH a patient, rather than just prescribing them pills and possibly never seeing them again which made Osteopathy so much more appealing to me.
What exactly is Osteopathy?
It's a form of manual therapy that is used to treat acute and chronic injuries. From pulling your back whilst working out at home to sitting at a desk all day resulting to a sore neck. Osteopaths are able to figure out the root cause of an issue which can quite often be coming from somewhere completely different in the spine, we are then able to diagnose the problem and follow the right procedures to ensure that your body is moving correctly.
What has your experience been as a woman in a male-dominated field? 
It has been quite tough at times. Being a brown female in a white, male-dominated field has really opened my eyes to people's perceptions of myself and my abilities due to my gender and ethnicity. I've had people assume that if I was to get married, I would have to let go of my business which is baffling, and undermines a woman's ability. I know many successful mothers and wives who are managing families and incredible careers. It's also been quite hard with regards to feeling second best in many situations and opportunities within my career and been clear that this is due to what I look like and where I come from.
View this post on Instagram
What are some of the biggest obstacles you've had to overcome?


Having to close my clinics during the first lockdown was the biggest obstacle I could have ever imagined. My business did not receive any government funding due to it not being retail, leisure or hospitality and I found myself alone in my flat away from my loved ones, fighting day and night to try and save my business from filing for bankruptcy. I managed to get the loans that were released by the government in order to help save my clinics and keep them going. It was important for me that I could be there for my patients who rely on myself and my team and to keep them moving, especially whilst so many are now working from home. It was also a major priority to be able to look after key workers and the elderly.
What is the most common problem people come see you for? 


Neck and shoulder tension is the main problem people come in with. I've seen a drastic increase in the number of complaints with this over the years and I honestly attribute it to us all being on our mobile phones and looking down at them so much.
The weight of our head is almost a stone and when you look down it increases the amount of pressure on your neck and shoulder muscles. If you're doing this for hours a day it can have a massive impact on pain in this area and predispose you to getting headaches.
What is the craziest experience you've ever had on the job? 
I think it was when I worked backstage at Professor Green's concert when he went on tour. He wanted me to be there in order to help his back after performing for hours on stage. It was a surreal experience watching a patient on stage to thousands of people and then recognising the kind of impact performing can have on your body.
How are you using social media to introduce more people to the practise? 


I mainly use Instagram where I post an 'Osteo Tip' daily. These are simple and easy to follow yet very beneficial in improving mobility and general self care. I also do Instagram live interviews with other healthcare professionals and have recently launched four e-books that tackle the most common problems I see, alongside helping strengthen your joints. All information provided in these e-books can be practised from home and are currently available on my website.
What advice would you give to young girls out there looking to pursue your career?


I would reinforce how much of an amazing career it is to follow. As women we are able to nurture and be a boss at the same time, Osteopathy gives us the ability to do both and be heard. It also gives great flexibility and allows space for a healthy balance as the majority of osteopaths are self-employed and can choose their hours around their personal life.
View this post on Instagram
Share this article