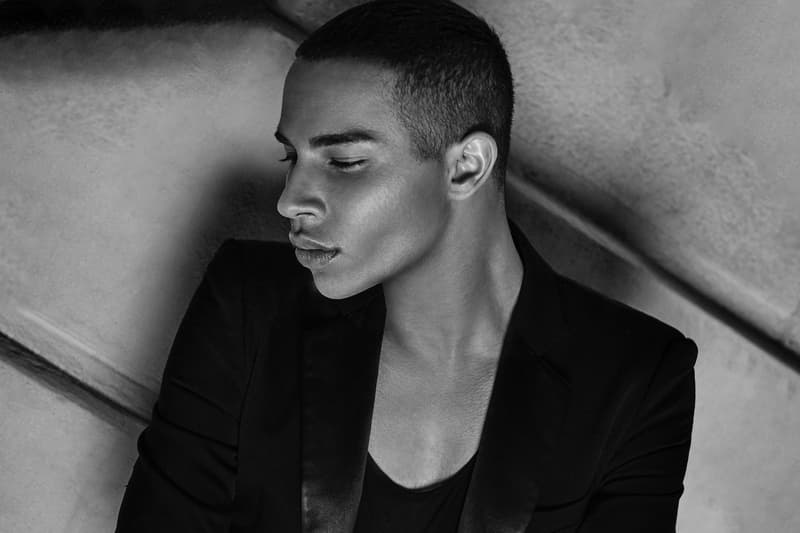 Fashion
Balmain's Olivier Rousteing Talks Finding Confidence and the World of Luxury Sneakers
Releasing the fashion house's new statement shoe, the "BBOLD."
Balmain's Olivier Rousteing Talks Finding Confidence and the World of Luxury Sneakers
Releasing the fashion house's new statement shoe, the "BBOLD."
In a time where we're all constantly exposed to content day-to-day, new products in an endless cycle, and news through social media, it is hard to be a disruptor. That's where Olivier Rousteing comes in. The young designer joined Balmain in 2009, and later became the luxury label's creative director in 2011, at 25 years old, and has since grown the brand to become a favorite amongst celebrities like Kim Kardashian and Kanye West, as well as within fashion's elite. His clear vision of French couture woven with modern streetwear influences has kept Balmain in the spotlight, and as a young designer, Rousteing is breaking all the rules.
Being a fan of the unconventional, Olivier has turned to the "troublemakers" of his generation to act as the inspiration for Balmain's latest release. Embodying confidence and "being bold," the new Balmain BBOLD collection is all about standing out and creating your own path. The shoe features an easily identifiable design which boasts architectural elements, with an eclectic upper placed atop a thick double sole that creates the illusion of "walking on the moon."
Ahead of the collection's release, we had the chance to speak to Olivier Rousteing about everything from where he finds his confidence, to the designer's own relationship with sneakers and streetwear. Keep reading below for the full interview, ahead of the sneaker's release online at Balmain's website.
In a streetwear-driven fashion industry, what do you think consumers are looking for in a pair of sneakers?
I'd say something special and unique – something that really reflects what luxury means today. Luxury to me is always something really special, and I really think this is the point behind creating a sneaker in the fashion world. It is about knowing that something is comfortable enough for day-to-day wear, whilst still maintaining the chic and luxury element behind it.
How did you come up with the design of the BBOLD sneaker? How long did it take to create the silhouette?
It took almost a year to create the sneaker, and my initial idea behind the silhouette was to create something you'd wear to walk on the moon. It's for her, it's for the moon – it's for the galaxy. You wear it and you feel like you're flying, and that was really the point of it.
The shoe is all about self-expression. How have you found your confidence? How do you see the shoe inspire and encourage people to "be bold?"
If I have to define Balmain, it is all about confidence. It is about not being afraid of who you are and what you think, and being controversial at times. Throughout my career people have referred to Balmain as a controversial brand, not because we try to be, but because we are constantly pushing limits, and I think the shoe is a reflection of the Balmain world. It is a world where you want to be who you are, and where you can be yourself and be confident at the same time.
How has the luxury landscape changed since you first entered the fashion industry? Have you seen a big shift?
I've spent almost 10 years as creative director at Balmain, and since my appointment, the luxury landscape has definitely changed a lot. It's not just been an evolution, but a revolution, in the fashion industry. It is interesting because I'd say that fashion was very close-minded 10 years ago, but today the industry really understands that luxury needs to open its doors to include and embrace new generations, and to not be judgemental. Fashion needs to encourage people to be themselves and continue to innovate, and it needs to realize that trends always change and that the definitions of "cool," "chic" and "modern" are continuously changing.
Fashion today allows people to be more free, without following the previous codes of what you have to be to work in fashion industry. Fashion today is a lot more open and more diverse in many ways, and when I say diverse I mean that in so many different ways.
What has your personal relationship with sneakers and streetwear been? How has it changed since entering the luxury realm?
I always wear sneakers, but I want to wear them in a way where I feel fierce and strong. A lot of the time a sneaker is only focused on being comfortable, but what I want is something that I can wear and feel both confident and comfortable. My relationship with sneakers is trying to find the pair I feel beautiful, sexy and fierce in, and that's why I created the BBOLD sneaker. When I walk in the shoes in my office, everyone tells me it looks as if I'm floating across the floor. For me, it makes me feel like I'm closer to my dreams – the sky is the limit.
As a designer, where do you find your inspiration? How do you continue to innovate at a time when consumers are constantly exposed to millions of products?
I find inspiration everywhere and at any time. It is a beautiful question, because it also shows how fashion has changed. Being a designer today is not like what it was like to be a designer 10 years ago. Consumers have changed and even myself as a designer constantly get bored and look for the next best thing. I've got a really big appetite for finding new things, I love travelling and experiencing new things, finding inspiration. I find inspiration from movies, hanging out with my friends in Los Angeles, music. You just have to open your eyes and be sensitive to the world – inspiration can be anything, anywhere and at anytime.
What advice would you give to young creatives looking to break into the fashion industry?
This is a question that is so personal. To me, the most important thing is to be yourself. I think the point of fashion is constantly evloving, but we always try to please the world and the fashion world, but when we're trying to please we sometimes lose track of ourselves along the way. I always say I'd rather be hated for who I am than loved for who I'm not, and it is pretty cheesy, but it is so true. When I started at Balmain at 23, I always tried to be myself and learn from the people around me to decide what I wanted to be and what I didn't want to be. Not everything I've created has been well-received by the fashion crowd, not everything has been loved, because I don't always follow the rules – but at the end of the day I didn't try to be someone else. So what I'd say to a young creative out there is to genuinely be yourself, and if you have something to say, say it. If you don't, don't say anything.