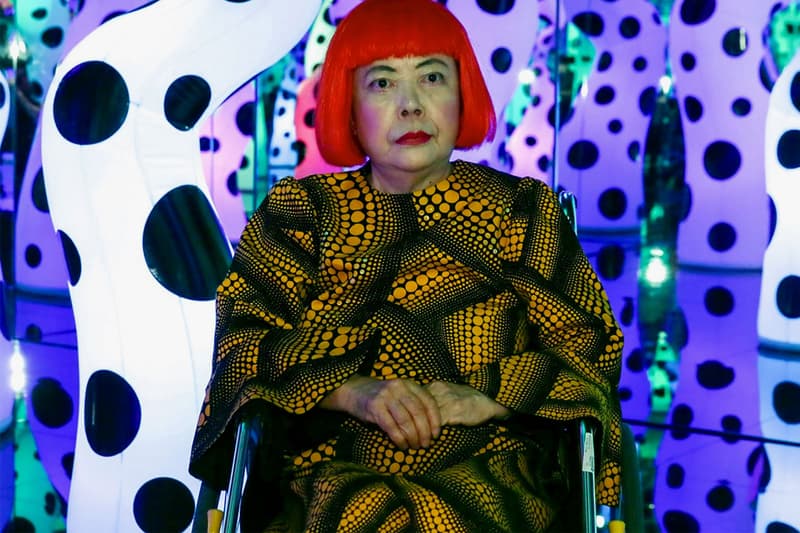 Art
Yayoi Kusama's Upcoming Exhibition, "Cosmic Nature," Will Include a New Infinity Mirror Room
As well as pumpkin sculptures and a flower-themed obliteration room.
Yayoi Kusama's Upcoming Exhibition, "Cosmic Nature," Will Include a New Infinity Mirror Room
As well as pumpkin sculptures and a flower-themed obliteration room.
Famed Japanese artist Yayoi Kusama is set to debut a new exhibition, "Cosmic Nature," at the New York Botanical Garden in the Bronx. The expansive show explores Kusama's lifelong fascination with nature stemming from a childhood spent in the fields of her family's Nakatsutaya seed nursery in Japan. Set against the garden's lush backdrop, the artist will unveil new takes on familiar works that see her pumpkin and Infinity Mirror Room series, as well as all-new endeavors.
Flower Obsession, Kusama's first-ever Obliteration Room set in a greenhouse, is a fresh version of the artist's 2017 work of the same name. Visitors will be able to apply flower-shaped stickers to the greenhouse's glass interior, creating a dizzying petal-filled landscape. Dancing Pumpkin, a 16-foot-tall sculpture, will take over the Haupt Conservatory Lawn and Infinity Mirrored Room—Illusion Inside the Heart is an outdoor installation that responds to changing light conditions throughout the day. A series of polka-dot plant sculptures will be displayed throughout the grounds as well.
Complementing the new works will be a range of Kusama's old sketchbooks displayed in the Mertz Library Building. Visitors will get a glimpse of her early ideas spanning from adolescence to her time living in New York from 1958 to 1973. To complete the experience, the Hudson Garden Grill and Pine Tree Café will serve Kusama-inspired menu items for the duration of the show.
Yayoi Kusama's "Cosmic Nature" opens at the New York Botanical Garden on May 9 and will be on display through November 1. Sign up for ticket alerts at the Botanical Garden's website.
---
Share this article