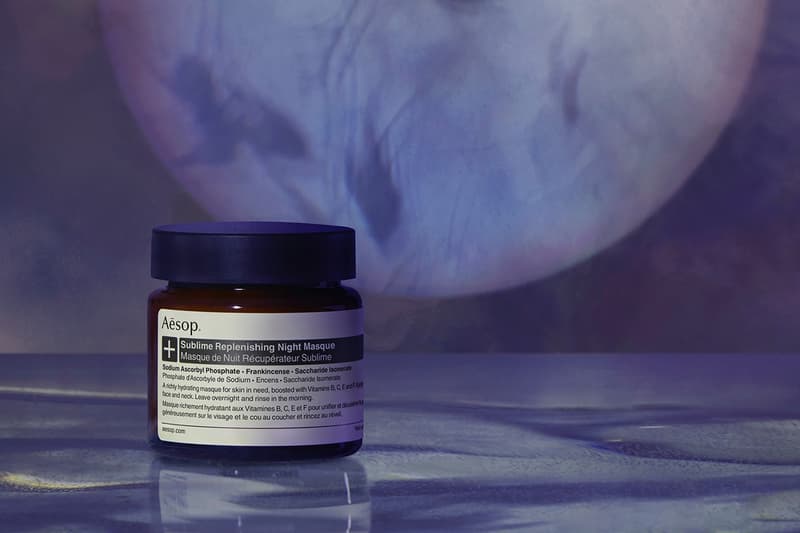 Beauty
Aesop's New Sublime Replenishing Night Masque Is a Vitamins-Packed Skincare Essential for Dry, Patchy Skin
The brand's Innovation Director, Dr. Kate Forbes, breaks down the formula of the product.
Aesop's New Sublime Replenishing Night Masque Is a Vitamins-Packed Skincare Essential for Dry, Patchy Skin
The brand's Innovation Director, Dr. Kate Forbes, breaks down the formula of the product.
The latest addition to Aesop's Skin Care+ range (the beauty brand's most advanced and potent skincare tier), the Sublime Replenishing Night Masque is a hydrating skincare product packed with nourishing ingredients such as vitamins B, C, E and F. The masque was five years in the making, and is developed specifically for overnight use, offering the skin an instant pick-me-up when it needs a boost as well as sustained hydration.
Despite it being an ultra rich night masque, the product arrives with a surprisingly lightweight gel-cream texture, ideal for those who typically avoid heavy, greasy formulas for their nighttime routine. While the masque is suitable for use in all climates and on a range of skin types, according to Aesop, the newly-launched product works particularly well for those with normal to dry skin, and for those suffering from dullness or patchy, fatigued skin.
The Sublime Replenishing Night Masque (2.1 oz) can be purchased online and in-store at Aesop locations for $125 USD. To learn more about the formula, read our interview with Aesop's Innovation Director, Dr. Kate Forbes, who breaks down the ingredients of the product and their benefits.
The Sublime Replenishing Night Masque is packed with a range of vitamins. Could you tell us about the skincare benefits of each of them?
This is the first time we've included such a wide palette of both oil- and water-soluble vitamins in a skincare product, and each has been selected for the various benefits they offer the skin. The formulation includes Niacinamide (the amide form of skin-strengthening Vitamin B3) and Panthenol (the provitamin of Pantothenic Acid or Vitamin B5), two moisturizing ingredients that are also recognized for their soothing properties.
Vitamin C — a potent anti-oxidant — is delivered in the form of Sodium Ascorbyl Phosphate and works to balance, brighten and fortify skin. Richly nourishing Tocopherol (Vitamin E) is another notable anti-oxidant and offers exceptional skin-conditioning properties.
The formulation also contains two essential fatty acids derived from Safflower Oil — Linoleic Acid and Linolenic Acid — to deliver Vitamin F. Fatty acids are incredibly important when it comes to maintaining a strong, healthy stratum corneum (the protective outer layer of the skin) and increasing overall hydration by reducing trans-epidermal water loss. In Sublime Replenishing Night Masque, these vitamins come together to help balance, brighten, support and nourish the skin.
Sodium Carrageenan and Saccharide Isomerate are other key ingredients featured in this formula. For those who're unfamiliar, what exactly are they?
Sodium Carrageenan and Saccharide Isomerate are humectant ingredients and have been used in the Sublime Replenishing Night Masque for their well-known ability to boost hydration and promote water retention within the skin, working to confer both immediate and sustained hydration. Saccharide Isomerate is a carbohydrate complex derived from Maize kernels, while Sodium Carrageenan is obtained from red algae.
In conjunction with this masque, what other Aesop products would you recommend to those who suffer from severely dry skin?
I would recommend formulations that maintain hydration at each step to replenish parched skin and avoid exacerbating dryness: a gentle but effective cleanser, an alcohol-free toner, and a hydrator suited to one's environment and textural preferences.
Gentle Facial Cleansing Milk is suitably mild and contains skin-nourishing ingredients, such as Grape Seed Oil to help reduce moisture loss during cleansing. Parsley Seed Anti-Oxidant Facial Toner balances and refreshes skin following cleansing and imparts light hydration and a veil of anti-oxidants.
We have a range of emollient-rich facial hydrating creams to provide immediate relief from dryness. Perfect Facial Hydrating Cream contains skin-fortifying vitamins C and E in a base of botanical butters and oils that absorbs readily with a matte finish.
For extremely dry and distressed skin, Damascan Rose Facial Treatment — an oil-blend rich in Tocopherol (Vitamin E) and fatty-acid rich botanicals — may be applied as a standalone moisturizer or blended with a preferred facial hydrating cream, lotion or serum to boost nourishment or tailor hydration levels. This is a great product to have on hand when the seasons start to change.
Could you use this product to spot-treat dry patches on the skin?
A holistic approach is always recommended when caring for dry or dehydrated skin. This starts with selecting the right cleanser and layering toning and hydrating preparations that will deliver humectant and emollient ingredients to support the skin and increase overall hydration levels. Although trans-epidermal water loss is regulated by the skin, a variety of other factors can cause dryness or dehydration with climate and environment, biological factors, diet and skincare habits among them. While some are more easily avoided than others, an understanding of the various internal and external triggers for dry skin will assist in establishing a skincare regimen suited to your needs.
Would you recommend using this product on long-haul flights?
Absolutely. Sublime Replenishing Night Masque is an ideal carry-on companion for use throughout a flight to help maintain hydrated, nourished skin and arrive fresh-faced at your destination. Aircraft cabins can be incredibly drying, and skin is prone to losing moisture on long-haul flights. The hydration-boosting ingredients in Sublime Replenishing Night Masque provide sustained benefits even when removed from the skin 30 minutes post-application. However, the product is designed for overnight use and you can certainly leave the discreet, transparent formulation on for the duration of the flight.
The lightweight gel-cream has a soft, cushiony skin feel on application and dries down with a powdery, matte after-feel. A combination of film-forming agents work together to support and complement Sodium Carrageenan and Saccharide Isomerate, creating a breathable film that assists in providing greater skin residence and dispersion of functional ingredients if used for longer periods of time.
---
Share this article