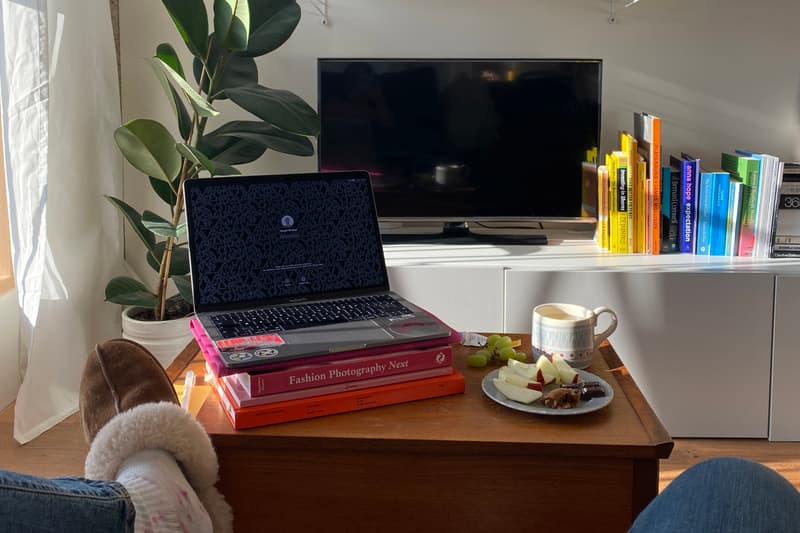 Art & Design
How 3 London Creatives Are Working From Home During Self-Isolation
When the world goes into lockdown, how do we continue doing our jobs from our homes?
How 3 London Creatives Are Working From Home During Self-Isolation
When the world goes into lockdown, how do we continue doing our jobs from our homes?
The coronavirus pandemic is one that has impacted the world unlike anything we've seen before. It has made its way across the globe, and has forced major cities to go into lockdown, businesses to close, and people to self-isolate to contain the spread of the COVID-19 virus. As of March 24, it has been confirmed that over 90,000 people in the UK have been tested for the virus, of which over 8,000 tested positive, and 422 have died.
London has gone into lockdown, with Prime Minister Boris Johnson announcing that all non-essential businesses would have to close in an emergency update on Monday, March 23.  The usually bustling city has become empty and nearly silent, with only a few cars passing by on the street, and a handful of pedestrians going for their daily walk. Self-isolation has impacted London in a way none of us would have imagined, and because of the lockdown, smaller businesses are struggling, people are losing their jobs, and life has been turned upside down without warning.
Being a creative during a time of self-isolation isn't easy, especially when your work requires physical interactions, freelance opportunities and day-to-day projects. To understand more about the current climate in London, we spoke to three creatives navigating industry in the mids of the coronavirus pandemic, to learn more abut how it has affected them.
How has your workflow changed since self-isolating?
Michèle Côté – Fashion Photographer: My workflow has definitely changed since isolating. I'm a fashion and beauty photographer, but now I'm having shoots cancelled that have been planned months in advance. Which means I'm now trying to figure out how to operate completely from home. I've started setting up a minimal photo studio in my living room, and reaching out to people about retouching remotely. I'm used to working from home but being forced to stay inside and not being able to go out and shoot puts lots more pressure on everything.
Morgan Brennan – Global Social Media Executive at ASOS: A lot! Working in social, our channels are one of the main ways we connect with our audience, so it's super important right now and we are constantly working on new ways to keep our audience inspired.
Nicole Chiu – Freelance embroidery artist & graphic designer: I live with my sister who usually works in the office Monday to Friday, so now we're both working from home which changes the work dynamic. It's great because we can check in with each other on whether we've eaten or taken the right breaks throughout the day, which is different from when I work alone (since I'm freelance) because I find it difficult to take a break if I'm not told to. It's been nice to openly discuss and listen to each others ideas too, since we're both working in the business of creativity.
As a creative, are you struggling to find inspiration whilst at home? What are some methods you're using to "stay sane?"
Michèle: It's definitely a lot harder to find inspiration as lots of my attention is being focussed on working out my new daily routine and following the news. I ordered Animal Crossing on the Nintendo Switch so when that arrives I'll be able to focus on that. I've tried to use the time to find movies that have aesthetically inspired me in the past or movies I've been recommended for years and now have the time to really pay attention to. I've also discovered this YouTube Channel about really relaxing daily life at home from Korea that I keep watching. I love it.
Nicole: I made it a point to rearrange my own art on my workspace wall to bring colour into the living room since it's where me and my sister share the space to work/relax. Colour influences my mood, and having my art on the wall inspires me to find new ways to keep going no matter how tough things are. Seeing them in front of my face, helps me come up with ideas I never worked on before. To stay sane, I make sure I only sleep in my bedroom and FaceTime/video chat with a friend or family member everyday.
Morgan: For me, my inspiration mainly comes from social media, which is absolutely going off right now – so I'm definitely not lacking references and inspiration, it's more just knowing where to start! I definitely find exercising every morning helps me wake up and get ready for the day, also showering and getting dressed is a must for me. When I'm not on calls, I've enjoyed listening to albums all the way through, a luxury I don't usually indulge in. This morning, I've been having a Moby moment.
How did you create your workspace? What are the essentials?
Morgan: I have been moving around the flat throughout the days to mix it up, and also for my back haha. I have to have my laptop elevated on some books, natural light and snacks are a must to keep me going also.
Michele: I've always been very DIY with my photography kit so I do have a small equipment set up at home already. Essentials for me would include a backdrop set up (two light stands and a pole) so I'm lucky in that I can set up anywhere.
Nicole: Since my flat isn't that big, my workspace is in the living room – it has a bigger window with direct sunlight which I realise is where I work best creatively compared to my room which has limited sunlight. Key components around my work space are zines, snacks, incense, plants and all my colourful thread. Visually seeing colours and brightness around me keeps me motivated and optimistic about life.
"Ever since the pandemic I've experienced discrimination as an Asian woman, just walking outside my street to get groceries – which is mad"
How has the coronavirus pandemic affected you? Your job? Those around you?
Nicole: For my job, I've had a lot of workshops cancelled, but I'm thankful a lot of my art and graphic design work can be done remotely. Personally, ever since the pandemic I've experienced discrimination as an Asian woman, just walking outside my street to get groceries – which is mad. A lot of people are showing their true colours, but I'm choosing to be hopeful rather than to give up. My parents live in Hong Kong, so they're always checking in on me and my other sisters who live here in London. My friends are also constantly talking about it on WhatsApp, so as of right now it is on everybody's minds.
Michèle: From a professional point of view, it's been hard to readjust, however I've found a great deal of comfort in how supportive the wider creative community has been. There's real sense of people looking out for each other. To be honest, I almost feel like I'm having a hard time processing the scale of the situation. I'm scared for my family and friends, but also the impact it's having on society.
Morgan: It has affected my mental health and stress levels for sure, as I'm sure it has everyone in some way. I think I'm struggling with not knowing when it will be "normal" again and what that normal will look like. But, I am very lucky to be well, and have a healthy family around me. I am also of course tremendously grateful to those on the "frontline"- our shopkeepers, doctors, nurses, delivery drivers… the list goes on. I hope we never take these roles in our society for granted again after this – and people are treated with the respect they have always deserved.
What is some advice you'd give to other creatives trying to make a living and do their work from home?
Michèle: I'd say it's really important to take things day by day, and it's OK to have different levels of productivity. This is a new experience for everyone so don't be hard on yourself if you feel you're not doing enough. I also think it's important that if you're able to, to look out for friends and neighbours who are vulnerable to the virus and help where you can. Right now there's more important things at risk than people's creative careers.
Morgan: Make sure you keep a separation between your "home office" and your "home home" so maybe get changed when the working day is done, or set an alarm when it is time to "step away from your bakes" or clear away the computer when you are done so the temptation isn't there. It needs to feel different so that the days don't merge into one long work-a-thon.
Nicole: You aren't alone! If you're an artist right now, there are plenty of digital residencies that you can submit your work to and many artists like myself who are open to helping each other out. Reach out because the art community online is much stronger than before. Have a look at the Instagram account @walkinghome.co and the social distancing festival. If anyone needs advice they can get in touch with me too.
Share this article