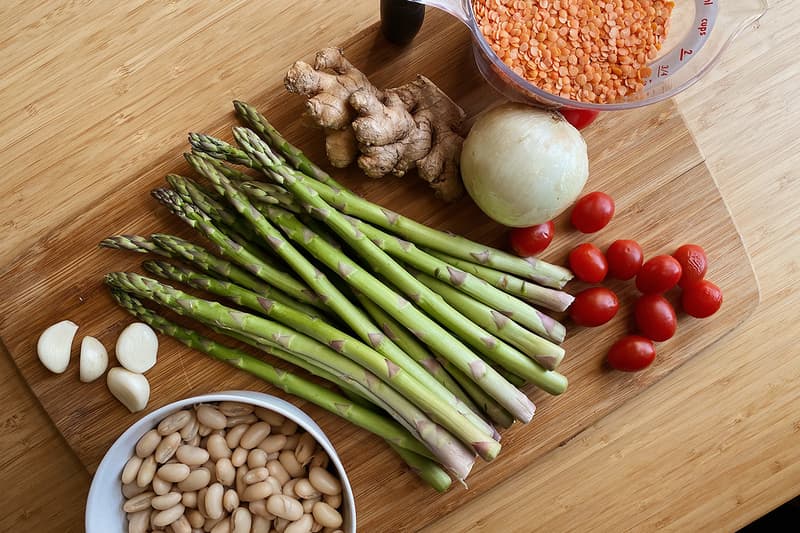 Food
3 Healthy Lunch Ideas That Will Keep You Full and Energized
Here are some recipes to try at home.
3 Healthy Lunch Ideas That Will Keep You Full and Energized
Here are some recipes to try at home.
It isn't uncommon that we find ourselves setting resolutions about taking better care of ourselves, often through habits like working out regularly or eating healthier. Some may find it difficult to make these changes possible or simply don't know where to start. For me, the food I eat impacts how I feel both mentally and physically. Cooking for myself has made it easier for me to know what exactly goes into my body, and how it can benefit my overall wellbeing. It's easy to feel overwhelmed by the idea of cooking for yourself, because it does take time and preparation, from finding recipes to getting the groceries and then actually preparing the food. Cooking for myself has actually become a therapeutic activity to help relieve stress.
I'm sharing three easy lunch recipes that will help keep you full and energized while taking minimum effort in the kitchen. Read on for the ingredients you'll need and the steps to make these dishes.
Seasonal Veggie Bowl with Tahini Lemon Dressing
I'm a creature of habit, so I tend to have these types of bowls at least four to five times a week. Once all the prep is done, it really takes about five minutes to put everything together. This is a great meal prep type of meal — once all the vegetables are roasted, you can have them up to four days after.
I call it the Seasonal Veggie bowl only because I purchase produce that is in season most of the time — it's easier to get whatever is available locally. Feel free to use any vegetables and protein you wish in this recipe. Specifically, I've used wild Alaskan salmon for mine.
Ingredients
Bowl
Asparagus, ends removed
Butternut squash, cut into cubes
Yellow potato, cut into cubes
Cherry tomatos
Radish
Mushrooms, sliced
Cucumber
Arugula
Hemp hearts
Lemon
Dressing
1/2 Lemon
1 tbs. Tahini
1 tbs. Extra virgin olive oil
Salt (to taste)
Crushed black pepper (to taste)
Directions
1. Preheat oven to 375° to roast all your veggies. I season mine a bit differently for each kind of vegetable, so feel free to follow your own way or try mine.
2. Boil yellow potato in hot water for about 15 minutes.
3. Season all vegetables with salt, pepper and EVOO. I like to season the potato cubes with either dried basil or thyme, and butternut squash with garlic powder.
4. Roast yellow potato and asparagus at 375° for 30-45 minutes, and butternut squash for 45-60 minutes. Check up on squash half way through and rotate them. Once removed from oven, squeeze some lemon juice on top of the asparagus.
5. Cook mushrooms in pan with EVOO, salt and some garlic powder to taste.
6. Cover salmon with EVOO, salt, pepper and lemon juice. Bake at 375° for no more than 15 minutes.
7. To make the dressing, whisk all ingredients together with a fork in a small bowl. Add water if the consistency needs to be thinner.
8. Assembly: I put my bowls on a bed of arugula (my favourite green at the moment) because it's extremely nutrient-dense and it is packed with tons of flavor.
Spiced Red Lentil Soup
I've been making this soup for almost two years now and it's always a crowd pleaser. It is so simple and delicious, and is packed with tons of fiber and protein.
Ingredients
Spices
2 tsp. Turmeric
1 ½ tsp. Ground cumin
½ tsp. Cinnamon
1 tsp. Chili flakes
Pink salt
Black pepper
Pantry
1 ½ cup red lentils, rinsed (add more if desired)
1 can diced tomatoes
1 can coconut milk
1 carton vegetable broth
Extra virgin olive oil
Produce
1 Medium onion, diced
4 Garlic cloves, minced
2 cups Baby spinach
2 Limes
4 Medium/small yellow potatoes, cubed
Directions
1. In a large pot, add EVOO, onion and garlic. Season with salt and pepper.
2. Stir everything over medium heat for about five to six minutes until onions are soft and translucent.
3. Add turmeric, cumin, cinnamon and chili flakes to pot. Mix until it all combines. Continue cooking for another one to two minutes.
4. Add in potatoes, mix them in with the spices and cook for about three to minutes over medium heat.
5. Add more salt and pepper. Then, add in diced tomatoes (with juices), coconut milk, red lentils, broth, two cups of water and more black pepper. Stir to combine and increase heat to high. Bring to a low boil.
6. Once at a boil, reduce to a medium-low simmer and cook uncovered for 30 minutes.
7. Add baby spinach and two squeezes of lime. Cook for another 30 minutes — enjoy.
Avocado Toast with Fried Tomatoes and Hemp Hearts
You're probably thinking, "oh, here's another basic avocado toast." And as basic as avocado toasts may be, when prepare in a certain way, these can be extremely tasty, full of flavor and packed with nutritious good fats.
Ingredients
2 slices toast (I prefer a high quality sourdough)
1 avocado
Hemp hearts
Handful cherry tomatoes, sliced in halves
Extra virgin olive oil
Salt
Directions
1. In a frying pan, pour about a tablespoon of EVOO and wait until it heats up.
2. Add in sliced tomatoes, season with salt to taste.
3. Fry tomatoes for about five minutes on medium low heat, tossing occasionally.
4. Add avocado to toast, topped with tomatoes, hemp hearts and chili flakes.
---
Michelle Siman is a Toronto-based creative consultant and host of Lemon Water, a podcast making the wellness world accessible and approachable through interviews with the people shaping it. Her exploration of wellness has led to a deeper passion for food and nutrition that she continues to share with her community.
Share this article