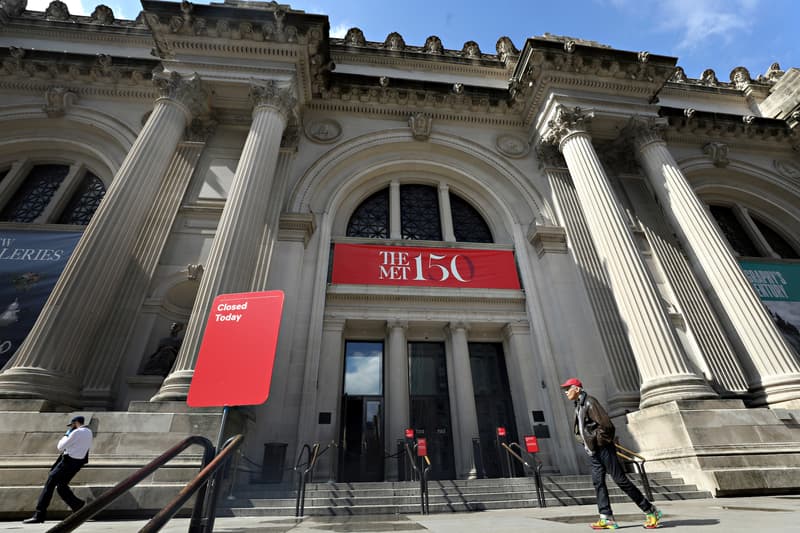 These Museums Are Currently Offering Virtual Tours During Self-Isolation
Stay inside!
Many of us are currently in self-isolation due to the coronavirus pandemic, and stores, business and more have closed their doors worldwide in an effort to flatten the curve. Those that are able to work from home are encouraged to do so, and we're all advised to stay indoors and not travel on public transport or interact with people like normal. It is a weird time, and it is hard to stay motivated when information is scarce and uncertain, but to shed some light on the lockdown, a handful of prestigious museums around the world has made their collections available to view online.
If you're looking to explore New York's iconic Metropolitan Museum of Art, or see the National Gallery of Victoria's vast COMME des GARÇONS exhibition, peep the list below to get your dose of culture during these long days.
The Metropolitan Museum of Art is currently keeping its audience occupied by posting snaps of some of the museum's most famous artworks, complete with information, trivia facts and more surrounding the piece. The Met is also providing followers with behind-the-scenes looks, virtual tours and more through its Instagram Story under the tag #MetAnywhere.
Launching cinema project "Perfect Failiures," Italian podcasts dubbed "Readings," "Inner Views" showcasing three recently opened exhibitions virtually, "Outer Views" discovers what happens ouside the museum's venues the video project "Academia Aperta" providing workshops from architects, educators, artists and more from the last five years, and lastly "Glossary," which invites the audience to explore Fondazione Prada's archives, Fondazione Prada is building a whole new way of speaking and interacting with its followers through technology.
The Tokyo National Museum is currently closed until further notice, but each of the museum's impressive collections are available to explore through its website, where visitors can view everything from paintings to sculptures. Take a look at the selection
here
.
The Parisian museum is making it possible for digital users to navigate its vast halls, zooming in and out to view the art, ceilings and works from iconic artists like Van Gogh. You'll be able to view works from 1900 through 2013, and experience the museum's unique history from inception to renovation.
The National Gallery of Victoria is bringing its
impressive COMME des GARÇONS exhibition
to your screens through a virtual tour, as well as is encouraging art for the whole family by providing art and activity sheets that kids can get creative with during a time of self-isolation.
If you're in the UK, you'll be able to explore the Victoria & Albert Museum through exclusive behind-the-scenes videos in a six episode series produced by the museum.
Share this article