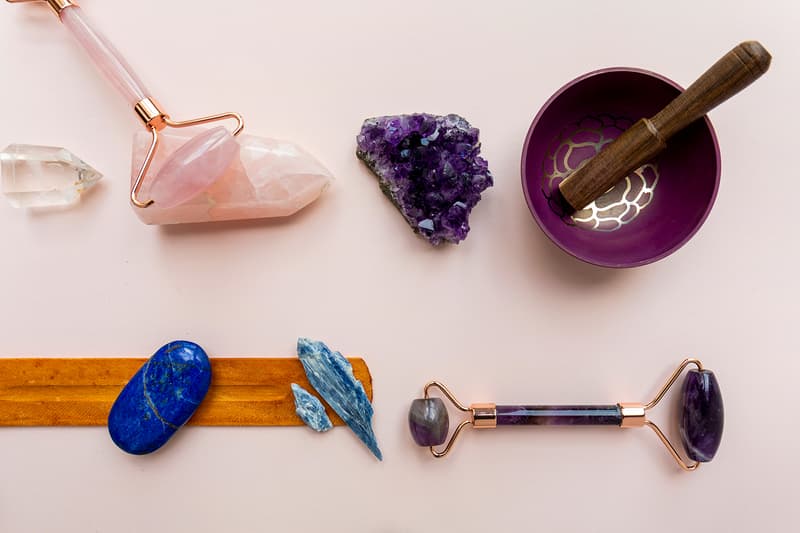 Health
What Is Chakra Healing? Here's How to Use Crystals for Stress and Anxiety Relief
A guide to finding the right stone that matches your energy.
What Is Chakra Healing? Here's How to Use Crystals for Stress and Anxiety Relief
A guide to finding the right stone that matches your energy.
The practice of crystal healing dates back to about 6,000 years ago, when crystals were used by the earliest groups of civilization such as the Sumerians of Mesopotamia and the Ancient Egyptians. Primarily used for relieving stress and anxiety, crystals are also believed to have the ability to heal your body from within.
According to soul coach and spiritual advisor Coco Alexandra of OMSA, crystals come in seven chakra colors — red, orange, yellow, green, blue, purple and white/violet — and each serves a different purpose. These spiritual stones can either help you channel your creativity, focus on your self-worth or balance your emotions. For those who aren't familiar with the term "chakra," it essentially refers to wheels of energy throughout the body. The stones can be used during meditation, crystal grid work, altar magic, energy healing and manifestation work. Some utilize crystals as home or office decor to bring in positive energy, while others treat them as jewelry to "call in desired energies."
When it comes to deciding on which stone best fits your energy, you should instantly feel a connection with the type of crystal that is meant for you. "You'll be pleasantly surprised at how on point the properties of the crystals are in alignment with what support you're looking for," explains Coco. Additionally, you'll need to know what outcome you want to experience — also known as an "intention." Once you find your crystal, Coco advises to cleanse it, then set a clear intention while asking for its help. "Work with this crystal by meditating with it daily, place it near your workplace or have it with you on the go to receive support."
In light of the ongoing pandemic, we spoke to Coco about some of the best healing crystals for alleviating stress and anxiety. Read on to learn more.
For other ways to improve your mental health during this global crisis, here are six meditation livestreams and online classes to help you stay calm at home.
Amethyst
Amethyst is known for its ability to relieve stress, anxiety and insomnia. It is essentially the stone of spirituality and contentment. Place it under your pillow for a good night's sleep, or use it during meditation. You can also set it on your third eye while resting to connect deeper to your intuition.
Hue: Light-dark purple.
Black Tourmaline
Black Tourmaline is a stone commonly used for psychic protection, energy cleansing and relieving stress. It protects you from negative energies and emotions by grounding you into your body, and infuses a sense of calmness and peacefulness. This is a great stone to have on you 24 hours a day, seven days a week. It will help protect your vibes from the global collective energies of fear, scarcity and instability.
Hue: Shiny black.
Labradorite
Often referred to as the sorcerer's stone, Labradorite is great for manifestation work. The energetic properties of the stone increase your attention, motivation and determination for whatever it is you set your mind to. Place this under your pillow, at your bedside table or use it during meditation and manifestation work.
Hue: Gray with hints of yellow, blue and green.
Red Jasper
Red Jasper is a stone that instills security in your body. It grounds you and allows you to overcome your emotional lows, while also strengthens your immune system. If you aren't able to get your hands on a Red Jasper, try looking for a red crystal to balance and aid your root chakra. Place it onto your root chakra during meditation, carry it on the go, or put it into a jug of water overnight and drink it the following day to absorb the energies of tranquility and groundedness.
Hue: Medium to deep orange-red.
Rose Quartz
Rose Quartz is a stone filled with powerful energies of unconditional love. It eases your path to forgiveness towards yourself and others, and it also dissolves the self-imposed criticalness of your thoughts and actions. Additionally, it helps you understand your emotions and heals them. As a love stone, the Rose Quartz is commonly used to manifest any kind of relationship in your life. Use this while you meditate, or put it in your bedroom. You can also carry it with you in your handbag.
Hue: Soft pink.
Crystal Tip
It is important to cleanse your crystals after every intention, or at least once every 30 days. Stones come in different forms of solidity, so if you're unsure, do not put them in water as some can dissolve due to its softness. Coco suggests that the best ways to maintain them are via moonlight cleansing, herb smudging or energy cleansing. For specific instructions, head over to Energy Muse for more information.
Share this article