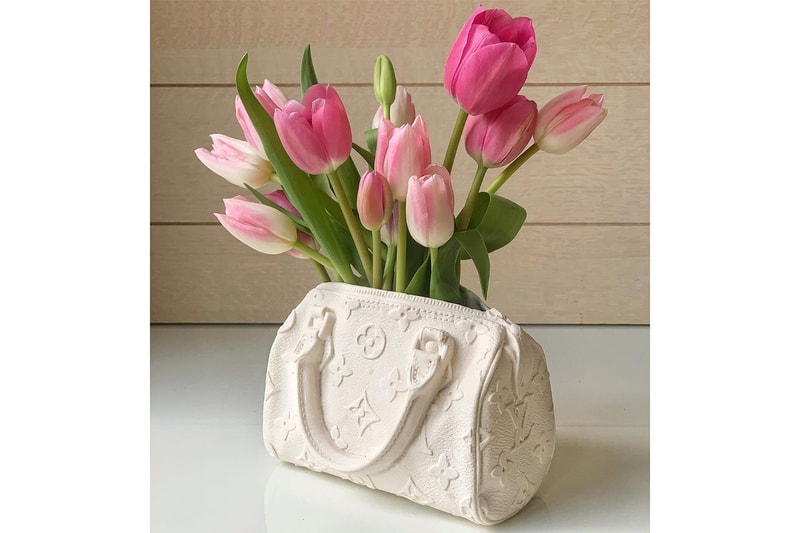 Art & Design
Elevate Your Home With This Louis Vuitton Speedy Bag-Shaped Flower Vase
Handmade by plant design studio Bodega Rose.
Elevate Your Home With This Louis Vuitton Speedy Bag-Shaped Flower Vase
Handmade by plant design studio Bodega Rose.
While we took a peep at Converse's sneaker-shaped iteration last month, plant design studio Bodega Rose has introduced a new vase in the shape of Louis Vuitton's Speedy bag. You can add this decor piece to lighten up your home with a batch of fresh flowers.
Hand-crafted by designer Olivia Rose, who has previously released Prada bucket hat and sneaker-shaped flower pots, the latest release uses a mold created from an authentic LV handbag from the mid-90s. Louis Vuitton's signature monogram branding is engraved throughout with details such as the handle and stitches replicating the actual bag. The jesmonite vase, which houses flowers through its zipper opening, is currently available in limited quantities of 10 pieces total.
Bodega Rose's limited Louis Vuitton Speedy Bag Vase is available now over at the design studio's web store for $300 USD.
For more vases to decorate your home, check out some of the best minimal plant pots you can shop.
---
Share this article