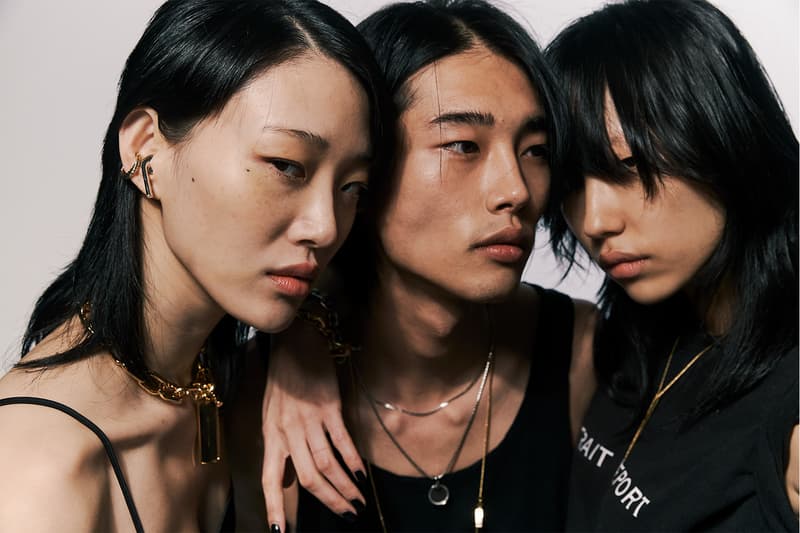 Fashion
The Ultimate Guide to the Best Contemporary Korean Jewelry Brands
From minimalist designs to statement-making accessories.
The Ultimate Guide to the Best Contemporary Korean Jewelry Brands
From minimalist designs to statement-making accessories.
An effortless way to dress up even the most casual outfits, wearing the perfect pieces of jewelry can instantly add character and interest to your look. Ahead, we round up some of the best contemporary jewelry labels hailing from South Korea.
Our top picks include Portrait Report (a favorite among trendsetters like Peggy Gou) as well as Numbering, an emerging brand offering both dainty and bold accessories. SCHO Studio and Souhait create their own signature styles with statement-making designs, while Momentel's pieces feature distinct Asian influences.
Scroll down to discover our favorite jewelry designers from South Korea, and head here to see more minimalist accessory brands we love.
Led by designer Somin Lee along with creators Sowon Lee and Jay Lee, Souhait is a family-run business with its showroom located in the Hannam-dong area of Seoul. The jewelry brand — whose name translates as "wish" in French — is known for its chunky rings and modern aesthetic. Each piece can be worn on its own or layered for a statement look.
Due to the COVID-19 outbreak, the showroom is currently available for visit by appointment only. To book your appointment, send a DM to the brand's Instagram account.
WHERE TO SHOP: Souhait's web store.
An emerging Korean brand that has been picked up by luxury e-tailer Net-a-Porter, 1064studio plays around with shapes and different sizes to create structural jewelry pieces. Besides minimalist items like its Deep In Grassland ring set, some of the label's most popular designs include gold-plated pebble charm necklaces and mismatched earrings and ear cuffs.
WHERE TO SHOP: 1064 Studio's web store and select retailers including Net-a-Porter.
From mini hoop earrings to fashionable chain bracelets, Insta-cool jewelry brand Numbering offers a diverse range of versatile, staple accessories that can be worn every day. The brand's Spring/Summer 2020 collection features gold and sterling silver pieces inspired by the '80s.
WHERE TO SHOP: Numbering's official store.
A cult-loved jewelry label popular among celebrities, Seoul-based Portrait Report seeks to break fashion stereotypes with its designs. Its clean and sleek creations mainly take inspiration from fashion icon Grace Jones as well as the city of Marrakech. The brand is known for its statement items including the Twist Ring Mini Ear Cuff, as well as a new ear cuff designed in the shape of AirPods.
WHERE TO SHOP: Portrait Report's online store.
Launched in 2016, Momentel combines its Asian roots with modernity to create unconventional jewelry that highlights the beauty of women. Infused with oriental influences, the label's necklaces and earrings are loved by retro-style fanatics. Its most recent collection, for instance, features the Chinese character "福" (happiness and good fortune) on earrings and necklace charms.
WHERE TO SHOP: Momentel's web store and retailers like Shury Tokyo.
With the belief that jewelry has the power to define a person's style, Space Oddity creates timeless pieces for the modern woman. Its lineup features a diverse range of designs, including mother of pearl closet-inspired earrings and oversized accessories with design cues taken from art museums.
WHERE TO SHOP: Space Oddity's online store.
Loved for both its chunky and delicate designs, COLFRAME incorporates various influences such as flower petals and vintage jewelry into its collections. The label's recent "Rope Twist" collection sees unique textures on bracelets, rings and more, while its antique-inspired "Anima" range features baroque-style necklaces and pearl earrings.
WHERE TO SHOP: COLDFRAME's web store.
Named after its designer Sarah Cho, SCHO boasts a beautiful Hannam-dong showroom named The Room that doubles as a coffee shop. First debuted in Paris in 2012, the label is built on Cho's international background — she's lived in the UK, Kenya, USA and France — as well as her previous experiences at Balenciaga and Lanvin. With its designs featured in GQ and Vogue Korea, SCHO is easily one of the most sought-after jewelry brands in Seoul.
WHERE TO SHOP: SCHO's online store and stockists like Lane Crawford.
---
Share this article