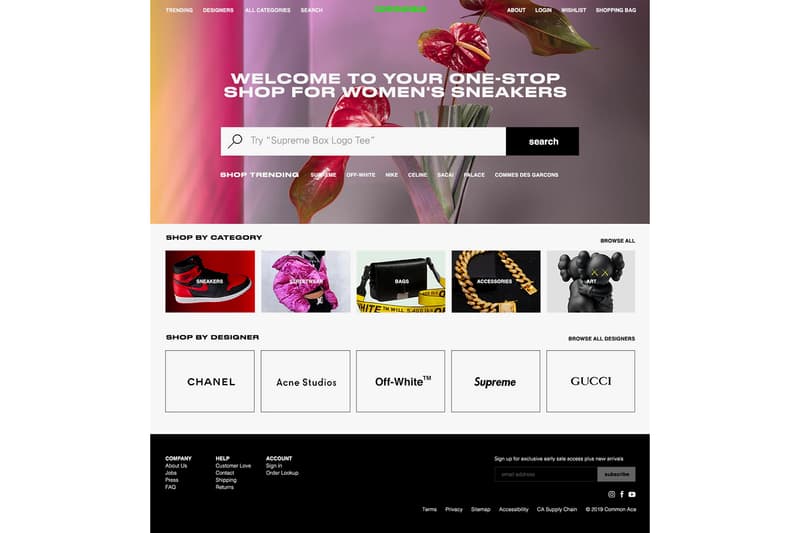 Footwear
Meet Common Ace, The New Sneaker E-Commerce Platform Designed For Women
Co-founders Sophia Chang and Romy Samuel discuss what motivated them to build the website.
Meet Common Ace, The New Sneaker E-Commerce Platform Designed For Women
Co-founders Sophia Chang and Romy Samuel discuss what motivated them to build the website.
Shopping for sneakers has not always been the easiest for women, given that the streetwear industry — although it has become more and more inclusive in recent years — has been historically male-dominated. Having gone through years of scouring online for the right sizes, and being let down repeatedly that exciting new releases come in men's sizing only, footwear fanatics Romy Samuel and Sophia Chang have teamed up to build a new female-focused e-commerce platform dubbed Common Ace. Ahead of the website's official launch on May 15, we've caught up with the co-founders to talk about what fueled their new project.
With the goal of building a seamless sneaker shopping experience for women, Samuel and Chang share that one aspect the site focuses on is convenience. Instead of having multiple tabs opened on a web browser, the platform is designed so that the full process can be completed in one. Bringing together a network of partnered websites such as Sneakersnstuff and KITH, along with high-end labels like Acne Studios and sacai, Common Ace aims to become a hub for the women's sneaker community.
A female-oriented sneaker e-commerce platform like Common Ace is long overdue. According to a 2019 study by ForwardPMX, women's sneaker sales growth is surpassing that of the men's footwear market. This increase is due to various influences including sportswear brands' enlistment of female figures for their footwear campaigns, such as Rihanna for PUMA, Kylie and Kendall Jenner for adidas, Aleali May's Air Jordan collaboration and more. "I think 2020 is the year of women in sneakers. I [believe] the growth rate will be stronger than men's for as far out as we can see. We're past the tipping point and barely rolling downhill, and we're going to see interesting collaborations," ForwardPMX's chief growth officer Chris Paradysz comments.
From the inspiration behind Common Ace, to what consumers can expect from the women's sneaker industry post-COVID-19, read our conversation with Samuel and Chang below to learn more.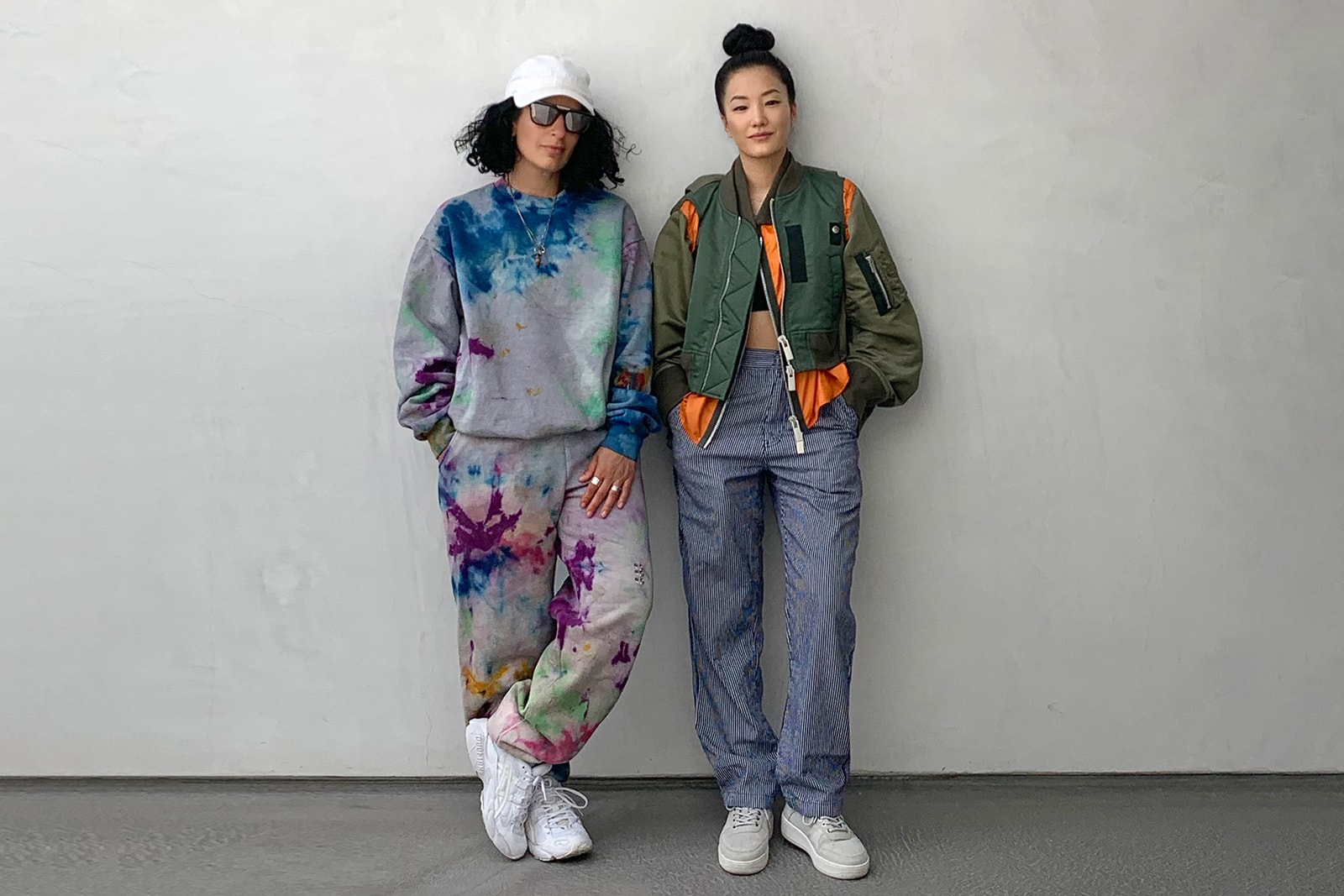 How did you come together to create Common Ace? What sparked the idea for this sneaker platform built for women?
SC: We met at jeffstaple and NTWRK's Nike Dunk "Panda Pigeon" drop in January of 2019. I'm originally from New York (and all New Yorkers know a bit of Yiddish) and heard a loud "Oy Vey!" from across the room and noticed Romy. We instantly connected and became friends. Romy had this long-time idea to build a one-stop platform for women in sneakers and we were the perfect match to bring Common Ace to life. As women in sneaker culture, we are both collectors that have experienced all the issues associated with sneaker shopping for the female market and the lack of access that exists. Our vision was to create and curate something for women by women and to generate greater access to products and ease of use with enhanced user experience.
What would you say makes Common Ace different from other online sneaker stores?
RS: A one-stop shop for women that houses a wide variety of different styles and brands currently does not exist on the grand Internet. We are here to consolidate and organize the chaos instead of having multiple tabs open. Our user experience and interface took a lot of research to narrow down the best features that maximize our female users to be able to shop and browse with ease.
Apart from searching for sneakers, what are some features that shoppers will be able to enjoy on Common Ace?
SC: Our filter system is a viable feature to start with, but our intention is to raise capital and really offer more bells and whistles to maximize filtration for our female shoppers. Ideally, we want our users to be able to seamlessly browse through multiple retailers through a single one-stop shop. We truly believe that the power of design can propel this experience.
How do you think the footwear industry has developed over the past decade, in terms of accessibility for women?
RS: There has been undeniable growth, but there's also much work to be done. With the growth of social media in the past decade, female consumers are now able to share their opinions on the change they want to see, and brands are listening. With the ever-evolving involvement of women, there is a lot more awareness around the female consumer. There is undeniable power in our spending and we will drive the change we want to see with that awareness.
The product offerings in the market are responding to our requests but the platforms that house the products aren't following suit. We still find ourselves browsing multiple websites, scrolling endlessly with multiple tabs open and switching between windows on our devices. We also have trouble finding a destination that is solely focused on fashion-oriented sneakers for women with a wider variety as brands have always limited the supply of styles and brands to the retailers. So, why not create one playground for us to explore the booming product offerings? That's why we built Common Ace as a one-stop destination to alleviate the frustration, organize the chaos and offer our female user a seamless efficient experience to find just what they're looking for.
What kind of impact do you think Common Ace will have on the streetwear industry, which is known to be male-dominated?
SC: With a single platform, we can really drive female sneaker sales. It minimizes the trouble women have to go through to find what they want. NPD statistics show that sales are increasing, and brands are throwing more money into the female market of apparel and sneakers, so we are here to be the proper channel that caters to this audience.
Women who have been early fans of streetwear already shop with a different gaze. We browse the men's section with a creative sense of style to mix and match feminine and masculine styles. We choose to dress in certain styles to stylistically express our taste and commune with like-minded people. We can do both: heels or sneakers, baggy pants or a skirt. As the streetwear market moves more and more mainstream, we want Common Ace to be an avenue where these females can come together and offer an experience to champion the growth of this community. We do it for us.
What are some of the main challenges you've faced while developing the platform?
RS: A moving target of a timeline. We are so honored and excited to share that our official launch date is Friday, May 15. Sophia has run her small business as a jane of many trades for a decade-plus. I have worked extensively in tech and fashion. Together, we can conquer the challenges that come our way with poise, and we're excited to build a team with people we admire.
What are some of the driving factors that motivated the launch of Common Ace at this time, despite what's going on in the world?
SC: We've been working on this platform long enough with a lot of great support. Though we are in the midst of unprecedented times, in recent weeks we've seen the creative community come together to support all sorts of amazing causes. We've seen that there are still sales happening within e-commerce. Now more than ever, people want to band together and support each other. Communities are putting their best dollar forward (if they can) to offer up and stand strong together.
We know our community wants to dress up, feel good and share their collection. We want to share their stories and cater to their ease of access, whether it's to browse or even shop. Tech is the future, and we want Common Ace to be the future of the female sneaker shopping experience.
How do you think the footwear industry will change after the pandemic?
RS: Drops and collaborations will be more intentional as our resources and manufacturing systems have to adapt to our new normal. New regulations in our processes will force brands to hop through a few more thought hurdles when it comes to drops, which in the fashion industry, might be a good thing. Big brands will need to get more creative to move older sneaker editions, which will be exciting to see from a marketing standpoint. The activations with the standard format with Bosco photobooth, free booze and a trendy female DJ will change as we likely won't be gathering in large groups for a while.
We'd like to believe it'll change for the better. What was working before just wasn't sustainable. Just as COVID-19 has impacted every aspect of our lives, we are positively looking forward to being a part of the change within the sneaker industry.
---
Share this article