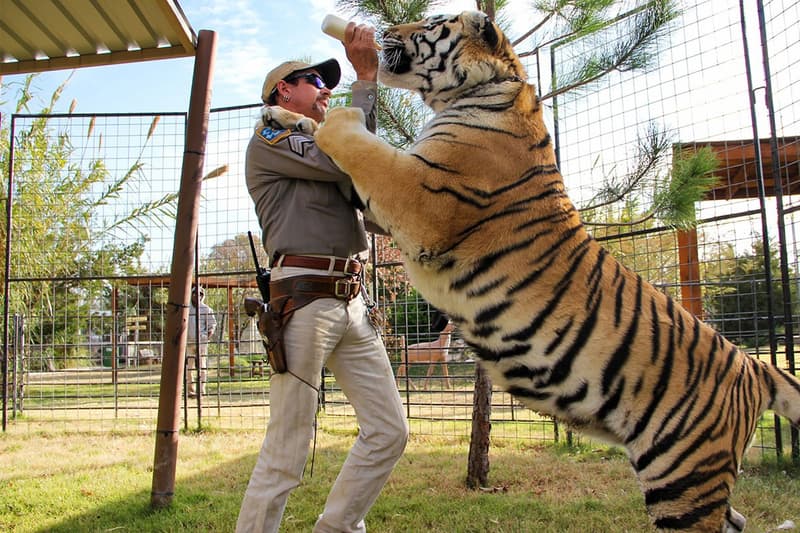 Film & TV
More 'Tiger King' Content Is Reportedly on the Way
Sans the show's main antagonist, Joe Exotic.
More 'Tiger King' Content Is Reportedly on the Way
Sans the show's main antagonist, Joe Exotic.
Following the success of Netflix documentary series Tiger King, the show's production team is reportedly planning on creating more content – this time without the show's main "star," Joe Exotic. This time around, the team is possibly looking at featuring magicians Siegfried & Roy for its next installment.
Although the follow-up Tiger King episodes have not began filming, nor been confirmed for production, Dr. James Liu, wildlife veterinarian and purported member of the Tiger King production team has alluded to their being more content in the works. Liu reached out to The Hollywood Reporter to get in touch with Chris Lawrence, who rose to fame when the magazine profiled him and his career as a former tiger handler for Siegfried & Roy. The interview also focused on his 15-year struggle with PTSD following Roy Horn's tiger mauling on stage, who has now passed as of May 8 due to coronavirus struggles.
The upcoming series will set out to shed light on the plight of caged wildlife, rather than focusing on the personalities previously seen on the show. "I went into this to explore a different side of the animal world in terms of wild animals in captivity," co-director Eric Goode told Vanity Fair. "Netflix is very adept at making binge-worthy television and with these larger-than-life subjects that was pretty easy to do. However, my goal is and has always been the same, which is to raise awareness and help save the species."
Keep your eyes peeled as more information surrounding the upcoming episodes surface. Meanwhile, don't miss that Nicolas Cage is set to take on the role of Joe Exotic in a potential film adaptation of the Netflix series.