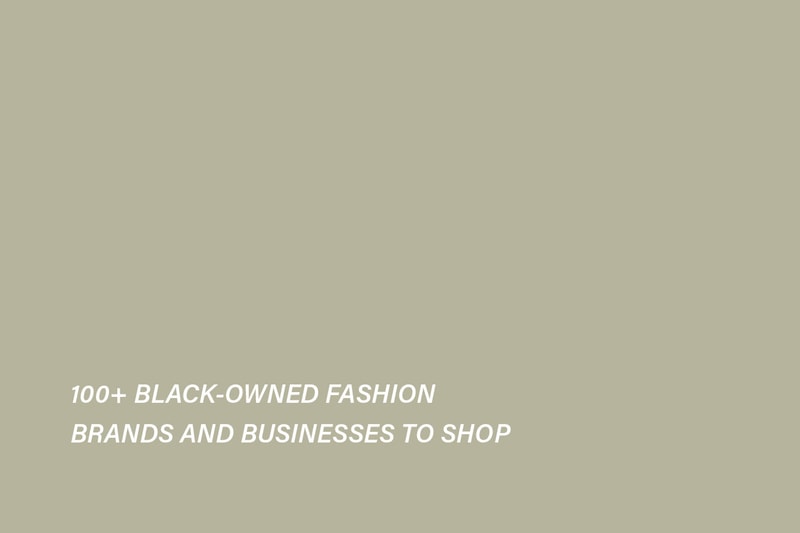 Fashion
Your Master List of 100+ Black-Owned Fashion Brands and Businesses to Shop
To support today and every day.
Your Master List of 100+ Black-Owned Fashion Brands and Businesses to Shop
To support today and every day.
On June 1, Brother Vellies founder Aurora James called on major retailers — including Sephora, Whole Foods and Walmart — to commit to purchasing 15 percent of their products from Black-owned businesses. In conjunction with her statement, the Brooklyn-based designer launched the 15 Percent Pledge, a petition and initiative raising awareness of the importance, and mainstream omission, of Black entrepreneurs.
The official 15 Percent Pledge Instagram highlights often-overlooked statistics regarding the effect of COVID-19 on Black-owned businesses, as well as wage disparities between White and Black workers — all the result of deeply entrenched systemic racism. For example, 21 percent of Black-owned businesses don't think they will survive the coronavirus pandemic, while only 5 percent of White businesses said the same of themselves.
James' proposed pledge has the potential to effect change from the top down. By actively increasing Black representation at their stores, retailers could set off several important chain reactions — first, banks would take Black-owned businesses seriously, leading to increased investment. Small Black-owned businesses would grow into big ones, inspiring other Black businesspeople to found their own companies. Black businesses owners could then reinvest their profit back into the Black community, creating a full circle ecosystem.
As major corporations issue statements on the killing of George Floyd, Black Lives Matter protests take place across the United States, and the larger fight for racial equality continues, companies must take action in addition to paying lip service. James told Forbes, "It is not just about looking at your friend group and saying, 'Ok, I only have this many friends out of 100 who are Black' and then focusing on making more Black friends. It is more about asking what kind of culture you've created in your own life that has been so singular that you don't have people of color in your life."
To help consumers commit to purchasing from Black-owned businesses small and large, HYPEBAE has compiled a master list of over 100 Black-owned fashion brands and stores. Keep scrolling for the roundup.
Fashion
From unisex streetwear to womenswear to suiting, Black designers are aplenty yet still largely written out of mainstream fashion. In addition to recognizable labels such as Christopher John Rogers, Heron Preston and Pyer Moss, emerging talent such as No Sesso, Bianca Saunders and Muehleder are worth keeping your eye on and even better, purchasing from.
4YE
A. Sauvage
A-COLD-WALL*
Aliétte
Aliya Wanek
ALL CAPS STUDIO
Allëdjo
Ama Nwoke
Armando Cabral
Asata Maisé
Bello Edu
Bianca Saunders
BOTTER
Brett Johnson Co.
Brownstone
Carlton Yaito
Casely-Hayford
CD Greene
Christopher John Rogers
Cushnie
Daily Paper
Darryl Brown
Deathworld
DIARRABLU
Duro Olowu
Dur Doux
DYNE
Fear of God
Fe Noel
Fenty
Frère
FUBU
GEO
Hanifa
Heron Preston
House of Aama
IAMISIGO
Illegal CIV
JBD Apparel
Jibri
Joe Fresh Goods
Kahindo
KAI
Kemi Telford
Kenneth Ize
Kenneth Nicholson
LaQuan Smith
LaViebyCK
lemlem
L'Enchanteur
Lisa Folawiyo
Lisou
Maki Oh
Martine Rose
Matte
Maxhosa Africa
Mazura Studios
McMullen
Menyelek Rose
Míe
Mille Collines
Mowalola
Muehleder
Nicholas Daley
No Sesso
No Vacancy Inn
Onyii & Co.
Orange Culture
PHLEMUNS
Places + Faces
Post Imperial
Pyer Moss
Public School
Renowned LA
Romeo Hunte
Royal Jelly Harlem
Sindiso Khumalo
Sammy B
Sergio Hudson
Sheila Rashid
Spencer Badu
Stella Jean
Studio 189
Stuzo Clothing
Telfar
Tongoro
The Brooklyn Circus
The Good Company
the LOTTE
The Marathon Clothing
Thula Sindi
Thebe Magugu
Tia Adeola
TIER
TLZ L'Femme
Total Luxury Spa
Tracy Reese
Tsemaye Binitie
Tyrell
Wafflesncream
Wales Bonner
Waraire Boswell
William Okpo
Victor Glemaud
X Of Pentacles
XULY.Bët
Yoah
Accessories
Bags, shoes and sunglasses — look to the below brands for all your accessory needs. For those in the market for a new handbag, ASHYA and Vavvoune specialize in high-quality leather purses accented with gold hardware. Brother Vellies, helmed by the aforementioned 15 Percent Pledge founder Aurora James, boasts playful footwear including shearling stiletto boots and feathered heels.
AAKS
Agnes Baddoo
Ari Serrano
ASHYA
Brandon Blackwood
Brother Vellies
CHRISTIANAHJONES
Coco and Breezy Eyewear
EDAS
Faded NYC
Fatra
Fini Shoes
Glazed NYC
Kahmune
Kkerelé
Michel Men
Mikhel Alexander
Mont Boudoir
Petit Kouraj
Salone Monet
Vavvoune
Jewelry
Ranging from budget-friendly to seriously luxurious, the below Black-owned jewelry brands cater to a variety of tastes and styles. New York-based designer Martine Ali has made a name for herself with edgy chain-based chokers and bracelets while Mateo takes a more delicate approach with diamond-encrusted earrings and pearl pendants.
Beads Byaree
CIVIL
Conversations Over Chai
Johnny Nelson Jewlery
Khiry
Lola Ade
Martine Ali
Mateo
Oma The Label
Serendipitous Project
Third Crown
Yam
Lingerie and Swim
Savage X Fenty isn't the only Black-owned lingerie brand out there. Love, Vera also specializes in size-inclusive bras, underwear and bodysuits in lace colorways. As for swimwear, look to Andrea Iyamah's bikinis and Jade Swim's minimalist one-pieces and more.
Andrea Iyamah
Jade Swim
LaSette
Liberté
Love, Vera
Mint Swim
Nubian Skin
Proclaim
Savage X Fenty
Underthing
Stores
For curated selections of vintage, streetwear and more, check out the below stockists. Kym Chambers of Chambers Vintage sources women's vintage and donates a portion of proceeds to The Southern Poverty Law Center while UNION LOS ANGELES founders Chris Gibbs and Beth Birkett have been dubbed "the first family of streetwear" by GQ.
BLK MKT Vintage
Chambers Vintage
Pseudonym
Sincerely, Tommy
Small Needs
t.a.
The Folklore
UNION LOS ANGELES
---
Share this article