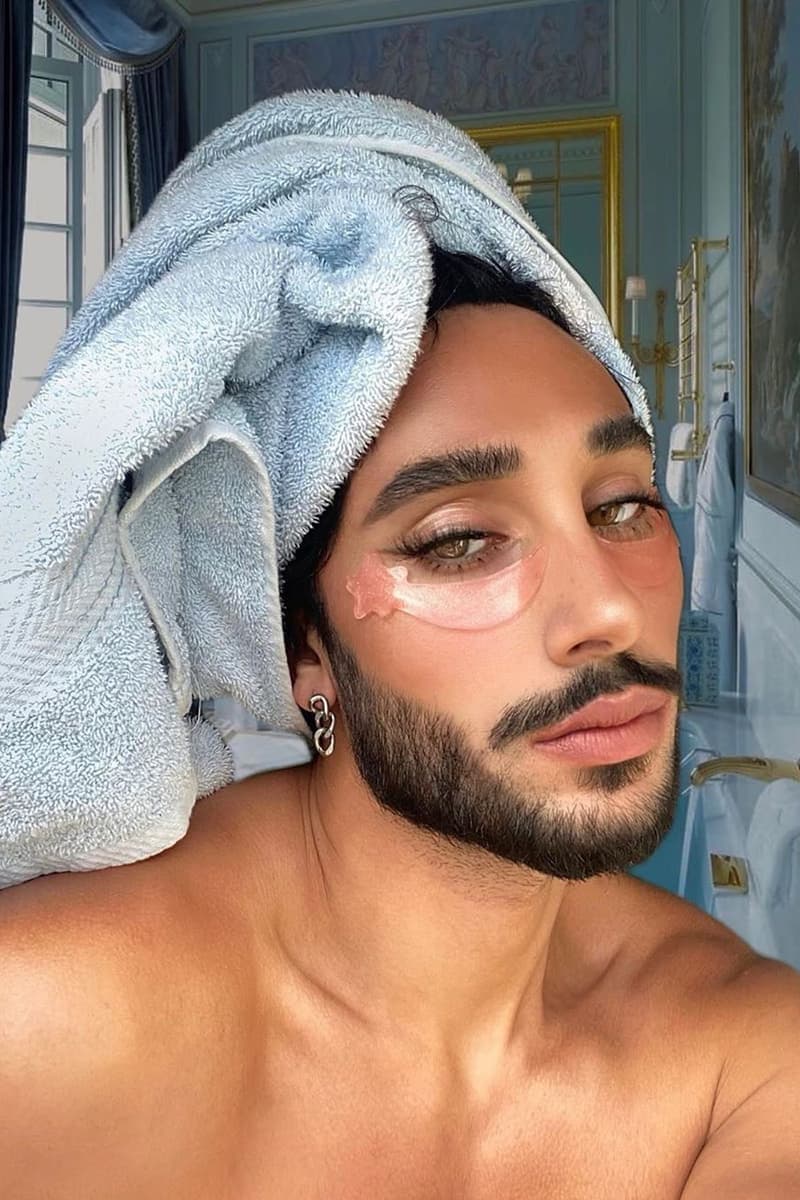 Our Editor Reviews the 8 Best Products for an At-Home Spa Day
Recreate the five-star experience with bathrobes, de-puffing eye masks, body oil and more.
Beauty
Our Editor Reviews the 8 Best Products for an At-Home Spa Day
Recreate the five-star experience with bathrobes, de-puffing eye masks, body oil and more.
With social distancing measures still in place for most of the world as a means to help flatten the curve due to the coronavirus, many individuals remain vigilant in staying at home as much as they can. Hong Kong has now entered the sixth week of its third wave and I certainly have been growing restless with staying home for days on end. Days seem to blur into one another, and I've lost track of the number of hours I've spent binging Grey's Anatomy (I assure you, it has been many). Even so, I find that it's been soothing to stick with a routine and make sure that I also leave time at least once a week to treat myself to something a little bit extra. Although it's different for everyone, this has been an effective coping mechanism for me, personally, to keep my mental health in check. After all, I have had two other previous waves to finesse and master the art of self-care.
With all the time I've spent at home, I've been sure to regularly create "Spa Days" for myself – days that I reserve for de-stressing and spending an excessive amount of time on helping both my mind and body relax. Along the way, I've discovered plenty of new beauty products and accessories, as well as re-discovered old favorites. From FRAMA scented candles and a Tekla bathrobe, to a 111SKIN de-puffing mask and F. Miller body oil, you can take a trip to the spa from the comfort of your own home. Keep on reading below to check out some of my most recommended beauty and skincare products for creating a DIY Spa Day.
Candles are the perfect way to set the mood and for me, nothing says indulgence like a luxurious scented candle. Before any spa shenanigans or self-care proceedings take place, fill your DIY spa space with as many things as possible that spoil your five senses. With smell, obviously, a candle is a sure way to surround yourself with olfactory opulence. Smell preferences are unique to every person, so find whatever makes you the happiest. For me, scents that are spicy, woody and peppery spark the most joy, so I love to go with FRAMA's St. Pauls Scented Candle, which you can find at Lane Crawford for $700 HKD (approximately $91 USD).
For a successful spa day, sometimes regular pyjamas just won't do. Personally, I feel that a spa day hasn't been satifactory until I feel like I've been properly swaddled. Yes, like a newborn baby. My go-to for such swaddling goals is Tekla's hooded bathrobe. Made with sumptuously thick organic cotton terrycloth, the bathrobe practically engulfs me in fabric whenever I wear it and makes me feel like I am not in my 200-square-foot apartment, but rather in a palatially sized hotel room. Trust me, there is no quicker way to feel pampered than with a soft, terrycloth body hug. You can shop the Tekla Hooded Bathrobe for $180 USD at SSENSE.
A towel hair turban is certainly never something that I would have thought I could call an essential but lo and behold, here I am professing my love for the beauty accessory and admitting that I cannot live without my towel hair turban. AQUIS' spa day must-have is certainly an indulgence but like most indulgences, it is one of those things that you become recklessly enamored with and cannot imagine your life before it. One of the reasons why I love this unexpected favorite so much is that it's designed for thick hair. When I wrap my post-shower hair in my regular body towel, I find that the sheer weight of the towel tugs at my scalp quite painfully. However, I had never been able to find a smaller towel that was able to successfully bundle all around my hair. With AQUIS' hair turban, the compact towel actually has an almost bowl-like hollow that effortlessly holds any amount of hair, no matter how thick. Combined with its small shape and easy button closure, I can hold all of my hair in place without any unpleasant tugging. Of course, it also doesn't hurt that the waffle texture helps to quickly dry hair while minimizing any frizz or damage to locks. You can buy the AQUIS Waffle Luxe Hair Turban at Lane Crawford for $315 HKD (approximately $41 USD).
There is no better way to treat your skin to a deep cleanse than a a good ol' exfoliation. Due to the very nature of its existence as a microdermabrasion technique, it cannot be done too often and is usually a once-a-week routine to clean the skin of any dead cells that cause dullness or uneven skin tone. Perhaps one of my favorite products from OG clean beauty brand Cosmydor is its pink clay facial scrub; I make sure to use this at least once a week. Although I was not always as disciplined as I should be with exfoliating, I have found that the practice is the surest way to achieve baby soft skin. The reason why this product is one of my favorites is that it combines the purifying qualities of pink clay and almond powder with a high concentration of shea butter and copra, argan and jojoba oils, which leaves my skin unbelievably hydrated despite the exfoliation and clay component. You can shop Cosmydor's C/4 Hydrating Facial Scrub for $525 HKD (approximately $68 USD) at Net-A-Porter.
No at-home spa day is complete without this cult-status "facial." Although Drunk Elephant has become known for its wide range of clean beauty products, there is perhaps none more talked about as its Sukari Babyfacial. Equally revered for its remarkable effects of resurfacing skin for a brighter, "baby-looking" complexion and feared for its slightly uncomfortable tingling feeling, one thing is for sure: it's wildly effective. As a chemical exfoliator, it's not surprising that one may feel a slight prickle during the facial and upon my first use, I was definitely slightly concerned and considered removing the mask prematurely several times throughout the process. However, if you make it through to the end, the results are definitely worth it and baby soft skin you shall have. Please note, it is not recommended to use multiple exfoliators back-to-back; if you use the Cosmydor facial scrub above, please do not use the Drunk Elephant Babyfacial on the same day. You can shop the DE T.L.C. Sukari Babyfacial at Sephora for $80 USD. The Babyfacial also comes with a mini version of its popular Virgin Marula Antioxidant Face Oil ($72 USD), which helps to sooth skin after the exfoliator.
For an upgrade from your usual paper face mask, 111SKIN's Sub-Zero De-Puffing Mask and matching Eye Mask are definitely a great way to treat yourself to something a little bit special on the weekend after a long work week. The 'Sub-Zero' set is infused with both caffeine and tetrapeptide, which encourage lymphatic drainage and fight water retention (hence the de-puffing). It also helps to increase circulation that reduces any signs of fatigue. Although the mask already has a cooling effect, I chill the masks even further by putting them into the fridge first for at least an hour. The added coldness is reinvigorating and makes my skin feel extra bouncy afterwards. In particular, a pair of pre-chilled eye masks in the morning does wonders both to wake you up and instantaneously de-puff your eyes. The 111SKIN Sub-Zero De-Puffing Energy Mask retails for $200 HKD (approximately $26 USD) and an 8-pack of the Sub-Zero De-Puffing Eye Mask for $685 HKD (approximately $89 USD), both available at Net-A-Porter.
After a mask, I like to apply a potent face oil or serum to make sure that my skin retains its radiance. For those who love clean beauty, Taiwan-based label Nomel produces a great Boosting Oil filled with antioxidants and fatty acids. Its makeup of brown seaweed and hop extract also helps with collagen production, which is what keeps skin feeling plump and healthy. After applying a few drops to the face and neck, I also like to use the brand's Positive Energy Quartz Roller ($67.35 USD) to contour my face and increase circulation. The Sincere Boosting Oil retails for $40.48 USD on Nomel's web store.
Did you actually even go to the spa if you don't finish the day with your body glistening under a glorious layer of fragrant oil? It just isn't the same with lotions or creams – a luxurious self-care day doesn't feel quite right without your entire body slipping and sliding as smooth as a dolphin, as Ali Wong would say. My favorite go-to for body oil has been a selection from clean beauty brand F. Miller. Along with an intoxicatingly rich, woody scent (five-star hotel spa vibes, check), the oil is packed with plenty of moisture-replenishing botanicals that promote microcirculation and improved elasticity in your skin. In short, it will leave your body with a luminous glow that makes you feel like you've just spent the day at a resort. The F. Miller Body Oil retails for $80 CAD (approximately $61 USD) at the brand's web store.
---
Share this article