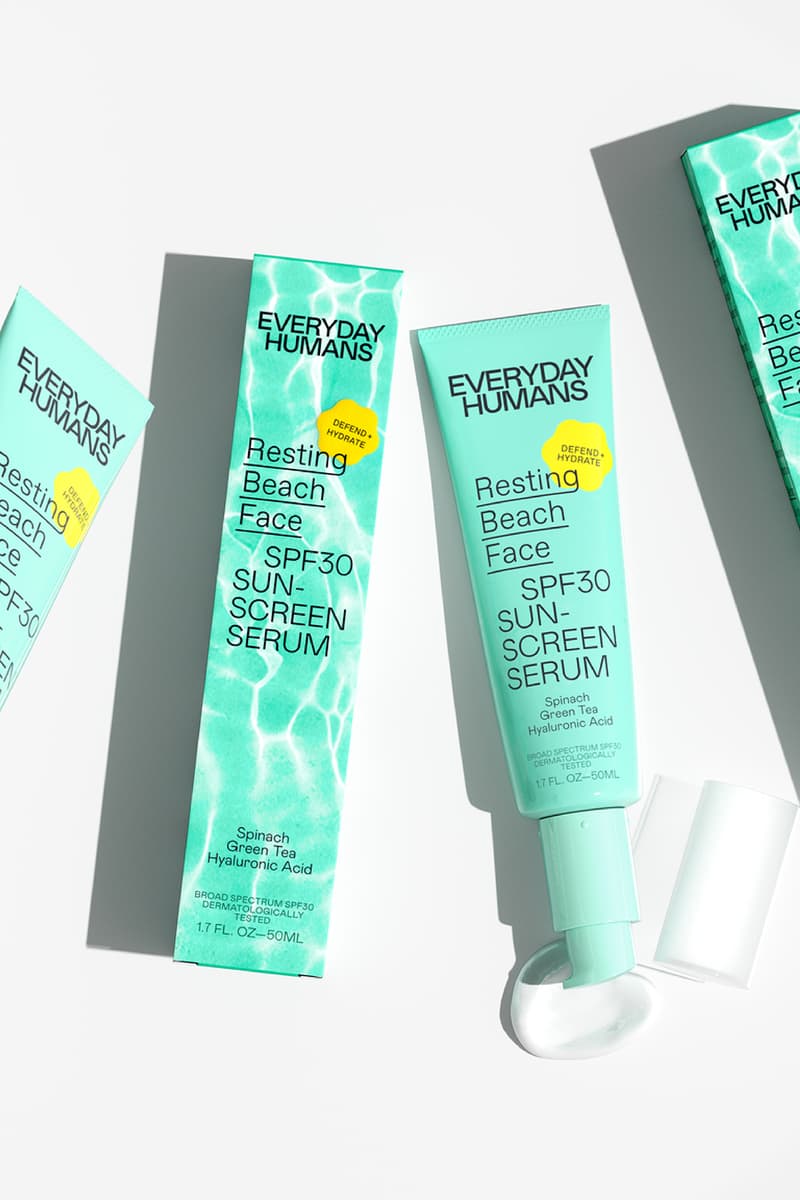 Our Editors' Favorite Sunscreens for the Face and Body
SPF products at every price point.
Whether you're a skincare minimalist or someone with a rigorous beauty regimen, one important step you'll never want to skip is applying sunscreen. While SPF products are often marketed as summertime-only essentials, incorporating sun protection into your everyday routine is important no matter the time of the year, as your dermatologist would probably advise you. To help you navigate the vast amount of options out there, HYPEBAE has reviewed its go-to sunscreens for daily use. Below, our editors break down their non-greasy, sans white cast and makeup-friendly favorites, ranging from a popular French pharmacy product to a sunscreen-serum hybrid.
While you are here, check out this lightweight sunscreen mist perfect for scorching hot days.
I started wearing sunscreen on a daily basis during my freshman year of high school, over a decade ago. As someone with generally dry skin and an oily T-zone, I've struggled to find a product that moisturizes without making my forehead and nose an oil slick by the end of the day. Enter Paula's Choice Extra Care Non-Greasy Sunscreen: this SPF 50 is made with chemical — rather than mineral — UV blockers, helping it absorb quickly without leaving a white cast behind. Aloe and vitamin E soothe and moisturize the skin, and silica helps absorb excess oil for a smooth, matte finish. Unlike other options I've tried (and thrown away), this multitasking sunscreen won't make a full face of makeup slide off by the late afternoon. Even better, it's priced at an affordable $17 USD at the Paula's Choice website. — Alexandra Pauly, Associate Editor
I only recently started incorporating sunscreen into my daily skincare routine because, for the longest time, I didn't really know the benefits of it and what would happen to my skin if I didn't use it daily. However, after learning that sun exposure causes dark spots, acne scarring and breakouts, I had to reevaluate my take on SPF. I came across Avène's fluid sunscreen and decided to try it out because of its non-greasy, non-sticky consistency. The product instantly absorbs into the skin, allowing me to apply my makeup right after. Enriched with the brand's Thermal Spring Water and mattifying powders, this sunscreen is especially perfect for summer days when my T-zone tends to get oily. Avène's Very High Protection Fluid SPF 50+ retails for $30 USD online at retailers like Walmart. — Pauline De Leon, Associate Editor
Even if you aren't necessarily spending much time on the beach or at the pool, that doesn't mean you're completely free from getting harsh, awkward tan lines or sunburned. I've learned it the hard way in summers past, so whenever I step out in a tank top or a sleeveless dress, I'd always remember to apply sunscreen not just on my face, but also on my shoulders, arms and any other parts of the body where the skin is exposed. Shiseido's Ultimate Sun Protector Lotion, the new and updated formula from the Japanese company, is a great sunscreen for use on the face as well as the entire body. The SPF 50+ is lightweight, moisturizing and goes on clear, leaving no stubborn white cast whatsoever. Formulated with the brand's HeatForce and WetForce technologies, the product works even more effectively when it interacts with heat and sweat, forming a stronger shield against sun damage. A 50 ml bottle costs $25 USD, but for better value, you can purchase the sunscreen in 150 ml for $49 USD. Both sizes are available at Sephora. — Teresa Lam, Features Editor
I've always been a big believer in SPF, and frequently put my boyfriend through long speeches on its importance. So when I say I like this sunscreen, I really do mean it. I always use skincare with SPF in the morning, but layer Chanel's UV Essentiel on top anyway. Never too much SPF, right?
For someone looking for a lightweight sunscreen, this is it. One of my favorite features about the product is that it doesn't get oily or greasy, which is ideal for someone with sensitive combination skin like mine. It also combats pollution, and acts like a layer of protection to your face, which is definitely needed in a big city like London. The only negative aspect about this sunscreen is that it has a slight scent to it, but because of the formula itself, it is something that I can easily overlook. Although it comes with quite a big price tag, it is worth trying for a bit of everyday luxury. Get yours online at Chanel's web store, where the UV Essentiel retails at $60 USD. — Tora Northman, Editor
Like she is with many other things, my mom was right about sunscreen — never start your day without it. Although I haven't reached for my makeup pouch for a while now thanks to quarantine life, I still always make sure that I have an ample supply of sunscreen for use after each bottle that I empty. For a lazy person like myself, Everyday Humans' Resting Beach Face Sunscreen Serum is ideal because as its name suggests, it combines moisturization with sun care. Every morning, I'd finish off my skincare routine with this product, a lightweight formula that leaves my complexion glowing and protected. Another thing I appreciate about this SPF is that it doesn't leave my face or hands sticky and oily, making it the perfect option to put on in the morning. Free of skincare no-nos like sulfates, parabens, phthalates and more, the formula prevents my skin from getting irritated. Additionally, hyaluronic acid helps lock in moisture. Shop Everyday Humans' Resting Beach Face SPF 30 Sunscreen Serum at the skincare brand's web store for $24 USD. — YeEun Kim, Associate Editor
Whether it's sunny, cloudy, overcast, rainy or otherwise, you can be dang sure that I will never, ever leave my house without first wearing SPF. True fact: clouds do not stop UV rays. As a side effect of my near-neurotic obsession with sun care, Supergoop!'s signature everyday sunscreen has unsurprisingly become an essential for me. True to its name, the SPF product works seamlessly with daily use and layers well with other skincare products. The formula is not greasy and thanks to its sweat-proof formulation, it won't track any residue or clump when worn throughout the day – even in the sweatiest of situations. Bolstered by star ingredients such as sunflower extract, rosemary leaf extract, as well as natural extracts of citrus, basil and bois de rose, the clean beauty product is also vegan, cruelty-free, reef-safe, and gluten-free. The product can be a bit shiny when first applied, but I find that it can easily be subdued with a fluffy brush and some translucent powder. The Supergoop! PLAY Everyday Lotion SPF 50 retails for $22 USD at stockists such as Sephora. — Zarah Cheng, Editor-in-Chief
Editor

Teresa Lam
Composite Imagery

Teresa Lam/Hypebae
Image Credit

Paula's Choice, Walmart, Chanel, Everyday Humans, Sephora
Share this article