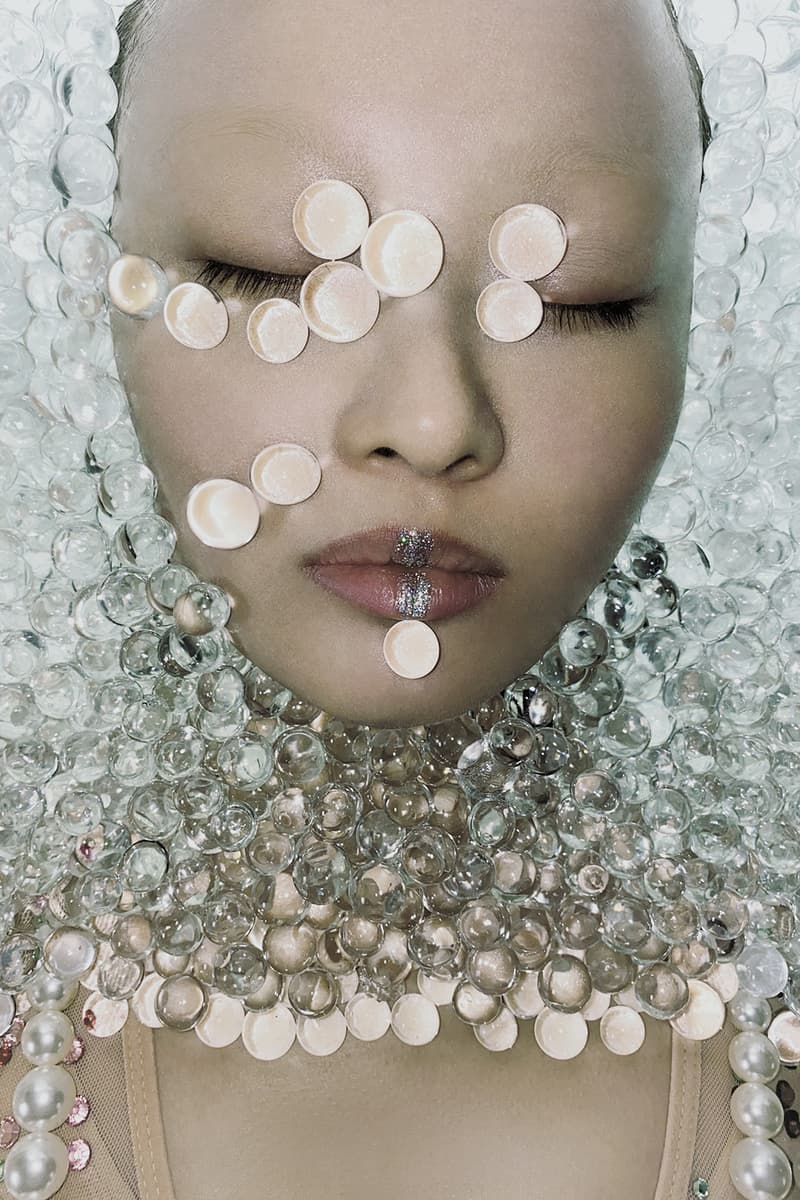 1 of 2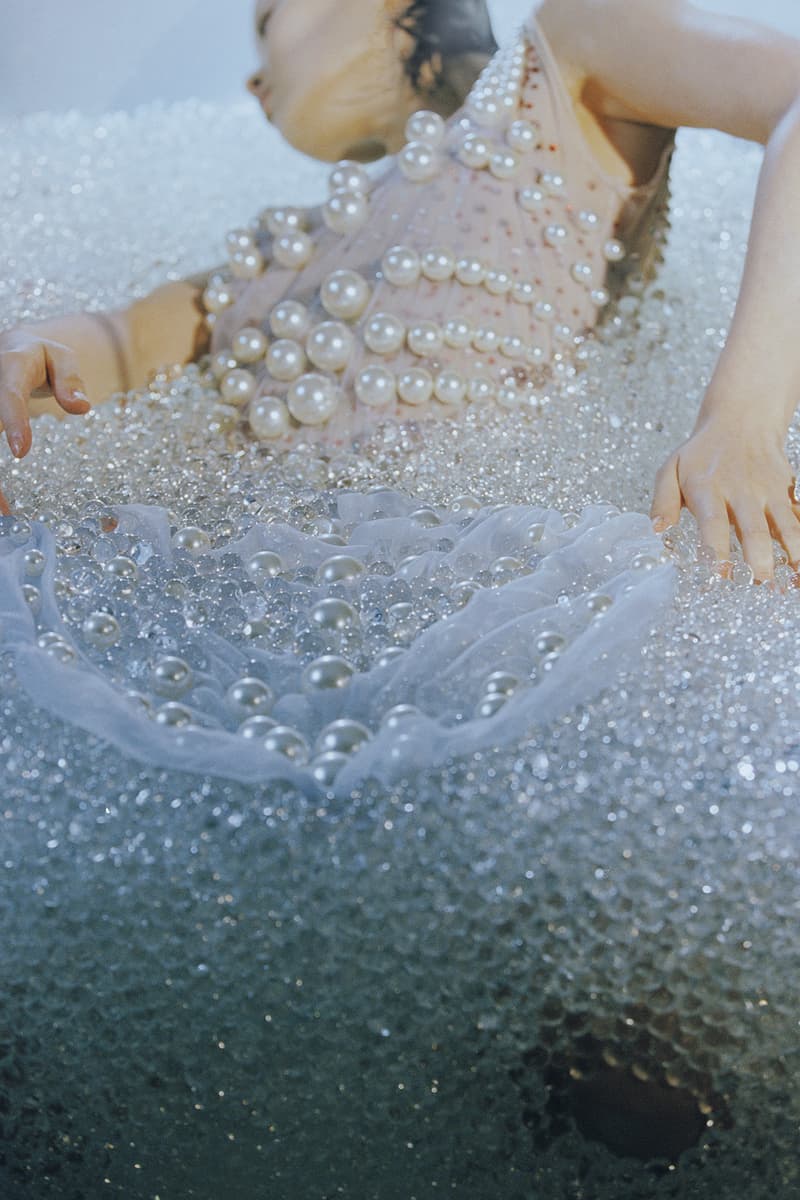 2 of 2
Fashion
Craftsmanship and Sustainability Are at the Core of Emerging Designer Brand, Susan Fang
The CSM graduate is known for her glass bead accessories, handmade by her and her family in China.
Craftsmanship and Sustainability Are at the Core of Emerging Designer Brand, Susan Fang
The CSM graduate is known for her glass bead accessories, handmade by her and her family in China.
From the digitization of runway shows and presentations, to consumers' heightened awareness of the sustainability of a brand's supply chain, the fashion industry is undergoing some of the biggest shifts in its history. Among a new crop of designers putting equal emphasis on craftsmanship and waste reduction in their work is Susan Fang. Creating one-of-a-kind beaded accessories and free-flowing "air-weaved" garments by using leftover materials from previous collections, the emerging designer seems to be confident about the direction that her eponymous label is headed towards.
"We are trying to push more online activity…the ongoing situation has made me realize the importance of sustainability and communication," the Central Saint Martins graduate comments as we discuss what fashion means amidst a pandemic. Countering the fast-paced nature of the industry, Fang — who spent time working at Kei Kagami, Céline and Stella McCartney — handcrafts every one of her pieces with her mother and aunts at their atelier in China. Without any particular pattern laid out beforehand, each handmade accessory arrives in unique forms. Fang shares that not having a concrete plan in the production process is actually what makes her label special, as the designs are constantly tweaked for improvement.
The rising creative also continuously explores innovative ways to design new items. She is perhaps best known for developing an entirely new technique dubbed "Air-weave," which allows a garment to transform freely according to the wearer's body, fitting all shapes and sizes. After months of trial and error, Fang and her team even built their own tool dedicated to performing this particular technique.
Focusing on craftsmanship, sustainability and innovation, Susan Fang continues to find success in the global marketplace. From Chris Lee to Brighton singer Celeste, the designer's signature glass bead pieces have adorned artists in China and beyond. The brand has also been picked up by luxury retailers like Net-a-Porter.
Read on for our conversation with the designer, where we discuss her inspirations, future plans and more.
How did you kickstart your career in fashion?
We began by winning the Ones To Watch award from Fashion Scout, who sponsored us for our first catwalk show at London Fashion Week. We were invited to show in Shanghai just a month after, where we added some bubble bags for the new runway and received buying interest right away. In three month's time, we began stocking three of our made-to-order bags at three different stores. I think it was our eye-catching accessories that brought us the exposure. Selfridges reached out to stock our bags in our second season, and by the third, we were shortlisted for the LVMH Prize.
With previous experience at brands like Céline and Stella McCartney, what motivated you to launch your own label?
I actually wanted to be an artist since I was six years old. I didn't know fashion design could be a career until my mom saw me continuously drawing stories of girls dressed in different clothes. It's been my goal since then. I wanted to gain experience at Celine and Stella McCartney — I was keen to learn from some of the fashion industry's biggest visionaries that are also commercially successful. Working with Stella also helped me become more aware of sustainability.
What are the main sources of inspiration for your design process?
The main root is nature. It is so beautiful that it is unsurpassable, and we are also part of this ever-changing law that creates infinite variations of new life. For example, our bubble bags take inspiration from air bubbles in the ocean glimmering under sunlight, and our clothing embroideries and textile play with the law of nature. We constantly push to create designs that have feelings of freedom, while connecting with this beautiful yet invisible tie.
What is a central message that you aim to deliver through your collections?
I really believe in the power of energy, and that is why we continue to handcraft every product we design. Often times, we design as we go. We think of an object in three-dimensional form and the fun aspects of its movement under light. By understanding how we make every item, we are really able to continually improve sustainability and innovation through each design every season.
How did you come up with the "Air-weave" technique? What was the development process like?
It stems from my hope to show the rhythm of nature, how it is changing and the life in itself. I wanted to create a fabric that has life, is free from space by moving from 2D to 3D, and is freed by color through mixing two dimensions of colors into different planes. The aim was to create silhouettes with an ever-changing shape according to the wearer's body shape, size and gestures. The development stage was very challenging yet fun — it began with one person weaving a meter of material for 21 days, all the way to designing my own machine board to allow seven people to weave together to complete a garment in three days. We then advanced into knitwear, and weaving the pattern directly on our board. It was extremely fun to solve our own puzzle — a new puzzle that didn't exist before.
You handcraft your pieces with your mother and aunts. As your brand grows and is being stocked at global retailers such as Net-a-Porter, how do you ensure that your designs and production are sustainable?
We initially began with my childhood art teacher as well, although she is now part-time as she's busy taking care of her grandchild. My mom is still the heart of our team, with two other handcraft aunties she trained, and other childhood aunties coming to help when we are busy. I think that through the handmaking and physical familiarization with our own hands, we are able to achieve the highest efficiency. We also constantly get inspiration for new designs as we are making another item. By handmaking the pieces ourselves, we can see the tiniest wastes we create, and find ways to upcycle them. For example, we keep extra strings to create beaded earrings. We collect damaged beads and send them to Liangshan, China, to the Yi minority, who create charity bags and donate them to a group called BLOOM. As for clothing, we collect any leftover bits of fabric and make them into the bag inserts.
I think this is one of the advantages of being a small team. We're almost like a group of farmers. This part of me is heavily influenced by my mom, who was a farmer when she was a child. She grew up in Ningbo with many bamboo plants that they would both eat and use. They would take the leftover bits to create many other objects, ranging from home accessories to furniture. For instance, bamboo sprout is eaten as a food, while mature bamboo is used for furniture. Shorter branches are used to make cups or bowls, and the leaves can be used for making fire or wrapping food. We try to keep this farmer's mindset to fuel creativity and maintain sustainability.
How has the coronavirus pandemic impacted you as a designer and entrepreneur? 
It has definitely impacted everyone. It feels like COVID-19 has allowed huge technological advancements on one hand, with things like livestreams and digital fashion shows. On the other hand, it seems like the pandemic has made us take a step back into the past, with the lack of physical communication between people. We are trying to push more online activity and create more marketing items for our retailers to use. The ongoing situation has made me realize the importance of sustainability and communication.
With the fashion industry changing drastically due to COVID-19, what are the next steps for your brand? How do you plan on presenting your collections in the future?
We will be presenting our Spring/Summer 2021 season digitally for London Fashion Week. We plan to continue to handcraft every piece since it creates the most sustainable result. We are also considering creating additional homeware products for future seasons.
What is it like to have your designs land on major retailers like Net-a-Porter?
It really is a dream come true. When I first met the Net-a-Porter team, I felt so much warmth and support. They really respect and appreciate the craftsmanship and authenticity of our products. We also learned a lot from their buyer, Abbie, who is like a great mentor for our brand. The designs available on the website are also created with feedback from the team.
---
Share this article