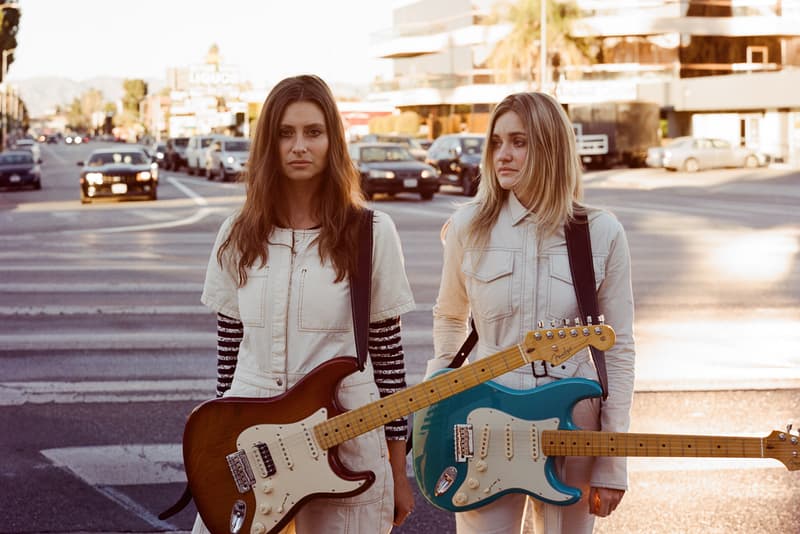 Music
Aly & AJ Welcome the Next Phase of Their Musical Evolution
The duo talk the explicit version of "Potential Breakup Song," unexpected TikTok stardom and their first new album in 13 years.
Aly & AJ Welcome the Next Phase of Their Musical Evolution
The duo talk the explicit version of "Potential Breakup Song," unexpected TikTok stardom and their first new album in 13 years.
If you grew up in the aughts, Aly & AJ's danceable, radio-friendly repertoire might precede them. The sisters, who got their start acting in Disney Channel original Cow Belles and Phil of the Future, found breakout success with debut album Into the Rush, which was certified gold in 2005. Their stardom was only compounded when, in 2007, they released what many consider their pièce de résistance, "Potential Breakup Song." Now, over a decade after the hit single captured the hearts and ears of listeners around the world, the Disney-bred sisters are stepping back into the spotlight with new, more sophisticated material.
Over the course of 2020, Aly & AJ dropped club-ready anthems including "Attack of Panic" and "Joan of Arc on the Dance Floor." They also rose through the ranks of TikTok virality as "Potential Breakup Song" united new and old generations of fans (and moms). Later, the pair served up a tastefully adult twist on the song with an explicit version of the 2007 hit (it's appropriately titled "Potential Breakup Song (Explicit).")
2021 is shaping up to be a similarly successful year for the singers. Aly & AJ's first new album in 13 years is set to release this spring and they plan to deliver one single per month leading up to its release. The first, "Slow Dancing," released in December and was, as Aly puts it, "the appetizer to the full meal." Their latest track, "Listen!!!," dropped on January 15. Layering punchy synths and atmospheric vocals, the song continues to tease what this next chapter of Aly & AJ might look like.
HYPEBAE spoke Aly & AJ — otherwise known as Alyson and Amanda Michalka — about the enduring appeal of "Potential Breakup Song," discovering a new generation of fans, and how their forthcoming album ushers in a new musical era for the duo.
Do you have memories of the initial process of writing "Potential Breakup Song?"
AJ: It's funny, because [the song] was never written or intended for someone specific. It was very much a blanket statement, like, "let's write a breakup song that can be an anthem to someone that's going through a bad time." [We] never [expected] that it was gonna turn into what it did. It ended up, obviously, coming out as the first single and really creating a launching pad for Aly and my music. But it was very much a raw concept.
And do you remember the response that the song got once it was released?
Aly: I don't know if I even remember the response initially. I remember people really liking the music video.
The song is having a revival on TikTok. How did you first come across that?
Aly: A lot of it was friends messaging us. And then the more and more videos I got, the more I looked into it on my own. And I was like, this is like millions of views happening here.
AJ: It's not like that song was buried; we play that song live and is still very much part of our career. But it was interesting to see a resurgence this past year. We were not expecting that. It just happened really organically on the platform.
Aly: Especially with young girls, an age group that probably didn't really know about that song beforehand because they're 15 and 16. So it [introduced] a new fan base to the music, which was actually quite cool.
Why do you think it struck such a chord?
Aly: I don't know. Maybe it's the melody, the repetition of the lyrics. You know, like the verses saying "it took too long, it took too long, it took too long." Because it's kind of funny?
AJ: I agree, it's humorous. Like, I think there's something fun about — not celebrating a breakup — but knowing this is gonna probably help lighten the mood by playing the song. There are people that would literally come up to us and be like, "I played that song before I broke up with someone because it made me feel better." It makes you feel like I can get through this, that there's something to laugh about.
How did the idea to release the explicit version of the track come about?
Aly: That came about after we spoke with the girl, Mia, who originated the [TikTok] video with the moms. We did a joint Zoom with all the moms and daughters. We were curious about how it came to be on their end, and how they found out about the song. Shortly after, we started talking about how it might be fun to do our own TikTok version with our mom…Then that turned into [talking about] an explicit version of the song, because everybody's mentioned wanting it to be explicit, at least backstage at shows or in comments online. We started to see that grow even greater after the whole TikTok thing, so we just said, let's get in the studio and try to turn this around as fast as possible.
Your new single "Listen!!!" came out on January 15. What's the story behind that song?
AJ: "Listen!!!" is about feeling trapped, whether it be by a relationship or system. It's a reminder that you don't need to surrender or give in just to get out of something. Sometimes we just need to be heard. We might be lost, but we always know our way out.
You also have a new album coming out soon. Can you speak about how this album to be, and where it falls in your evolution compared to 10 Years and Sanctuary?
Aly: This record feels like growth for us as musicians, especially since these songs were recorded with a live band, which we did not do with 10 Years or Sanctuary. I think we feel really empowered being able to bring back the old-school style of record-making with this album.
AJ and I always talk about how a lot of albums these days are made on the computer, and that's all wonderful. But at the same time, it takes away the human element of record-making and where record-making started, which used to be just an engineer, a producer, a few guys in a room and people cutting to tape and hitting play.
I think that this evolution feels really natural for the two of us. I'm still really proud of 10 Years and Sanctuary, as AJ, but it just feels different. It's a lot more organic.
I'm curious if the pandemic came to bear as an influence on the album.
Aly: Yeah, definitely. Making a record during a pandemic couldn't be more of an environmental shift for us as artists. It took a lot of patience; it took a lot of dedication to stay safe and get tested frequently, so that we felt like we were doing our part with our producer.
["Listen!!!"] is primarily a relationship song, but I also look at [it] as an outlook on the society we're living in right now. Like, "everybody needs to listen up and not just sleep on this moment." This is something that we're all trying to get out of, and we'll figure out the best way to survive this.
"How can we make sure that our music is not only entertaining, but also parlays into who we are as people and activists?"
Are there other inspirations or evolutions that feel particularly meaningful on this upcoming album?
AJ: I think we've grown not only as writers but also [in our] viewpoints, whether it's politics, religion or mental health — stuff we were not comfortable writing about, but were aware of back in the day. We're also people that are happy to address what we believe in on Twitter or Instagram or a "get out the vote" opportunity. How can we make sure that our music is not only entertaining, but also parlays into who we are as people and activists?
[The album] is not a pandemic record, but it was made in an unprecedented time during a year of complete pandemonium. I do think that shifted some of the writing for Aly and me. A lot of these songs had been started way before the pandemic hit, however, when we reviewed them on Zoom prior to getting in the studio, we realized these tracks actually have the opportunity to become something else. "Slow Dancing" was originally an entirely different song. Because we wrote it during the pandemic, it became a little bit more of a cry for that yearning when we're not able to hug someone or be with a loved one. To make a record during this time has helped Aly and me grow as writers 100 percent.
What excites you most about bringing the new album to life, and what do you hope that old and new fans walk away with?
Aly: I think this record is going to give a lot of people hope, especially with this new year. I think it's going to give people the ability to put this record on and feel good, even if that's for an hour or for a short drive. It was written on the West coast, we're California kids, we recorded it at the iconic Sunset Sound Studios — it definitely has the soul and spirit of a California record. But at the same time, there are songs that are very intimate that might make you rethink your beliefs or the inner demons that you're struggling with. The album is very self-reflective in that way.
Share this article