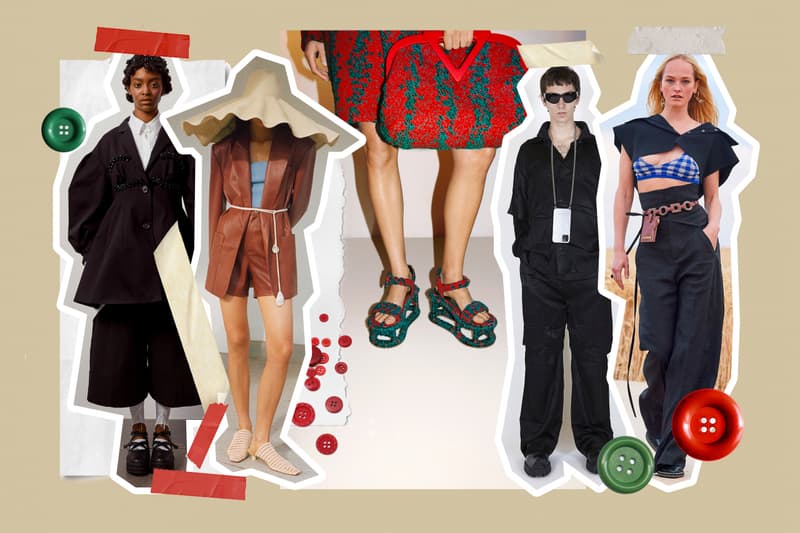 Fashion
Five Accessory Trends That Will Be Huge in 2021
From water bottles to statement hats, here's what we're excited about for the season.
Five Accessory Trends That Will Be Huge in 2021
From water bottles to statement hats, here's what we're excited about for the season.
We're only a few days into the new year, but we're already getting excited about all the trends we will be seeing. The Spring/Summer 2021 season ended up being unlike anything we've ever seen before, with COVID-19 restrictions impacting labels worldwide and collections being showed digitally rather than physically for the first time ever. Now, those pieces we spotted through our screens will finally be available, and we've rounded up some of our favorite trends from the accessory department.
Whether you've been looking forward to more luxury water bottles and statement hats, or if you're more into platform footwear, SS21 is the season for you. Peep our favorite trends featuring pieces from labels like Jacquemus, Bottega Veneta, AMBUSH, Chanel, The Row and more in our list below.
Show Off Your Phone
If you're spending a significant amount on a new phone, you might as well invest in the perfect accessory to show it off. At least that's what the major fashion houses are expecting, with bags and carry accessories from Chanel, Jacquemus, Balenciaga and more. Ranging from attachable chains to pouches, your phone will be one of the key accessories throughout the Spring/Summer 2021 season.
Platform Sandals
2020 was truly the year of the dad sandal, and in 2021 we're elevating our footwear – literally. This spring, we're seeing platform sandals and bigger footwear gaining popularity, especially from brands like Simone Rocha (who was just revealed as H&M's latest designer collaborator), AMBUSH and Issey Miyake.
Statement Hats
Although last year was spent primarily indoors due to the COVID-19 pandemic, things are looking better and brighter for 2021. With the vaccine rolling out, we're hoping for some outdoor time throughout the warmer seasons, and so are the big fashion houses. Big hats and statement headwear is key, and the bigger, the better. Think more is more and have fun with colors, textures and shapes.
Straw Bags
Woven bags and straw bags are back in business, baby. They're no longer just an accessory for the beach or your park picnic, they're hot off the runway with styles from The Row, Nanushka, Burberry and more. Whether you're looking for something eye-catching or a day-to-day piece, we're guaranteeing you that you'll see endless options available this season.
Staying Hydrated
It was only a matter of time before hydration became fashion's latest obsession, and despite seeing this trend pop up last year, it remains a staple throughout 2021. An expensive water bottle or accessory for your flask will definitely motivate you to hit those three litres per day, and with luxury options from Givenchy, Fendi and more you'll never be thirsty again.
Share this article