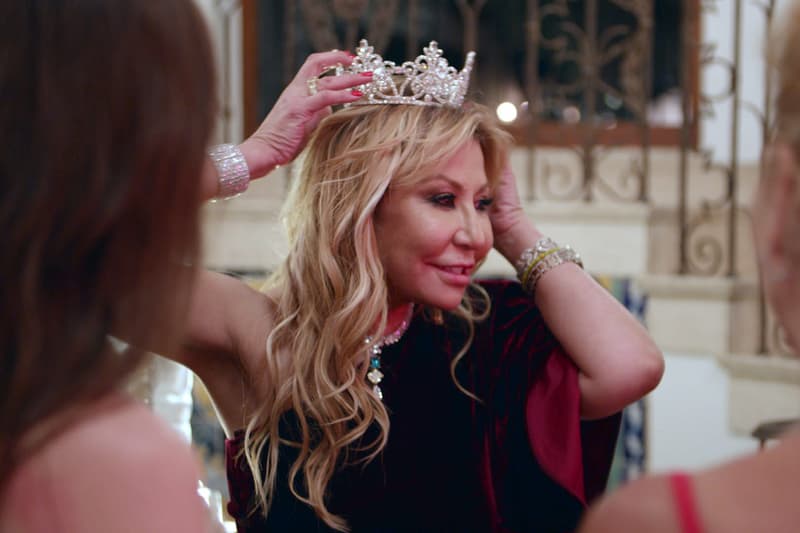 Film & TV
Our Top 6 Favorite Moments of 'Bling Empire' Star Anna Shay
The mother, aunt and best friend you didn't know you needed.
Our Top 6 Favorite Moments of 'Bling Empire' Star Anna Shay
The mother, aunt and best friend you didn't know you needed.
A guilty pleasure to watch to get your mind off things, Netflix's Bling Empire has been taking over the Internet by storm thanks to its outrageous, crazy rich Asian cast. Comprised of eight episodes, the streaming platform's latest reality TV show spotlights the lives of Los Angeles' richest Asian-American socialites. Among those wealthy individuals, there's one in particular whose free-spirited personality is loved and admired by many fans of the series. That's Anna Shay.
Coming from a Russian and Japanese background, the 60-year-old millionaire hails from an affluent family of international exporters. No one else on the show can compete with what she was born into, especially Christine Chiu. Having said that, Anna shows throughout the series how she can be humble and confident at the same time, winning the hearts of many viewers
Below, we've ranked the most memorable moments of Anna on Bling Empire.
1. Smashing the walls of her Beverly Hills mansion. 
Anna has captured the hearts of viewers the moment she took a sledgehammer and started smashing the walls of her closet in her Beverly Hills mansion. Dressed in a strapless red gown and decked out in diamonds, the millionaire explained during her interview, "I think it's important to have fun."
2. "There ain't no dick that good."
Among her many wise quotes, one thing Anna said during the show has stuck with many, becoming one of the most relatable memes to date. During a trip to Paris with Kelly Mi Li and her boyfriend Andrew Gray, Anna witnessed an abusive verbal argument between Kelly and Andrew. Detecting obvious signs of toxicity and gaslighting, Anna gave her two cents on the matter: "There ain't no dick that good."
3. Flashing her boobs at Kevin.
Model Kevin Kreider, the black sheep of the group, has had his fair share of highlight moments in the series. Having recently joined Anna's circle, Kevin was invited to her home to talk about him going on a date with Kelly. During his visit, Anna went through a fitting and naturally had to undress, flashing her boobs right in front of him. "I feel weird," Kevin said as he turned his back towards Anna laughing the moment away.
4. The zero f*cks she gives about Christine.
If there's one thing Anna refuses to tolerate, it's Christine's attitude. Throughout the entirety of the show, Christine has constantly compared her luxury goods to Anna in the hope that she could live up to her rival's social status. "I do find it odd that [Christine] wants to compete with me, but she cannot compete with what I was born into," Anna said behind the scenes. After pulling a petty stunt at one of Anna's gatherings, Anna returned the favor by placing Christine on the opposite end of the table during her dinner party.
5. Her life advice.
After receiving a pair of Dior B23 sneakers from Anna at her fitting, Kevin quickly re-evaluated his decision in accepting the $1,100 USD shoes. While he was going to return the gift, Anna shared with Kevin a few wise words we can all live by: "Don't be impressed by things. I don't get impressed by things, but by people and who they are."
6. Her yogi/stripper revenge plot.
Anna's pettiness is next level. After being humiliated by Christine at a social event, Anna invited her over for what appeared to be a simple yoga session. Little did Christine know that the instructor was a stripper posing as a yogi. Christine, the target of the striptease, was taken by surprise when the instructor carried her and demonstrated his moves.
Share this article