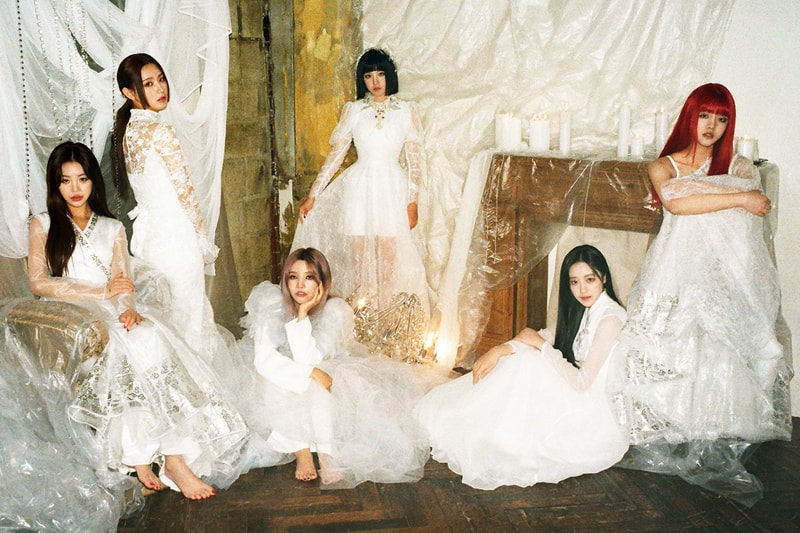 Music
(G)I-DLE Tells a Story of Love and Heartbreak on New Mini Album, 'I burn'
We talk to members of the K-pop group about the meaning behind their new tracks.
(G)I-DLE Tells a Story of Love and Heartbreak on New Mini Album, 'I burn'
We talk to members of the K-pop group about the meaning behind their new tracks.
One of the fastest rising groups in K-pop, (G)I-DLE is kicking off 2021 with the release of their latest mini album, I burn. The new record follows I trust, which debuted at No. 4 on the Billboard World Albums list last year, marking a milestone for the six-member act.
First debuted in 2018, the Cube Entertainment music act has quickly become one of the most popular groups in the industry. Their 2020 release DUMDi DUMDi became the second bestselling girl group single album in history, while members SOYEON and MIYEON landed a partnership with Riot Games' K/DA for the virtual pop group's ALL OUT EP last November.
Known for writing their own music, (G)I-DLE 's latest creation I burn continues to show the group's artistry, featuring six songs with "HWAA" serving as the lead single. Unveiled to the public after roughly a year in development, the record tells a story of love, heartbreak and farewell, opening with "HANN (Alone in Winter)" and ending with "DAHLIA."
Despite the coronavirus pandemic and its related restrictions, (G)I-DLE remains optimistic as members anxiously wait to meet their fans in a safe, post-pandemic world. Continue reading for our conversation with SOYEON, MIYEON, SOOJIN, MINNIE, YUQI and SHUHUA on their latest mini album, what they've been up to during lockdown and more.
I burn is out now on streaming platforms like Spotify and Apple Music.
It's been roughly five months since you last released music. How does it feel to be back?
SOOJIN We released "DUMDi DUMDi" around five months ago, and we're very excited to return with new music earlier than expected.
MIYEON The tracks in I burn are actually music we have been waiting for a while to release, especially during the cold winter season. We're very happy to be showcasing these songs to our fans. Also, SOYEON, MINNIE and YUQI took part in writing all six titles.
Have you gotten into any new hobbies or interests during the pandemic? How have you been spending time at home? 
SOOJIN I've always been interested in painting and drawing. With everyone staying indoors, I've been able to explore this hobby a lot more over the past year.
MINNIE Even before COVID-19, I've loved making beaded bracelets. Once we have more time after this comeback, I'm going to spend more time making those. I gifted some of my handmade pieces to our (G)I-DLE members, but some of them broke, so I'm planning to make some more.
Let's talk about your new track "HWAA." It's quite different from your previous release "DUMDi DUMDi," which is very bright and uplifting. What's the inspiration behind the new song?
SOYEON I was mostly inspired by the cold winter season.
What about the mini album as a whole? What aspect of the release do you hope your fans will pay attention to?
YUQI The six tracks in I burn connect together to tell a full story. Since each track was written by our members, we are so proud to introduce this album to our fans.
SOYEON The concept of farewell is the key theme of this record. We hope our fans pay attention to the entire story of I burn when listening to the tracks.
You wrote all of the songs on this mini album. What messages do you attempt to deliver through each track?
SOYEON "HANN (Alone in winter)" represents the cold aftermath of a breakup; "HWAA" is about getting over a heartbreaking farewell; "MOON" touches on the desire to hide one's feelings; and "Where is love" explores the emptiness of love.
MINNIE I took part in writing "MOON" and "DAHLIA." I had been working on the former since a year ago, along with our title track "HWAA." The two are directly connected with one another, so we were planning to release those together. As the title suggests, "MOON" was inspired by the moon, and SOYEON came up with our title song with the same theme. They are both sad and poetic songs. As for "DAHLIA," it tells an unexpected story of love and flowers. I think it's a track that really brings out all of our voices.
What were some of the memorable moments in the making of I burn? 
YUQI Our title track "HWAA" has actually been around for a year now. We wanted to release it at the perfect timing, since the song's mood suits the winter season more. The most memorable moment in producing this album was shooting the music video and cover, since we put a lot of work into creating a whole different look.
2020 was a big year for the entire K-pop industry, especially with its growing international presence. How have your views on the industry changed over the past year? 
SOOJIN We're really sad that our world tour was canceled due to the coronavirus pandemic, but we're grateful that we are still able to connect with our Neverland fans all around the world through virtual fan meetings and online concerts. It's not what we were planning to do, but definitely a new experience for everyone. Even if we're physically miles apart, it's great that we can all communicate with one another.
SOYEON and MIYEON, your collaboration with K/DA was another highlight last year. How was the experience of working remotely with artists in other parts of the world during the pandemic?
MIYEON The ALL OUT EP with K/DA was entirely produced virtually. We would give feedback to each other on recordings through an iPad. It was something I had never experienced before. I thought there would be some difficulties along the way, but surprisingly, there weren't any. We actually didn't know we would participate in the K/DA project for the second time, so it was a great honor.
Who are some other artists you would like to work with in the future? 
MIYEON This is a very ambitious dream of mine, but if we ever had the chance, I would love for us to work with Beyoncé.
YUQI I want to collaborate with Dua Lipa one day.
If you were to release any new music, what themes or concepts would you want to try out? 
MIYEON I don't know if we'll ever be able to, but I think it would be fun if we try out a rock band-themed concept.
YUQI & SHUHUA I'd like to try more hip hop-style tracks and dance moves, if we have the chance.
What are some things you are looking forward to in 2021? 
SOOJIN Well, first of all, we're focused on our I burn comeback.
MIYEON That's right. We don't have any concrete plans for 2021 as of now. We just wish the pandemic would be over, so we can go on a world tour to meet our fans when everything is safe.
Is there a message you'd like to share with Neverland fans?
YUQI To all of our Neverland fans around the world, we're sad that we cannot meet in person right now, but we want to thank you for believing in us and waiting for us. We really hope the situation will be better and meet you all someday.
---
Share this article