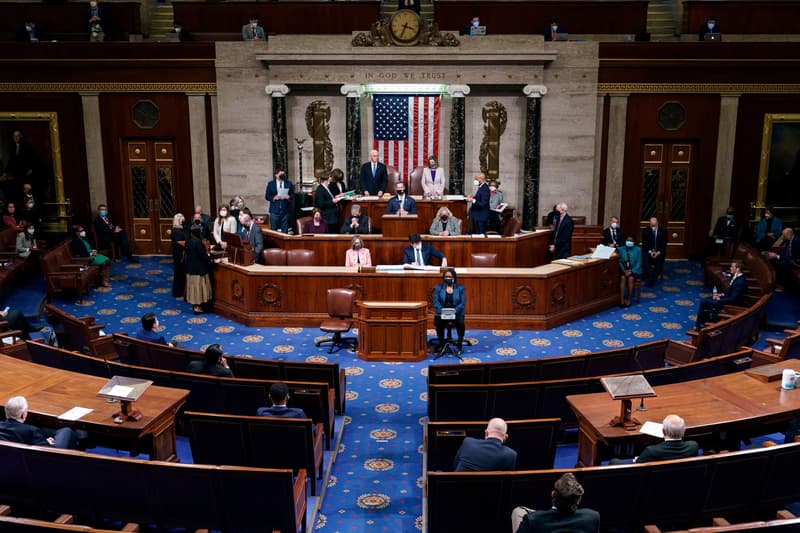 Culture
Congress Certifies Joe Biden's Election Victory
Lawmakers reconvened following yesterday's insurrection at the Capitol.
Congress Certifies Joe Biden's Election Victory
Lawmakers reconvened following yesterday's insurrection at the Capitol.
Members of the House and Senate voted to certify Joe Biden as the 46th president of the United States on Thursday morning. The news comes after lawmakers reconvened at the Capitol on Wednesday night to continue tallying electoral college votes, a process that was interrupted when a violent mob of Trump-supporting extremists seized the federal building in what some are calling an attempted coup.
Donald Trump, whose Twitter and Facebook accounts were temporarily suspended after he condoned yesterday's violence, issued a statement on the certification through White House Deputy Chief of Staff Dan Scavino. "Even though I totally disagree with the outcome of the election, and the facts bear me out, nevertheless there will be an orderly transition on January 20th," Trump said, continuing to insist that he won the election.
Responding to Trump's refusal to condemn the chaos that unfolded at the Capitol, which left one woman dead, politicians and major business groups — including ex-Defense Secretary William Cohen and The National Association of Manufacturers — are calling on Vice President Mike Pence to invoke the 25th amendment and remove the outgoing president from office. Many believe that yesterday's siege was the direct result of Trump's baseless claims of election fraud. In the days leading up to January 6, the president posted several tweets promoting a so-called "March For Trump" to interrupt certification proceedings. On January 1, he posted, "The BIG Protest Rally in Washington, D.C., will take place at 11.00 A.M. on January 6th. Locational details to follow. StopTheSteal!"
President-election Joe Biden and Vice President-elect Kamala Harris will be sworn into office on January 20. Though an exact time for the inauguration ceremony has yet to be announced, the event has historically begun at 11:30 a.m. EST. Stay tuned for updates.
Share this article